The top five e-Sport champions of all-time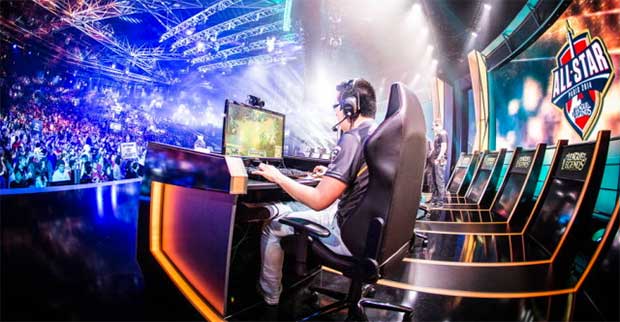 THERE is no denying that the world of eSports has grown exponentially over the last five years.
Video games were typically reserved for the television set between brothers and sisters, but now the industry is a multi-billion dollar beast which pits the best and brightest across multiple platforms and a myriad of games.
Internationally televised events, sponsorships and charismatic figures has launched eSports into the next stratosphere and we have decided to capitalise on that mania and compile our list of the top-five eSport athletes of all-time.
Some of these guys will not be immediately recognisable on their names alone, but their gamer-tag will trigger something if you have spent any time following the gaming community.
You can learn more about eSports and how to bet on eSports with our recommended bookmakers, right here.
Saahil Arora – UniVeRsE
Although not the biggest and most recognisable name of the gaming community, UNiVeRsE, a.k.a Saahil Arora is well known within Dota 2 circles as one of the greatest players of all-time.
As of 2016, Arora has the second highest career earnings from E-Sports of all-time ($2.6 million USD and rising) and was a member of the EG team that won The International 2015.
Known as the backbone of any team that is lucky enough to contain him, UniVeRsE has been described as the 'perfect' player by a notable gaming website and continues to be one of the preeminent players in the field.
Lee Jae-dong – Jaedong
One of the true pioneers of the mainstream gaming movement, Jaedong was a master Starcraft player and the first ever player to win premier tournament competitions in both Starcraft I and II.
His extraordinary list of accomplishments does not end there.
In addition to being the first eSports athlete with over $500,000 in career earnings, Jaedong has won six premier titles.
The 26-year-old has now retired from competitive competition, but his legacy in the gaming community will live on forever.
Sanghyuk Lee – Faker
Sanghyuk Lee – better known by his name Faker – had inauspicious beginnings in League of Legends in Korea, but he has quickly risen up the ranks to become one of the most feared players in the hugely popular game.
You do not get the moniker of the "God of League of Legends" without being highly skilled, and many consider him to be the greatest player the game has ever seen.
Faker has experienced success at the Mid-Season Invitational tournament, winning it in 2016, and placing in second in 2015 and remains one of the most recognisable figures in the gaming industry.
Johnathan Wendel – Fatal1ty
If you mention the name Johnathan Wendel to anyone familiar with the gaming community you may find yourself on the end of some quizzical looks, but mention the pseudonym Fatal1ty and immediately first person shooter fans will either chuckle or shake their heads.
There is no denying Fatal1ty has left an indelible mark on the first person shooter community and is one of the best players of all-time in the medium.
Fatal1ty has won five World Championships and dominated a variety of games including Doom 2, Counter-Strike, and multiple Quake titles and was until very recently the highest earning e-gamer in the world.
The 35-year-old now owns his own line of hardware and his twitch channel consistently draws in a multitude of viewers, making him one of the most interesting and compelling characters to come out of the competitive gaming industry.
Matthew Haag – NaDeSHoT
Playing one of the most competitive and toughest games in the world, Matthew Haag a.k.a NaDeSHoT is considered the best Call of Duty player of all-time.
Haag has over $1 in career earnings as well as the 2014 MLG X Games Gold Medal to his name, and his Youtube videos routinely get in excess of one million views.
Not content just dominating the gaming world, Haag is also an astute businessman, launching his own gaming team OpTic and earning a sponsorship deal with Red Bull.
NaDeSHoT is a testament to what can happen in the new world order of gaming, where players can achieve mainstream success in a world that is typically reserved for the traditional sports.