Usain Bolt betting & odds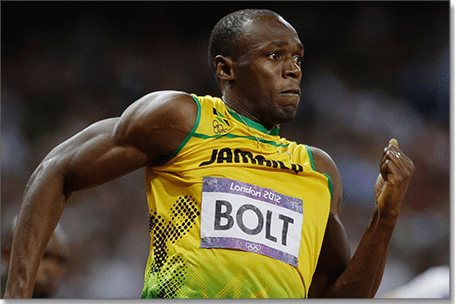 More than 10,000 athletes spanning over 200 nations will complete at the 2016 Summer Olympics in Rio de Janeiro.
But when the second week of action rolls around and the Engenhao lights up for the track and field events, all eyes will turn to one man.
Usain Bolt has owned the sprinting titles at the past two Olympiads and will be the red-hot favourite once again in Brazil.
Given his perfect record at the Games thus far, is it even worth having punt on the lightning Jamaican in August?
Rio 2016 Usain Bolt betting markets
Recommended!
Unsurprisingly, online bookmakers are offering very little value on Bolt in the 2016 Olympics futures betting.
He is paying $1.40 and even less in his favourite event, the 200 metres ($1.23).
His closest rival in both is Justin Gatlin of the United States, who is pegged at $3.25 in the 100m and $4.50 in the 200m.
It's a similar story in the 4 x 100m relay, where Jamaica ($1.35) and the USA ($3.25) are separated from the third favourite, Great Britain ($19), by a margin comparable to the length and breadth of the Atlantic Ocean.
Men's 100m outright betting
| | |
| --- | --- |
| $1.40 | Usain Bolt |
| $3.25 | Justin Gatlin |
| $17 | Trayvon Bromell |
| $26 | Tyson Gay |
| $34 | Andre de Grasse |
| $41 | Asafa Powell |
| $67 | Jimmy Vicaut, Femi Ogunode |
| $101 | Yazaldes Nascimento, Mike Rodgers, Christophe Lemaitre, Chijindu Ujah, James Dasaolu |
| $251 | Henricho Bruintijies, Churandy Martina |
| $501 | Richard Kitty |
Men's 200m outright betting
| | |
| --- | --- |
| $1.23 | Usain Bolt |
| $4.50 | Justin Gatlin |
| $26 | Alonso Edward, Anaso Jobodwana |
| $41 | Zharnel Hughes, Nickel Ashmeade |
| $51 | Isiah Young, Warren Weir, Femi Ogunode |
| $67 | Ramil Guliyev |
| $81 | Christophe Lemaitre |
| $101 | Churandy Martina |
| $201 | Wallace Spearmon |
| $501 | Julian Reus |
Men's 4 x 100m outright betting
| | |
| --- | --- |
| $1.35 | Jamaica |
| $3.25 | United States |
| $19 | Great Britain |
| $26 | Canada |
| $34 | France |
| $51 | China |
| $67 | Antigua, Bahamas, Trinidad and Tobago |
| $151 | Brazil, Netherlands |
| $201 | Germany, South Africa |
All odds provided by www.BetEasy.com
Career history and highlights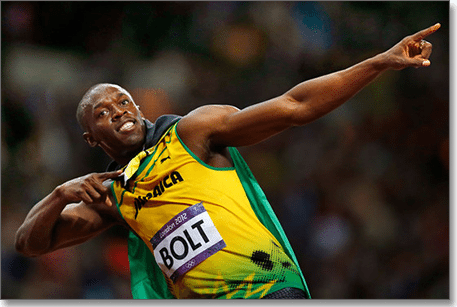 Had things gone slightly differently during his youth, Usain Bolt may never have taken up competitive sprinting.
He was a promising cricketer in his teenage years, but his raw athletic talents soon caught the attention of William Knibb Memorial High School's sprint coach, Pablo McNeil.
McNeil was himself a former Olympic runner for Jamaica, having competed in the 100 metres at both Tokyo 1964 and Mexico City 1968, and he convinced Bolt to switch his focus from the cricket pitch to the track.
The Trelawny native wasn't quite an instant hit on the youth athletics circuit. He failed to reach to final of the 200 metres at the 2001 IAAF World Youth Championships, and his lack of commitment to training was a source of constant exasperation for his coaches.
A year later, however, Bolt was the hottest prospect on the planet.
An emphatic growth spurt saw him enter the 2002 World Junior Championships in Kingston as a 15 year old of some 196 centimetres – or six feet and five inches, in the old money.
In front of a home crowd he took out the 200m sprint in 20.61 seconds to become the youngest-ever gold medal winner at the JWC. He also picked up silver in both the 4 x 100m and 4 x 200m relays.
Bolt turned professional in 2004 and continued to claim medals in the 200m on a regular basis, but it was at the Beijing Olympics that he truly announced himself to the world.
Then 22 years of age, the Jamaican smashed world records in the 100m, the 200m and the 4 x 100m relay en route to three gold medals.
That was the beginning of an era of unprecedented dominance.
He went on to break his own world records in the 100m and 200m at the World Championships in Berlin in 2009, then backed up with two more golds at Daegu two years later – although he was disqualified from the 100m final after a false start.
At London 2012 he won three more gold medals, with the Jamaican team again breaking the world record in the 4 x 100m sprint relay.
He matched that tally at the 2013 World Championships in Moscow, and once again at Beijing 2015 to become the first athlete to complete the 'triple triple' – three golds at three separate WC meets.
Bolt has announced that he will retire from competitive athletics after the 2017 championships in London, meaning Rio 2016 will be his last appearance in the Olympic Games.
Can he maintain his perfect record and become the first man to claim an Olympic triple triple?
Recommended!
Should you bet on Bolt at the 2016 Olympics?
There are reasonable arguments both for and against putting money on the Lightning Bolt at Rio 2016.
If you want an all but certain winner on your ticket, back him all the way. The odds in any single race market won't be flash, but he could be a great option if you need a monty to fill out a promising Olympic multi bet.
If you want a bit of value, however, Bolt won't offer it.
The question is: who else do you back? Gatlin missed out by only 0.01 of a second in the 100m at the 2015 World Championships, but genuine contenders look few and far between in the 200m and the 4 x 100m relay.
If Bolt runs anywhere near his best in Brazil, nobody will get near him.
Keep an eye out for 2016 Olympics betting specials at our trusted online sportsbooks, as there will be plenty of money for the Jamaican to claim another hat-trick of gold medals.