Underdogs rule on Australian sport's greatest day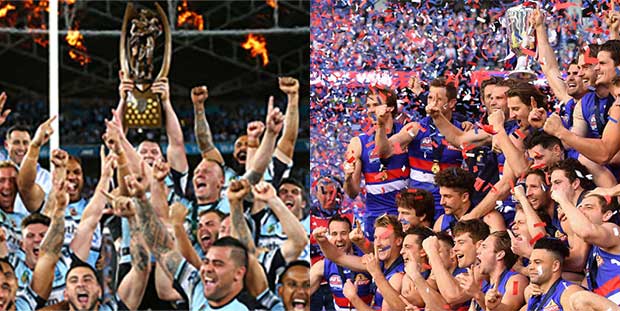 WHAT a weekend for Australian sport.
It was one we'll remember for a long, long time.
It started with the kind of hype that marketing teams dream of.
The AFL and the NRL were both boasting a clash of the have's vs the have not's.
The gritty, working class, forgotten Bulldogs from Melbourne's western suburbs pitted against the Richie Rich of the AFL: the Sydney Swans.
On the other side of the boarder the Premiership-less Cronulla Sharks faced off against NRL uber-club the Melbourne Storm.
In the lead up to the big game WilliamHill.com.au had the Sydney Swans at $1.61 and the Western Bulldogs at $2.41 with a line of – or + 10.5 fetching a price of $1.93.
In the NRL, SportsBet.com.au had the Storm at $1.85 and the Sharks at $2 with a line of – or + 1.5 points getting $1.91.
How did it go? Let's take a look:
Sixty-two years between drinks
That's right, it's been 62 years between drinks for the Western Bulldogs, but on Saturday, the Western Suburbs came good and beat the Sydney Swans 13.11 (89) to 10.7 (67) in the AFL Grand Final at the MCG, breaking their 62-year hoodoo.
The Bulldogs game plan was simple: wing Buddy Franklin early.
In the end Buddy rolled his ankle in a friendly fire incident and limped off early in the first quarter. He wasn't the same for the rest of the game. This meant Sydney had to have a long hard look at themselves and wonder who would actually kick the sausage rolls for the rest of the game. Their goal-kicking solution is still being drawn up apparently.
It was really a game of the big money players. Buddy was neutralized early, Kurt Tippett took massive strides toward frustrating the Sydney public further, while former big money dud player, Tom Boyd, justified every cent the Bulldogs have ever paid him with a stellar performance of 10 kicks, four handballs, eight marks and three goals.
It looks as though Tom Boyd has announced himself as a big game player. Regular season games? Not so much. All Luke Beveridge has to do is get the Bulldogs into the finals again next year, slot in Boyd, sit back and watch the success.
Thankfully, Sydney didn't win. That's all any red-blooded AFL fan was hoping for.
Fifty years between drinks
It was the weekend for fairytale's to come true.
First the Bulldogs beat a 62 year Premiership drought, then the Cronulla Sharks rolled the Melbourne Storm 14-12 to snap a 50-year drought and bring the club its maiden Grand Final win.
The Sharks came out and stood over the Storm in the first half only for Melbourne to fight back and give us one king hell of a cliff hanger in the second half. It all culminated in a tense hot-potato flurry funnelled in to the dying moments of the game.
In the end the Sharks were able to hold out the Storm's ab-lib play, with Will Chambers blowing a golden opportunity to win the game.
It may have been a weekend for the fairy tale win's, but it was also a weekend for the most touching and gracious post-match speeches. First Luke Beveridge gave his Premiership medal to injured captain Bob Murphy, then Cameron Smith, in loss, congratulated the Sharks on their history making win and said it was the greatest thing their players and fans could have ever hoped for.
Pure class.
These were our favourite tweets from a wild weekend:
5. No Hawthorn!!
So both NRL and AFL Grand Finals are set. I was nervous Hawthorn were going to sneak into the NRL one.

— Titus O'Reily (@TitusOReily) September 24, 2016
That's right: no Hawthorn in the AFL Grand Final. It has only taken us four years, but a Hawthorn free Grand Final is all we could have hoped for this year. Add to that the absence of a Ross Lyon-coached side and this is almost the perfect AFL Grand Final!
Now if only the Bulldogs can down those "COLA" swilling Swans then Grand Final day will be complete!
4. Mundine's Kaepernick attempt
Been saying this for years ! The anthem was written in late 1700s where blackfullas were considered fauna… https://t.co/blGRdGyXJa

— Anthony Mundine (@Anthony_Mundine) September 29, 2016
In a vain attempt to mirror the brave stance taken by San Francisco 49er's Colin Kaepernick, Aussie rogue, Anthony Mundine has attempted a call to arms in an attempt to try to convince players to boycott the Australian National Anthem before both the NRL and AFL Grand Final's.
Sydney Swans power forward Buddy Franklin summed up the general feeling in the community towards Mundine's proposal, calling Mundine's brain storm "pretty stupid".
3. Greatest Aussie sporting moment ever?
What a fantastic moment – Bulldogs coach Luke Beveridge gives injured captain Bob Murphy his premiership medal https://t.co/dsTK2NwhZc

— Justin Stevens (@_JustinStevens_) October 1, 2016
It was the Bulldogs first premiership in 62 years. These days it almost seems as though Bulldogs captain, Bob Murphy, has played every game since then. That is how long Murphy has been around.
So it was a cruel twist of fate that saw the 17 year Bulldog veteran injured with an AC ligament injury in round three only to see his beloved Bulldogs go all the way and beat a 62 year Premiership drought.
It was surely a bitter sweet feeling for Murphy.
Bulldogs coach, Luke Beveridge, summed up the feeling for Murphy when he took off his Premiership medal, called Murphy on to the stage and placed his Premiership medal around Murphy's neck. The cheers from the MCG was deafening.
It will go down as one of the greatest Grand Final moments, if not Australian sporting moments, any of us will ever have the pleasure of seeing.
2. Sharks get up
WE ARE THE PREMIERS! #NRLGF #WhyNotUs pic.twitter.com/jskkfwaRh7

— Cronulla Sharks FC (@Cronulla_Sharks) October 2, 2016
It was a tense battle before the Sharks finally managed to carve their place in history.
Despite a large portion of the NRL community flat out loathing certain elements of the Sharks (Gallen, Ennis, Fifita, peptides) as grubs and cheats, even the most hardened hater couldn't help but quietly applaud a club that has gone 50 years with an empty trophy cupboard.
Congratulations Sharks, but don't get too carried away, just the one win is enough for you lot….
1. Cameron Smith's post match speech
Gracious in defeat, @storm captain Cameron Smith praises Sharks in class act. #9WWOS https://t.co/sKjA0rocfE

— The NRL Footy Show (@NRLFootyShow) October 3, 2016
Cameron Smith's post match speech was the very epitome of grace and sportsmanship. Fighting through the obvious pain of a Grand Final loss, Smith congratulated the Sharks on a well won Grand Final and went on to explain how much this means for their long suffering fans: supporters who have had to deal with 49 years of loss and pain, Ricky Stuart, peptides and ASADA to mention a few.
Smith's post game speech, like Luke Beveridge's, will go down forever in sporting folk lore.