Twitter goes bonkers for thrilling round of 2017 AFL action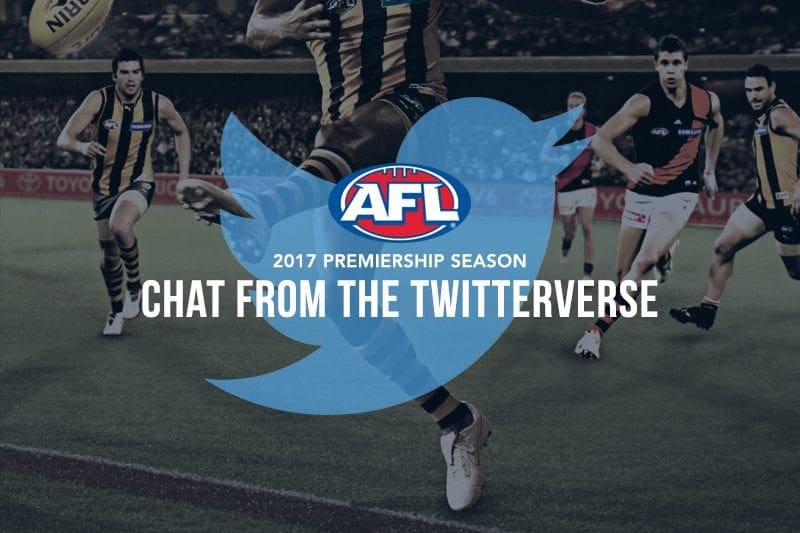 WHAT a weekend.
Hawthorn and Sydney kick-started a sensational AFL Multicultural Round under Friday night lights at the MCG.
It was a big night for Swans captain Josh Kennedy, who celebrated a milestone against his former club.
He's off! ? Emilio Kennedy steals the thunder in Dad's 200th #AFLHawksSwans pic.twitter.com/TqMXzdoHLn

— AFL (@AFL) July 28, 2017
That was about as good as it got for Sydney as the Hawks held on to keep their slim finals hopes alive.
Despite the quality of the footy on display, it was Will Langford's cheeky smacker on Jarrad McVeigh that grabbed the headlines.
DISRESPECTFUL?
Jarrad McVeigh wasn't happy with will Langford's amorous PDA. What do you think? https://t.co/gxi1lzirfC #AFLHawksSwans pic.twitter.com/R1yF7PYxxC

— SuperFooty (AFL) (@superfooty) July 28, 2017
North Melbourne went into Saturday's clash in Hobart with accusations of tanking hanging over their heads.
What better way to hit back at the haters than with a clutch win over a finals contender?
That result extended a winning streak over Melbourne that dates back more than a decade.
Tanking? Did someone say tanking? #AFLNorthDees pic.twitter.com/mfJiMnhCA6

— Sportsbet.com.au (@sportsbetcomau) July 29, 2017
There was a lot of love for big Ben Brown, who booted four goals to take his tally to 51 for the season.
Online bookie Sportsbet.com.au has moved the big Tasmanian into +350 to win the Coleman Medal over a star-studded group that includes Joe Daniher (+150), Lance Franklin (+200) and West Coast's Josh Kennedy (+250).
Turning into a terrific player is Ben Brown. A ripping young bloke, too. #AFLNorthDees

— Rohan Connolly (@rohan_connolly) July 29, 2017
Ben Brown appreciation tweet. I could tweet this almost every game this year, 50 goals now ? @NMFCOfficial #aflnorthdees

— Jared Windridge (@jaredwindridge) July 29, 2017
Yet the play of the day was toss-up between Luke McDonald and Jarrad Waite.
The wind-assisted bomb or the brutal rejection – which gets your vote?
That's enormous from Luke McDonald! #AFLNorthDees pic.twitter.com/46c19j9lWJ

— AFL (@AFL) July 29, 2017
Savage from Jarrad Waite ? #AFLNorthDees pic.twitter.com/Vwas4hhIE7

— AFL (@AFL) July 29, 2017
GWS Giants had to fight tooth and nail to arrest their slide down the ladder.
Fremantle threw everything at them and even took the lead going into the last quarter.
Nat Fyfe and Lachie Neale stood out for the Dockers, while Brady Grey had an impact up forward with a couple of goals.
Grey on the siren ? #foreverfreo #AFLGiantsFreo pic.twitter.com/Yqgo1VteIt

— Fremantle Dockers (@freodockers) July 29, 2017
It wasn't enough to keep the Giants from scraping an ugly win to secure at least another week in the top four.
Freo coach Ross Lyon was eager to highlight the positives from a match that left fans proud yet deflated.
Good effort @freodockers. #AFLGiantsFreo pic.twitter.com/mU7pniUD2a

— MITCH (@mitchthomas87) July 29, 2017
FT: Disappointing to lose from there, but some great fight from a developing team.
Giants 13.20.98
Freo 13.8.86#AFLGiantsFreo#foreverfreo pic.twitter.com/M2gPV67LY1

— Fremantle Dockers (@freodockers) July 29, 2017
Port Adelaide pulled a rabbit out of the hat to break St Kilda hearts.
Trailing by 10 points with less than two minutes remaining, the Power looked certain to become the latest casualty in a season riddled with big upsets.
More than a few 'supporters' certainly thought so.
Port fans who left early like…. #AFLPowerSaints pic.twitter.com/bXn52ivU74

— Matt (@Mattys123) July 29, 2017
Never leave early! #AFLPowerSaints pic.twitter.com/wt9tK1htTo

— CrownBet.com.au (@crownbet) July 29, 2017
Hey Port 'diehards' who left 2 minutes ago…turn in your memberships. #AFLPowerSaints

— Sportsbet.com.au (@sportsbetcomau) July 29, 2017
It looks like someone needs to light another flare at Adelaide Oval, to show all the Port supporters where the game is… #AFLPowerSaints

— Sir Splash (@miltrain) July 29, 2017
Aaron Young closed the gap to four points, but it appeared a case of too little, too late for Port.
Then up stepped the big guns.
With only seconds left on the clock, a stunning piece of tap ruckwork from Paddy Ryder put Robbie Gray through to seal a vital win at the death.
What an incredible finish! #AFLPowerSaints pic.twitter.com/zdxsik6n4Y

— AFL (@AFL) July 29, 2017
And people say ruckman don't matter. #Ryder #AFLPowerSaints

— Dave Hughes (@DHughesy) July 29, 2017
Robbie Gray, you just broke every Saints supporter's heart ? #AFLPowerSaints

— St Kilda FC (@stkildafc) July 29, 2017
That would have seen the Power surge into the top four if Richmond had come undone on the Gold Coast.
It looked a distinct possibility early on as the Suns bolted from the gates with a flurry of first-quarter goals.
Tigers fans felt their stiffest opposition was the blokes with the whistles.
.@AFLUmpiresDept // you #FluroFlogs were appalling at Metricon tonight in #AFLSunsTigers

— Battling Lefty (@murzo_4) July 29, 2017
Putrid umpiring all quarter. Determined to make themselves famous. And ready to have Witts' babies. #AFLSunsTigers #Gotiges

— Geoff Matheson (@geoffmatho) July 29, 2017
Bloody hard to get a free if you're wearing Yellow and Black but seems you only need to be wearing Red to get one. #AFLSunsTigers

— Tiger Tex (@TigerTex1) July 29, 2017
Even so, Richmond did enough to wrap up a comfortable 33-point win – their first at Carrara since 1991.
Back in Melbourne, there were few problems for Geelong as they dealt plummeting Carlton their sixth consecutive defeat.
However, there could be some strife for Brownlow Medal favourite Patrick Dangerfield.
WATCH: Is @dangerfield35 in trouble for this tackle on Matthew Kreuzer?

Have you say and vote on our poll ? #AFLBluesCats pic.twitter.com/o4pXFb97sq

— AFL on 7 (@7AFL) July 29, 2017
The superstar Cat may have a case to answer at the Match Review Panel after driving Matthew Kreuzer's head into the Etihad Stadium turf.
That dodgy tackle has already thrown Brownlow betting into chaos, with top bookie CrownBet.com.au removing Dangerfield from the outright market and installing Dustin Martin as the -181.82 favourite.
Social media went into overdrive as the media rallied to Danger's defence.
Commentators more worried about Dangerfield's Brownlow chances than Kreuzer's wellbeing. Typical class from Channel 7 #AFLBluesCats

— Niko (@negative_niko) July 29, 2017
Kruezer has been diagnosed with concussion. Dangerfield can't escape suspension #AFLBluesCats

— Rohan (@RohanCT) July 29, 2017
Where do we start with Sunday?
The Eagles got back on track with a much-needed percentage booster over the Brisbane Lions.
Marc LeCras came in for some harsh criticism during the week, but he hit back with a classy all-round display and some choice highlights.
Sensational stuff from Mark LeCras. #AFLEaglesLions pic.twitter.com/F40qzPH5O9

— AFL (@AFL) July 30, 2017
With so many tight encounters to choose from, it might seem strange to highlight the Western Bulldogs' five-goal win as the match of the round.
Essendon got their first taste of finals pressure in many a year as the reigning premiers put on by far their best show of the season.
You could tell the Dogs were up and about when Travis Cloke managed to slot one off his right foot.
Brilliant! Travis Cloke kicks a @coateshire Goal of the Year contender! #AFLDogsDons pic.twitter.com/P7ZOc5MjEt

— AFL (@AFL) July 30, 2017
The Bombers held sway for large periods of the game and constantly threatened to run away with it, but critical errors at key moments cost them dearly.
Nobody was more culpable in that regard than Cale Hooker, whose brainless decision-making and woeful execution around goal summed up the Dons' day.
They lost the plot altogether in the dying minutes, most obviously when serial offender Brendon Goddard gave away a needless 50-metre penalty to tee-up another late goal for the Doggies.
Live shot from Bomber changerooms #afldogsdons pic.twitter.com/9jjDLmuqdY

— SERGIO DERANG0 (@SERG1O_D) July 30, 2017
It took til the final minute…but Goddard finally lost it! #afldogsdons

— Sportsbet.com.au (@sportsbetcomau) July 30, 2017
Even so, one suspects Bombers coach John Worsfold would not have traded places with Nathan Buckley for all the money in the world.
Sunday arvo at the 'G was shaping up as a belter for Collingwood.
League leaders Adelaide looked clueless as the Pies kicked out to a 50-point lead early in the third quarter.
Actual footage of Adelaide trying to get into the forward 50. #AFLPiesCrows pic.twitter.com/XPsZzy83UT

— Alexander Jacobs (@ALcobsy) July 30, 2017
Then it all changed.
By the last break, the Crows had whittled the margin down to three goals.
A few minutes into the final term, they were within a kick of the lead.
The Pies kicked away again, the Crows clawed it back, and then this happened:
WATCH: The dramatic final minute of an absolute classic at the 'G. What a finish! #AFLPiesCrows pic.twitter.com/rTyiYBnHay

— AFL on 7 (@7AFL) July 30, 2017
Who would want to be an AFL coach?