Twitter blows up as Eagles soar into AFL semi finals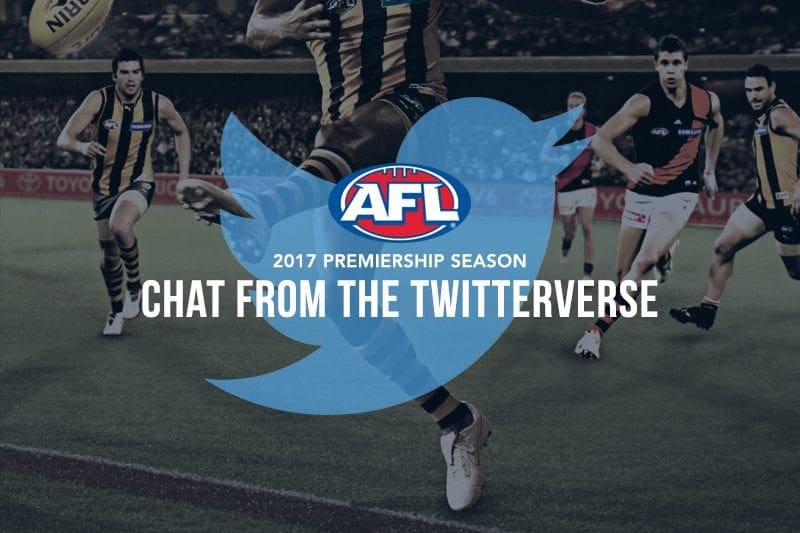 THE top eight was reduced to six over the weekend as Australia tuned in for the first week of the 2017 AFL Finals Series.
It kicked off on Thursday as the GWS Giants visited Adelaide to play for a spot in the preliminary round.
Even with Rory Sloane out and Brodie Smith busting his knee early in the game, the Crows glided to victory.
It was great viewing for Adelaide fans, but much less so for the neutral.
Crows fans: Exciting first half.

Everyone else: What's on the other channel? #AFLCrowsGiants

— Titus O'Reily (@TitusOReily) September 7, 2017
Brodie Smith walks out on crutches.
BT – "He looks like he's out for the rest of the game"#AFLCrowsGiants pic.twitter.com/0JMdlpoUt5

— Sportsbet.com.au (@sportsbetcomau) September 7, 2017
#AFLCrowsGiants Carlton fans watching Eddie Betts produce his magic pic.twitter.com/oKzaffwONe

— Scott Bailey (@scottbailey23) September 7, 2017
Things went up a notch on Friday night as Geelong 'hosted' Richmond in an absolute blockbuster.
More than a few in the Cats' camp were annoyed that the game was not held at Simonds Stadium, but the numbers suggest the AFL was not entirely wrong to meet demand with supply.

Over 95,000 people crammed into the Melbourne Cricket Ground as Dustin Martin steered the Tigers to their first finals victory since 2001.
To put that turnout into perspective, the NRL's opening week of playoff games drew only 75,361 in total across four fixtures.
Only about 25 minutes until Chris Scott says he's *not* complaining about the final being held at the MCG #AflCatsTigers ??? pic.twitter.com/CD6BpMc86e

— Ken McAlpine (@KenMcAlpine) September 8, 2017
Richmond fans arriving at work today#AFLFinals #aflcatstigers @mmmhotbreakfast pic.twitter.com/ltxt6fFFDd

— Shaun Curnow (@stkildathunda) September 7, 2017
Live scenes at the MCG front gate #AFLCatsTigers #AFLFinals pic.twitter.com/ZcvFrxVyZM

— CrownBet.com.au (@crownbet) September 8, 2017
A strong Essendon contingent ventured north as the Bombers took on the Sydney Swans for a spot in the semis.
The visitors started brightly, but a devastating second quarter from Buddy Franklin and the Bloods put the result almost beyond doubt by half-time.
The Swans ran out 65-point winners to tee up a clash with the Cats next week.
That is some effort from a side that started the season with six consecutive defeats.
Giants: We were crap
Cats: We were crappier
Bombers: Hold my beer#AFLswansdons #AFLSwansBombers

— Sportsbet.com.au (@sportsbetcomau) September 9, 2017
Seven goals in a row to the Swans and all four this quarter. #AFLSwansDons #AFLFinals pic.twitter.com/McuJTfvaDg

— AFL (@AFL) September 9, 2017
Horse is pumped to be through to the Semis #AFLFinals #AFLSwansDons pic.twitter.com/1Ij6NMVLSs

— CrownBet.com.au (@crownbet) September 9, 2017
Three one-sided results left viewers a little wary about Saturday night's eliminator at the Adelaide Oval.
We need not have worried, as what we got was one of the all-time great footy finals.
Having led for most of the night, West Coast found themselves scrambling to force a draw in a game littered with controversial umpiring decisions.
The Power took the advantage with two early goals in extra time, but the Eagles rallied again to snatch a two-point win and a semi-final date with the Giants.
Port Adelaide…. #AFLpowerEagles pic.twitter.com/h3hvLSpCd7

— Kim Jong Wenger (@49arsenal) September 9, 2017
YOU ARE ABSOLUTELY KIDDING ME?!?!?! @7AFL @AFL #AFLPowerEagles pic.twitter.com/2fvF9XfK1N

— Trav Roebuck (@Trav_Roebuck) September 9, 2017
Disappointed Port fans make their way home. #AFLPowerEagles pic.twitter.com/Bv7ybsFYeb

— Titus O'Reily (@TitusOReily) September 9, 2017