Tigers skipper says life ban would be 'too harsh' on Simona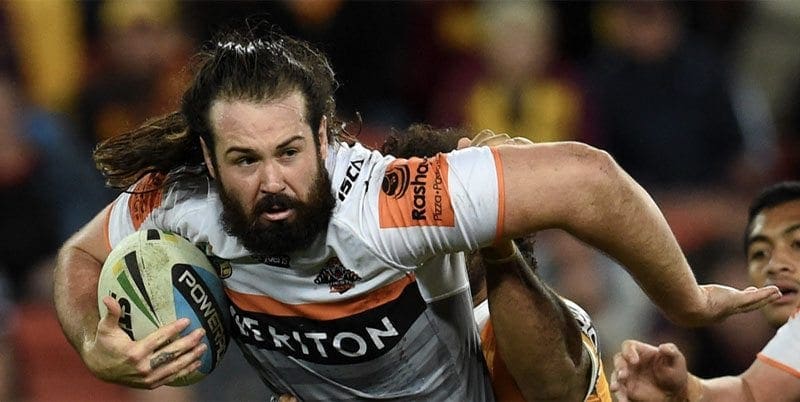 AARON Woods has urged the NRL not to go overboard when handing down judgement to his Wests Tigers teammate, Tim Simona.
The New Zealander is facing severe penalties, including a possible life ban, after the league's integrity unit discovered he had placed several wagers on NRL matches.
While Woods did his best to avoid commenting on the specifics of his clubmate's case, he was adamant that permanent exclusion was too rough a sentence for any player found guilty of breaching the gambling code.
The Tigers captain made a pointed comparison to the relatively lenient terms for doping offences.
"A life ban is a long time," Woods said on Monday.
"People who test [positive] for steroids, they get two or four years.
"If they do something wrong, you've got to have a chance to come back from it.
"But in saying that I don't know the full details of Tim Simona.
"That's all with the NRL, it's hard to comment on."
It is expected that Simona will learn his fate sometime this week.
What we think of Woods' comments and the Simona case
The Wests skipper has a point.
Compared to players copping two-year suspensions for admitting to drug charges, a lifetime ban for a few small bets seems over the top.
But the best way to address that imbalance is not to go easy on gambling charges, but to get much more serious about doping.
Like it or not, online bookmakers are now a major aspect of Australian sports.
That means the organisers of each and every competition in this country, at every level, must go to great lengths to ensure their product is not tarnished by match fixing and other betting-related crimes.
At the very least, the powerbrokers are obliged to make a big song and dance about integrity so they can justify their growing reliance on revenue from bookie partnerships.
And if the rumours concerning the nature of Simona's offences are proven to be true, the NRL will have little choice but to boot him from the comp.
It is believed that not only did the Tigers centre place several exotic bets on matches in which he played, but that he often backed his direct opponents to score.
Even if the stakes were small, that kind of behaviour represents a blatant and intolerable breach of basic integrity measures in any sport.