The Tiger train crashes and the Pies fire in the AFL twitter wrap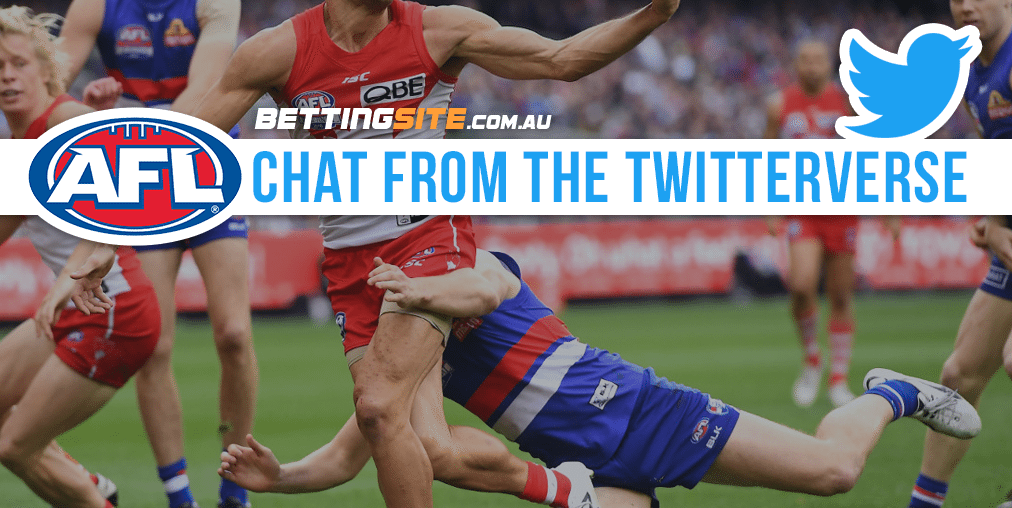 ANOTHER weekend, another round of crazy results in the AFL.
Just when you thought your tipping and multis were safe, the Pies come out and stun the Cats, Joe Daniher reverts back to his old, woeful kicking ways and the Tigers drop their first game by 13 goals.
It was a brilliant round of footy for the impartial fans, but thankfully the diehards were out in force this weekend to give us a glimpse into the mind of madness that is football fanaticism.
Let's take a look at the best Twitter had to offer.
Are the wheels falling off the Tiger train?
Look away now Tiger fans.
After going over to Adelaide sporting a 5-0 record, the Tigers came crashing back down to earth, going down by the now premiership favourite Crows ($3.75 at WilliamHill.com.au) by 76 points.
Twitter lit up after the win, claiming this kind of downfall was inevitable.
Thought so… Tigers are pretenders, with an easy draw until now. #AFLCrowsTigers

— Bozman (@Bozzman77) April 30, 2017
Even the Tiger fans were able to have a laugh at themselves following the heavy defeat.
Can't even beat us by 100, Adelaide overrated. #AFLCrowsTigers

— Josh (@joshspeedie) April 30, 2017
Call it delusional or call it wild optimism, but one Tiger fan could not help but draw parrarells to the joint flag favourites GWS.
GWS lost by 56 over there, have since won five in a row. We won five in a row, and have lost by 76. Some context. #gotiges #aflcrowstigers

— Cam Rose (@camtherose) April 30, 2017
We admire the passion, but we are not sure the heart and the mind are on the same page.
Dons and the Dees game lambasted on social media
Some said it could be the worst game of all-time, it was however, without question the poorest match of football we will see this year.
Melbourne defeated Essendon by 28 points, but it was fair to say the game of AFL was the real loser on Sunday.
That was one of the worst games I have ever witnessed ??? #AFLDonsDees

— Ezz (@ezzdcruz) April 30, 2017
One man found out the hard way that a week – or five days in this case – is a long time in football.
Travis Cloke: I'm the worst set shot goal kicker in the league
Joe Daniher: Hold my beer #AFLDonsDees

— Trent Conheady (@Trent_Conheady) April 30, 2017
After starring on ANZAC Day in a best on ground performance, Joe Daniher's goal kicking woes came back to bite him as the star forward booted zero goals and six behinds in the opening half.
One Twitter user had an interesting theory as to why big Joe could not find the middle of the sticks.
I am convinced that @joedaniher06 poor goal kicking can be attributed to his moustache impacting his balance #AFLDonsDees #essendon #mo

— Craig Poxon (@crafpox) April 30, 2017
One fan even took a leaf out of the Barmy Army's playbook, using an old sledge used on former Australian quick Mitchell Johnson.
@Robbo_heraldsun he kicks to the left, he kicks to the right. That Joey Daniher, his kicking is shite! #AFLDonsDees

— Sam Anstee (@SamAnstee85) April 30, 2017
Hard to argue after Sunday's display.
Pies bounce back after ANZAC Day disaster
This is a way to galvanise your team.
The Magpies ended the Cats brilliant start to the season in fantastic style, outclassing and outworking their rivals on the MCG.
The game was typified by Greenwood's complete shutdown of Cats skipper Joel Selwood, and one Twitter user believes that the multiple time All Australian will dwell on that game for awhile.
Selwood every time he thinks about Greenwood tonight. #AFLCatsPies pic.twitter.com/oeMv7jDolp

— Maggie pies (@maggiepies2010) April 30, 2017
Others think there were other factors at play in the win.
GWS Giants player Adam Tomlinson had an interesting take on Collingwood's pre-game talk on the field.
Bucks and the team getting a selfie? #AFLCatsPies pic.twitter.com/EX8IJ9X3oa

— Adam Tomlinson (@adamtomlinson20) April 30, 2017
Call it blind faith or maybe he is a soothsayer, but the sooner we get around this guy for our weekly tips the better considering he predicted the massive upset hours before the match.
Got this weird feeling that Collingwood will win today. We will finally kick straight and get back on track. $4.50. Way overs ?? #GoPies

— Matt (@Mattys123) April 29, 2017
Either way, hats off if it took the "overs" on the Magpies.