The five worst public meltdowns by sports stars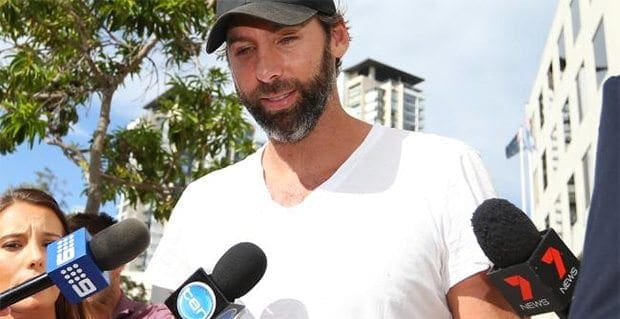 LET'S face it, there's something magnetic about an old-fashioned celebrity meltdown.
And when it comes to meltdowns, few people can do it as well as an athlete.
We think it must be a combination of the hugely-competitive nature of sport at the highest level compounded by a lack of awareness or media training, but athletes seem to do public meltdowns better than any other person of note.
Whether it is in game tantrums, interviews gone horribly wrong or displaying a nonchalance for the people around you, sport stars have made headlines since the dawn of the media for making poor life choices in the heat of the moment.
We took a look at five of our favourite sporting meltdowns by athletes the world over for your reading and viewing pleasure.
Grant Hackett's litany of public misdemeanours
Few athletes suffer the fall from grace that Grant Hackett has endured.
The former multiple Olympic Gold Medallist has been in the news for the wrong reasons on multiple occasions since his retirement. He was kicked out of his home, he had an altercation on an aeroplane and this week he was arrested at his parents' home for his irrational behaviour.
The aeroplane fiasco was close to the craziest incident we have seen however.
After getting in an argument on a flight from Adelaide to Melbourne, Hackett allegedly 'tweaked the nipples' of a fellow passenger before having to be helped from the plane by Collingwood CEO Gary Pert.
Bizarre does not begin to describe the scenario.
Jim Rome vs Jim Everett
When it comes to awkward situations and heated confrontations on live-TV, few can reach the heights of the Jim Rome interview alongside former NFL quarterback Jim Everett.
In the 1989 NFC Championship game Everett was sacked multiple times, and infamously wrongly anticipated an oncoming tackle, collapsing in the pocket in what the press dubbed the 'phantom sack'.
Sportscastor Jim Rome relentlessly mocked Everett thereafter, calling him 'Chris' in reference to female tennis player Chris Evert.
In 1994 the pair met live on TV for an interview which Everett expected to be respectful, but Rome had other intentions. After calling him 'Chris' twice to his face, Everett warned Rome that they would have a problem if he said it again.
The interviewer did not back down, and what followed was absolute television gold.
Marcos Baghdatis breaks four racquets at the Australian Open
Breaking a racquet on the tennis court is a hilarious display of frustration by anyone's reckoning, but when former Australian Open finalist Marcos Baghdatis took to the chair at a changeover in his match against Stan Wawrinka back in the 2012 grand slam in Melbourne, few would have predicted what would follow.
Clearly frustrated from a missed opportunity, Baghdatis shattered his racquet then went on to destroy a further three – all of which were still wrapped in plastic – much to the delight of the Melbourne Park crowd.
We do not know what is funnier here, the Cypriots' meltdown or Stan Wawrinka's ice cold demeanour less than ten metres away.
DeMarcus Cousins unleashes on a reporter
DeMarcus Cousins is one intimidating man.
Standing at 211cm and weighing 122kg, Cousins cuts a menacing figure in anyone's language, but when you combine his propensity for petulance alongside what can be politely described as an inability to adequately control his emotions the man they call "DMC" is a scary prospect on the court.
Off the court however, he is even more frightening.
After taking exception to an article that columnist Andy Furillo wrote about Cousins in which he mentioned his brother's incarceration, the Kings' centre went off on the much smaller journalist in a such a way that we are taken aback just by watching.
Furillo nobly stood his ground but he could have been forgiven for needing a change of underwear after this locker room kerfuffle.
David Ortiz destroys dugout phone
Former Red Sox's power hitter David Ortiz is a much loved figure in Boston and the wider baseball community, but it is fair to say the man they call 'Big Papi' did not endure himself to the league here.
After getting struck out in a game in 2013, Ortiz calmly walked to the dugout after exchanging some seemingly cordial words with an official, but as the camera cut away all hell broke loose.
Papi was ejected from the game and subsequently went on a tear. The big boy had to be restrained from physically confronting an official after he was thrown from the game for smashing the dugout phone into smithereens.
The man retired in 2016 a legend, but this is a stark reminder as to why he was one of the most feared men in the MLB.