Sportsbet swoops to snatch AFL deal from Crownbet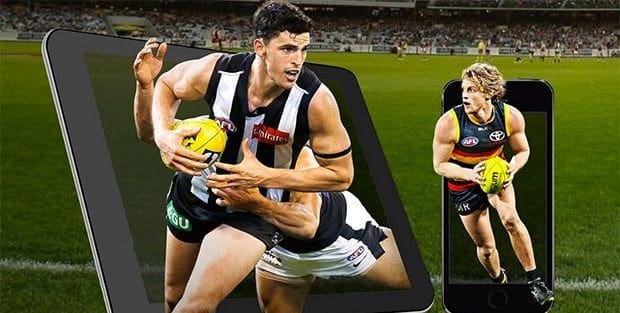 SPORTSBET has always been a company which has a propensity for the cheeky, but their freshly-signed betting sponsorship deal alongside channel Seven takes the cake.
Sportsbet this week struck a deal to be the betting sponsor of Seven's AFL coverage for 2017, effectively giving them advertising presence on free-to-air television, despite the fact that CrownBet is the AFL's official wagering partner.
Crownbet, which pays $10 million annually for the AFL sponsorship deal, elected not to purchase the Seven advertising deal, which was subsequently snapped up by Sportsbet.
Matthew Tripp, the chief executive of Crownbet explained the company placed a higher priority on advertising on subscription television.
"The Seven deal was good for us previously given the reach free-to-air gives us, but we think with the growth of Fox Footy it makes sense for us to stick with them given they have the demographics we are more interested in, which is the more hardcore punter." Tripp said.

Shrewd business for Sportsbet as they look to circumvent Crownbet's potential hold on the Victorian marketplace
The move to acquire the advertising rights was a concerted one from Sportsbet executives, who are believed to be concerned about Crownbet's growing presence in Victoria.
Sportsbet still is the number one bookmaker Australia-wide and maintains a strong market share in Victoria.
Mr Tripp said CrownBet would aggressively spend on advertising this year, but admitted the company is going through a number of cost-saving measures, including the renegotiated deal with Seven, as well as maintaining their Racing.com website and free-to-air channel.
Crownbet spent a total of $80 million in marketing alone in 2016.
Tripp said the overall goal is to make Crownbet the number one bookmaker in Australia.
"We've been more skewed towards Victoria. But now that we're fully integrated with our rewards program across CrownBet and Crown Resorts, we'll be looking to push more into WA and also north along the eastern seaboard via what we hope will be a deal with Clubs NSW and also through relationships with NRL clubs."
Did Crownbet make a calculated risk or were they asleep at the wheel?
On the surface, Sportsbet's deal to acquire the Channel Seven advertising rights is an incredibly-shrewd one.
Despite Crownbet having a $10 million deal to be the official betting partner of the AFL, Sportsbet will get preferential treatment on free-to-air coverage.
So why exactly would Crownbet effectively hand their bitter bookie rivals the golden advertising ticket during FTA coverage?
Chief Executive Matthew Tripp said it was a calculated risk, given most 'hardcore' punters watch their footy coverage via subscription television – we are not so sure.
The punt does not discriminate and neither should have Crownbet.
The team at Sportsbet were privately racking their brains in order devise a plan to gain the upper hand in Victoria and their competitors have handed it to them on a silver platter.
Cost cutting is all well and good, but if you are doing it in spite of your business you are stifling your money making ability.
We do not understand the decision but bravo to Sportsbet – you pulled a swift one.