Serena Williams wins her seventh Australian Open title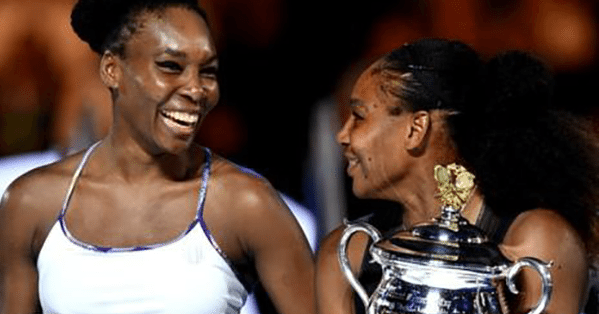 AMERICAN superstar Serena Williams has taken out her seventh Australian Open title, defeating her older sister Venus in straight sets on Saturday night in Melbourne.
The 35-year-old appeared to be below her best for most of the match, showcased in an early game when she lost her cool and smashed a racquet.
In fact, both sisters seemed to be struggling in the early stages, however, Serena's dominance over Venus continued, and a touch of class prevailed at the finish to triumph 6-4 6-4.
The win gave Williams her 23rd major title, the most of any player in the open era, and second on the all-time list behind Margaret Court.
By winning the Australian Open, Williams will once again regain her spot as the world no. 1 in women's tennis, having lost the position to Angelique Kerber after the US Open last year.
After hoisting the prestigious Daphne Akhurst Memorial Cup, Williams thanked her sister Venus who was resuming in the Australian Open after a turbulent few years which saw her fall out of the top 100 in 2011 after being diagnosed with Sjogren's syndrome.
"I really would like to take this moment to congratulate Venus, she's an amazing person," Williams told the crowd at Rod Laver Arena.
"There's no way I would be at 23 without her. There's no way I would be at one without her. There's no way I would be anything without her. She's the only reason the Williams sisters exist.
"I definitely think she'll be standing here next year. i don't like the word comeback but she's never left."
Venus, albeit noticeably disappointed, was also beaming with pride for her little sister.
"Serena Williams, that's my little sister, guys," she said.
"I've been right there with you, some of them I lost right there against you.
"I'm enormously proud of you, you mean the world to me."
The youngest Williams sister had been emphatic throughout the 2017 Australian Open series, in fact by winning on Saturday night she became the first player to triumph in the Australian Open without dropping a set since Maria Sharapova in 2008.
All eyes will now be on the men's final which is set to get underway on Sunday evening at Rod Laver Arena.
The decider will be a classic showdown of the greatest rivalry in tennis history, with Swiss maestro Roger Federer facing off against Rafael Nadal.
The champion players have won 31 grand slam singles titles between them but have not met in the final of a major since Roland Garros in 2011 when Nadal triumphed in four sets.
Nadal holds a 6-2 lead over Federer in grand slams finals and was also the winner of their only previous Australian Open final, winning in five sets back in 2009.
Australian Open – men's final
Head-to-head
Federer $2.05 with Sportsbet
Nadal $1.80
Set betting
Federer 3-0 $6
Federer 3-1 $5
Federer 3-2 $5.50
Nadal 3-0 $4.50
Nadal 3-1 $4.20
Nadal 3-2 $5.50
To win first set
Federer $1.99
Nadal $1.75
Total match games
Under (41.5) $1.72
Over (41.5) $2
Game handicap
Federer (+1.5) $1.90
Nadal (-1.5) $1.80