Ronda Rousey faces decision on career after UFC 207 debacle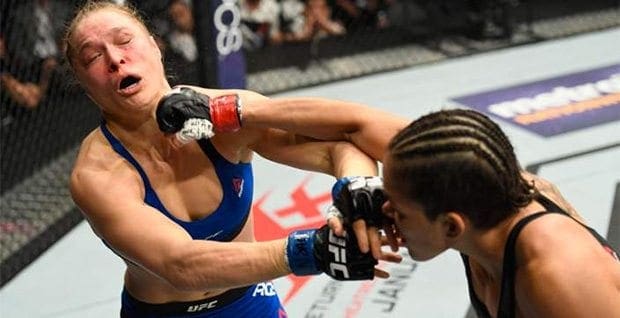 RONDA Rousey's career inside the UFC octagon is in doubt after suffering a comprehensive defeat to bantamweight champion Amanda Nunes at UFC 207.
Rousey entered the fight as the $1.65 favourite at Sportsbet.com.au to recapture the UFC belt, but was unceremoniously hammered by the heavy-hitting Brazilian, who dominated the Olympic medallist and pummelled her until the fight was called, less than a minute after it began.
In the aftermath of the loss, Rousey released a statement to ESPN, saying she is taking 'time off' to reflect.
"I want to say thank you to all of my fans who have been there for me in not only the greatest moments, but in the most difficult ones," Rousey's statement read.
"Words cannot convey how much your love and support means to me.
"Returning to not just fighting, but winning, was my entire focus this past year. However, sometimes – even when you prepare and give everything you have and want something so badly – it doesn't work how you planned.
"I take pride in seeing how far the women's division has come in the UFC and commend all the other women who have been part of making this possible, including Amanda.
"I need to take some time to reflect and think about the future. Thank you for believing in me and understanding."
Public sentiment following the fight suggested Rousey's career may be over, but notable sporting personalities have called on Rousey to continue fighting.
I think it's important for Ronda to show her fans how great she truly is by displaying her courage and giving it another try.

— Jon Bones Jones (@JonnyBones) December 31, 2016
Former light-heavyweight champion Jon Jones tweeted that this should not be the end for Ronda, and that the devastating loss to Nunes does not have to be the footnote in what is already a sparkling career.
"My advice to Ronda would be to pick yourself up and try again." Jones went on to tweet.
For her part, Amanda Nunes said Rousey should give the fight game away.
"That's it for her. For sure, she's going to retire," Nunes said in her post-fight news conference.
"She can't take any more. If she wanted a re-match, it'd be the same thing."

Our take – it can't end like this for Rousey
Call it hubris, call it over-ego inflation from the media or just poor coaching choices, but Ronda Rousey's fall from grace from the baddest woman on the planet to punching bag has been astonishing.
Stylistically, the match against Nunes was a tough one for Rousey. Nunes is arguably the best female fighter on the planet right now and a boxing powerhouse. Ronda was wrong to think she could stand and box against her.
Does that mean she can never reclaim the throne? Of course not.
You do not dominate a division for as long as she did without being immensely skilled, but we believe Ronda needs to get back to basics and recapture what made her who she was in the first place – a world-class judo specialist and a superstar grappler.
If she truly has her heart set on MMA, there is no reason why Rousey cannot return to the glory days and take back what is hers, but she has to do it the right way.
Take the time off Ronda – find your flame again and train to your strengths and to be the baddest woman on the planet once again. The sport still needs you.
[interaction id="586a248e804953407ce1b912″]