Packer under the pump as lid lifted on Crown China debacle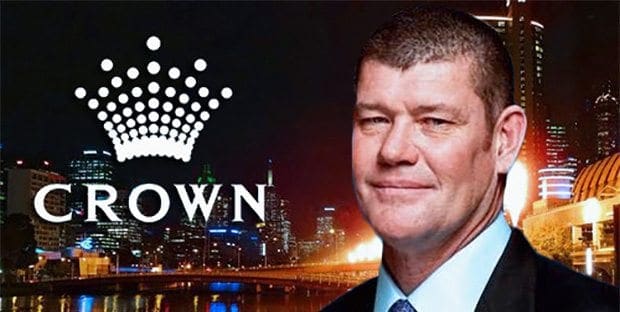 STUNNING revelations about Crown Resort's operations in Macau and China have been revealed on Four Corners last night.
In the wake of the arrests and detention of 15 Crown staff in October last year, the ABC current affairs program reports the James Packer-backed gambling conglomerate chased high rollers in China – a practice that is illegal.
Macau casino consultant Michael Lee told the program that the casino company's head of international marketing, Michael Chen, was "very ambitious" in planning to attract Chinese high rollers.
"He obviously had a very high target to meet to justify, I suppose, his appointment and he in turn went on a very expensive program to recruit just about anybody and everybody he could in terms of on the ground marketing experience," Mr Lee said.
"He went through Macau, Hong Kong, China, even down to Cambodia, Malaysia, Singapore and recruited a very, very big team of people."
Chinese authorities swooped on the Crown business in October in co-ordinated raids that yielded 15 arrests of staff, saying only that ts was for "gambling-related" offences. There are still 14 staff members being held – without charge – in Chinese detention. One has been released.
Four Corners reported that marketing guru Chen was at home in Hong Kong the night of the raids. He has been freed, but Crown has placed him on "permanent leave".
One of those being held is Crown's vice president of international VIP Jason O'Connor.
He was in mainland China on a short stay, but the report said he had become worried about visiting amid concerns about Chinese president Xi Jinping's crackdown on gambling.
"He was there because he was told to go there, he was just doing his job… he wasn't a rogue employee, he wasn't doing anything he wasn't told to do, he was doing what his job required him to do," Andrew Scott, publisher of Inside Asian Gaming said.
The raids occurred under the veil of night and Four Corners reports Crown went into damage control, deleting computer files on many of its Chinese customers. But Chinese authorities still reportedly seized laptops and mobile phones from the Crown employees that contained detail on the operations.
Those arrested said it felt like they were suspects of a murder investigation or a drug bust.
And those detained would not be enjoying their time in the Chinese slammer, according to a former prisoner.
Corporate investigator Peter Humphrey's life changed forever when police barged into his Shanghai apartment in 2013 and arrested he and his wife, the pair caught up in a major corruption investigation.
He detailed to Four Corners what the detainees would be going through.
"They'll be led out of their cell, put in handcuffs, they're forced to squat when they exit the cell," Mr Humphrey said.
"They'll be led down a corridor and across a rusty sort of iron bridge which connects two wings of the building into the interrogation block, and in that block are the interrogation cells.
"A typical interrogation cell has a small rostrum at one side of the room and a metal cage made of steel in the middle.
"Inside the cage is an iron chair with a bar that locks across your lap.
"There'll be two or three policemen, PSB (public security bureau) men, up on that rostrum — one of them will be typing on a laptop, another may be receiving guidance and instructions through an earpiece from someone who you never see."
Crown's VIP activity has been smashed by the arrests, falling by almost half, and Four Corners says it throws a cloud over the multi-billion dollar Barangaroo project in Sydney.
And, while Crown – five months on – is still reportedly awaiting clarity on what, exactly, its staff are being detained for, the former head of the New South Wales casino regulator has poured more heat on the Packer operations, saying that the company's licenses should be reviewed if any of the staff are convicted of crimes.
Chris Sidoti, former chair of the NSW Independent Liquor and Gaming Authority, said any convictions of Crown's staff "would place an authority like a regulatory body in Australia on notice and require further inquiries to be made".
Sidoti lamented the lack of Parliamentary scrutiny of the Barangaroo project.
"There was no public tender process and there was no inquiry at any stage, a public inquiry, as to the public benefit involved in this," he said.
"I think there should have been. I think that casinos are big money-spinners and operating a casino in most circumstances is a licence to print money.
"I don't think there was an appetite for thorough scrutiny.
"I think there was a wish simply to get the job done in terms of having some basic level of examination and doing the deal."
The $2 billion high roller mecca planned for Barangaroo has a date of 2021 to be opened, but, without the high rollers from China, it is unclear how Crown plans to fund the mega development.
Crown's share price has continued to tank and it appears there is more woe on the horizon.
Our say
We know we must respect the laws and custom in all countries, but surely after five months behind bars, the staff deserve to know if they have been charged or not?
Many of those arrested were surely just doing their jobs, ordered by their Crown superiors.
Perhaps Crown should have seen the signs in China. They – along with just about every one else in the world – know that gambling, and the promotion of gambling – is illegal on the mainland and, in turn, perhaps they should have scaled back their "ambitious" goals.
It's not just the company that is suffering now, but the arrested staff and their families.
We want to see Crown survive, because it offers top class entertainment and enjoyment, not just for punters, but for anyone, but it's being taught a harsh lesson.