NRL Friday margin and scoring betting: Bulldogs vs. Dragons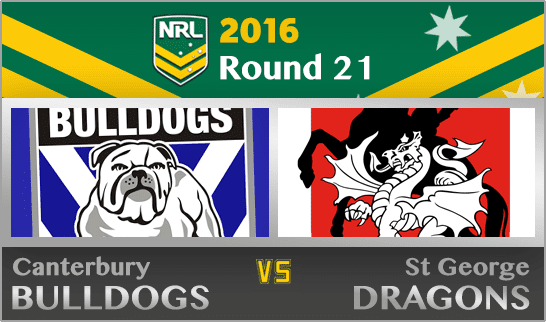 Friday, July 29 from 7.50pm at ANZ Stadium, Sydney. Watch on 9, Foxtel
FRIDAY night footy presents an interesting battle this week between two sides who had their pride pricked last week.
The Bulldogs travelled north to face the Cowboys and were thoroughly embarrassed, failing to score whilst conceding 36 points to the reigning premiers.
The Dogs still remain within touching distance of the top four, but another poor showing similar to last Thursday night will cost them a shot at a premiership tilt.
Canterbury is at $1.80 to finish inside the top four and $8 to win the 2016 premiership at sportsbet.com.au.

A lack of kicking on the final play of the ball has Bulldog fans scratching their heads as to what exactly their mode of attack is, but star five-eighth Josh Reynolds said he trusts his coach.
"I hear this all the time, but that's our structure, and that's what I'm sticking to, so I don't care what anybody else thinks,'' Reynolds said.
"People don't realise what comes off the back of it when we do it.
"I know people say, 'you can kick, you can score, you can get a repeat set', and that's all good, but seven tackles can also get a team back into the game or get them over the top of you.
"Des is the coach. I'll do what he wants. It's fair to say we have a defensive mindset and build everything on defence.''
The Dragons were hammered on Sunday by the Wests Tigers in a match that had serious ramifications for the big red V.
A win would have placed them level on points alongside the Penrith Panthers, but instead they have to be content with 11th position on the ladder – two points adrift of eighth.
Sportsbet already has the Dragons as $21 outsiders to force their way into finals contention; a loss on Friday night would draw a curtain on their season.
The view from the wider NRL community is that the season is just about finished for the Dragons, an opinion St George coach Paul McGregor does not share.
"For some unknown reason they seem to enjoy targeting some clubs more than others and some players more than others and some coaches more than others," McGregor said.
"But you can't do much about that.
"You have just got to work towards the main goals and that is to go out and play your best footy."
Match Preview and betting tips
Match winner: Canterbury – $1.15 @ Crownbet.com.au
First try scorer: Brett Morris – $6.50 @ Crownbet.com.au
St George not to score a try: $8 @ Crownbet.com.au
Friday night footy returns to ANZ Stadium as the Dogs and the Dragons do battle in a pivotal match for both sides.
Canterbury need to win if they are to force their way back into the top-four, whilst for the Dragons, their season already hangs by a thread.
A loss here and the season is over for St George.
The Dogs are expected to bounce back against the Dragons if the betting market is any indication, but inspirational Englishman James Graham said their opponents will do them no favours on Friday night after their lacklustre showing last time out against the Cowboys.
"We were gutted after the game but we move on now," Graham said.
"There's no point kicking stones about it. No one else in the competition is going to feel sorry for us so we can't feel sorry for ourselves.
"There's no one in the Dragons team that are feeling sorry for the Bulldogs. Hopefully that performance didn't define our season."
We know the Dogs will be fired up, but will their opponents be able to match their intensity?
The Dragons have lacked the killer edge all season, can they pull a big effort whilst their season is on the line? We do not think so.
We are expecting the Bulldogs to comfortably gap the Dragons, keeping their top-four push continuing whilst condemning the Dragons to another wasted season.