New PGA Tour boss joins push to legalise US sports betting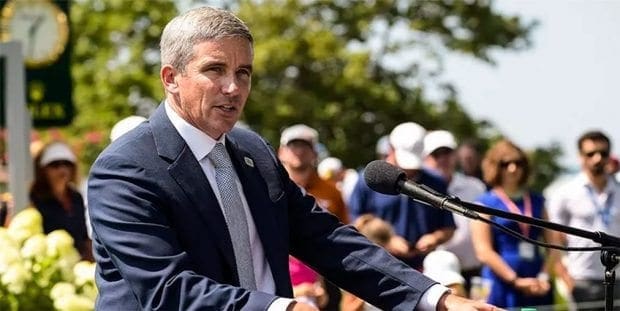 THE campaign to legalise sports betting in the United States is gathering momentum week by week.
Now another of American sport's head honchos has jumped aboard the bandwagon.
Jay Monahan, the new commissioner of the PGA Tour, revealed last week that his administration viewed legal wagering as a huge "opportunity" for the world's premier professional golf circuit.
Citing the enormous popularity of fantasy sports betting both in North America and overseas, he made it clear that the PGA was open-minded about the possibility of lifting the US wagering ban.
"You look at DraftKings and FanDuel, you look at gaming in the international markets, there's a lot of opportunity there," Monahan said during an appearance on the Golf Channel.
"There's some complexity, and that complexity has held us back from moving forward, but we will look at it and have an open mind towards it."
Those words come barely a fortnight after Monahan replaced Tim Finchem, who announced his retirement late last year after 22 years as PGA Tour commissioner.
He is one of several new bosses in US sports who have bucked their predecessors' policies by endorsing the legalisation of sports gambling – once an absolute no-go zone for sports officials.
Adam Silver kicked off the trend in 2014 when, shortly after succeeding David Stern as NBA commissioner, he launched an investigation into black-market wagering on basketball games.
"Despite legal restrictions, sports betting is widespread," Silver stated in an editorial for the New York Times.
"Because there are few legal options available, those who wish to bet resort to illicit bookmaking operations and shady offshore websites.
"The laws on sports betting should be changed."
That motion has since gained support from the rest of America's big four sporting franchises, with Major League Baseball commissioner Rob Manfred declaring in 2015 that it was time to give "fresh consideration" to the matter.
Under the 1992 Professional and Amateur Sports Protection Act (PASPA), wagering on sports is banned in all states and territories of the United States besides Delaware, Montana, Nevada and Oregon.
Golf betting, which boasts a significant following both in the US and abroad, is only legal in Nevada.
Our view on the US sports betting debate
As we said a couple of weeks ago, it is only a matter of time before Congress caves to the overwhelming demand for legal sports wagering in the US.
You can bet the pro-gambling voices will only grow louder once Donald Trump – a man with decades-old ties to the casino business – settles into the Oval Office.
The market is already there, just waiting to be transformed into a massive money-maker for the US government and the nation's top sporting divisions.
As Mr Silver's 2014 probe into illegal gambling found, the simplest and most effective way to counter underworld bookies and unregulated online betting is to give the many millions of American punters a legitimate and properly policed alternative.
It's not rocket science.