NBA Playoffs Round 2 multi betting – free tips, Wednesday May 2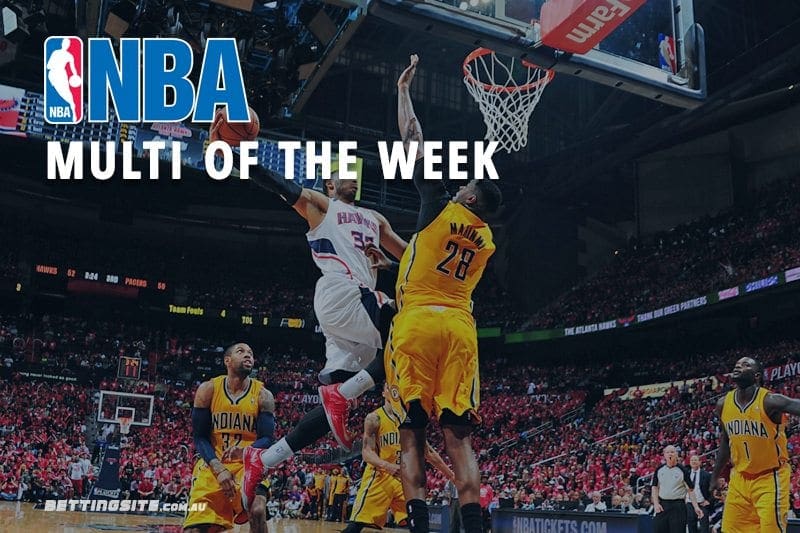 Games from 10.10am AEST, Wednesday, May 3, 2017, watch on ESPN
A PAIR of huge games highlight NBA playoff action Wednesday when the NBA title favourite Golden State Warriors ($1.08 with Sportsbet.com.au) host the Utah Jazz ($8.75) and the Washington Wizards ($2.92) try and peg one back against the Boston Celtics ($1.43).
The Wiz tip off in Boston at 10.10am AEST, with the Jazz and Dubs straight after at 12.40pm.
We're excited to see Aussie boy Joe Ingles up against the might of the Warriors, while the battle between the Celtics' Isaiah Thomas and Washington's John Wall will define that series.
In a bid to get a decent multi up for our readers, we've eyed off both of these games and we reckon there are a couple of decent bets to be had.
Let's hope we're on the money so we're all sharing in the bookies' dough.

Suggested NBA playoff multi tips, Wednesday May 3rd games:
Washington Wizards at the line +5.5 v Boston Celtics ($1.95 with Sportsbet.com.au)
Utah Jazz at Golden State Warriors total game score under 208 ($1.91 with Sportsbet.com.au)
Two leg multi pays $3.72 with Sportsbet.com.au
Washington Wizards at Boston Celtics
Our tip: Washington Wizards at the line +5.5 ($1.95 with Sportsbet.com.au)
Divisional rivals Boston and Washington split their season series two games apiece.
Neither side lost at home and we don't think that is about to happen now.
But we do believe the clash will be a lot closer than the game one 123-111 result.
It wasn't as if the Wizards played poorly, the Celtics just shot the lights out, setting a team playoff record with 19 three pointers.
Isaiah Thomas, on the back of his sister's funeral, and Jae Crowder lit it up from down town with 11 three pointers between them.
Thomas led the way with 33 points and nine assists, while Crowder added 24, his highest playoff total, with five from
When you're the road team and that happens, you're never going to win.
John Wall was again at his pristine best, lacing his 20 points by setting up his teammates to the tune of 16 dimes, while back court running mate Bradley Beal was red hot again, swishing four three pointers on his way to 27.
The pair has come of age in the playoffs and the Wizards will need them to stand up again if they are going to be any hope in this series.
But they both need help and, while Otto Porter Jr and Marcin Gortat both dropped 16 points and Kelly Oubre Jr added 12 off the bench, they just were not up to the task.
The adjustments will be made, but they might not be enough to get the Wiz over the line.
We're tipping them to keep it close and cover the handicap at +5.5.
Utah Jazz at Golden State Warriors
Our tip: Total game score under 208 ($1.91 with Sportsbet.com.au)
On paper, the Golden State Warriors hold a superior talent advantage. But the well drilled Utah Jazz have eked every ounce of effort out of themselves this season. And that might be both a blessing and a curse.
It took seven games and three away wins to get past the Los Angeles Clippers and now they have to do it all again against a team that is much, much better.
It took all seven games, with home losses and away wins, but, in the end, the Jazz got the job done.
It wasn't easy though and fatigue could play a part, with the Warriors well rested following a week off, owing to their brisk result in the western conference semi finals.
The Warriors slaughtered the Blazers in four straight games, including a ridiculous 45 point opening term in the Game Four decider in Portland.
They're not mucking around and the likes of Steph Curry, Draymond Green, Klay Thompson and the returning Durant are sharing the offensive load.
The Jazz will be buoyed by the 104-74 shellacking they handed out in December – one of just five home losses the Warriors suffered this season.
The Jazz possess an even spread of weapons, led by swingman Gordon Hayward and point guard George Hill, while big boys Derrick Favors and Rudy Gobert will look to inflict some damage on an interior that is seen as the Warriors' achilles heel.
Don't tell that to Javale McGee though. He's found a home in Golden State and his ability to handle the big man pressure from Gobert and Favors will go a long way toward deciding this series.
The Warriors have lock down defenders who can key in on the Jazz main man Gordon Hayward and, while stone cold Joe Johnson wound back the clock against the Clippers, you can bet your bottom dollar plenty of time will go into him and he won't have any where near as much time and space to go to work in isolation.
We can't write a preview without mentioning our man Joe Ingles. He was superb against the Clippers, regularly exceeding 30 minutes and he's the type of guy that can help dampen the Warriors firepower, while causing a little damage at the other end – he's one of the deadliest three-point marksmen in the NBA.
These two teams have met three times this season and none of the clashes have exceeded 208 points. They are both among the top defensive sides in the competition, and, while the Warriors will always threaten to pour it on, the dour struggle of the playoffs should ensure that the scores are kept in check for both teams. We think the Warriors will win, but it won't be the landslide many are predicting.
Utah can nick a game or two, we just don't think it will be in Oakland. Warriors to win a tight, defensive Game 1.