NBA Finals Game 7 betting tips – will Curry or Lebron be the MVP?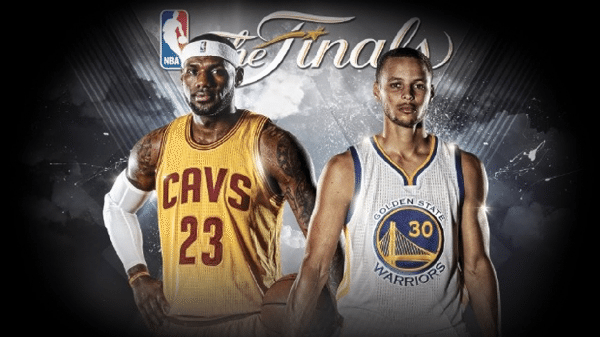 Game Seven: Monday, June 20, 2016, at 10am AEST, at Golden State, watch on ESPN
Golden State leads the Finals 3-3:
Game One: Golden State Warriors defeated Cleveland Cavaliers 104-89
Game Two: Golden State Warriors defeated Cleveland Cavaliers 110-77
Game Three: Cleveland Cavaliers defeated Golden State Warriors 120-90
Game Four: Golden State Warriors defeated Cleveland Cavaliers 108-97
Game Five: Cleveland Cavaliers defeated Golden State Warriors 112-97
Game Six: Cleveland Cavaliers defeated Golden State Warriors 115-101
Game six head-to-head odds:
Cleveland Cavaliers ($2.62 with CrownBet.com.au)
Golden State Warriors ($1.49 with CrownBet.com.au)
Game six line odds:
Cleveland Cavaliers: -5.5 ($1.85 with sportsbet.com.au)
Golden State Warriors: +5.5 ($1.96 with sportsbet.com.au)

WHO would have thought the NBA Finals would come down to a do or die deciding seventh game?
Heavily favoured after a record breaking season that produced 73 wins and a back to back Most Valuable Player award, the Warriors are on the verge of falling at the final hurdle, thanks to a superlative series performance from the great Lebron James.
The King is leading the series in just about every statistical category after a pair of beastly elimination game individual efforts that rival the best in finals history.
He is the deserved $1.45 favourite with CrownBet.com.au to win the Finals Most Valuable Player award.
With the Warriors up 3-1 and looking to close it out on their home floor, James picked them apart with 41 points, 16 rebounds and seven assists, to go with three blocks, three steals and four three pointers in the 112-97 win.
He backed that up with another 41 point effort, this time with 11 assists, eight boards, four steals and three blocks to even up the series and send it into a decider.
The constant triple double threat has put the Cavaliers on his back and carried them in this series, leaving little doubt to his greatness.
Regardless of the game seven result, he should be the MVP, but that is not how the NBA works.
Just ask Andre Iguodala. The defensive minded swingman has had another strong series, but many believe it is a travesty that he was award the Finals MVP award in last year's Warriors' championship run, after Lebron put up 35.3 points, 13.3 rebounds, 8.8 assists and 1.3 steals. His inefficiency might have cost him, shooting just 39.8 per cent from the field, but the Cavs would have been eliminated in four games, were it not for his efforts.
In this series, he is shooting over 51 per cent from the field and 40 per cent from down town, putting up 30.2 points, 11.3 rebounds, 8.5 assists, 2.7 steals and 2.2 blocks per night – numbers that stack up well with some of the finest finals performances in history.
If the Cavs fail to win in Oakland in game three, the Warriors have four men who might raffle the award.
None has stood out across the series, with back to back season MVP Steph Curry having a big drop off on his season numbers, but still pacing the team.
He is the $3.65 second favourite behind James, but his moments of brilliance have been more scarce in a series where the Cavs may have just found the key to stopping him.
But a superlative performance in the decider might just lift him above every one else.
Draymond Green might be the man most likely here.
He is $15 to win the MVP, although he was suspended for game five after he was lagged in by James for a nut shot in game four.
The voters might take a dim view of that, but he has had a pair of pristine performances in the series, on his way to 13.4 points, 9.4 rebounds, 5.8 assists, 1.6 steals and 1.2 blocks.
Curry's fellow Splash Brother Klay Thompson dropped 37 points in a losing effort in game five and is averaging 20.5 points, with a tick over three treys per game, but you just feel the $15 is a bit short.
Iguodala has the form, having won the Finals MVP last season, but was it just voter fatigue over Lebron?

His 10 points, 5.8 rebounds and 4.2 assists, is only slightly inferior to the 16.3, 5.8, 4.0 he produced last season. It would be remarkable if he were to be named the MVP at $19 with CrownBet.com.au but if he has a strong effort in the decider and the Warriors win, stranger things have happened.
The other intriguing proposition is Cleveland's shot-first point guard Kyrie Irving.
Irving started the series really carrying the Cavaliers and his 41 point performance in game five was the equal of James' and made that pair the first team mates in finals history to have over 40 points in the same game.
He is putting up 23 points, seven rebounds, six assists, four steals and two blocks per night. Those are gaudy numbers, but unless he has about 80 in game seven, James wins.
NBA Finals Most Valuable Player markets:
Lebron James ($1.45)
Stephen Curry ($3.65)
Draymond Green ($15)
Klay Thompson ($15)
Kyrie Irving ($15)
Andre Iguodala ($19)
Harrison Barnes ($501)
JR Smith ($501)
Shaun Livingston ($501)
Odds provided by CrownBet.com.au
Who will win game seven and take the title?
Game result: Golden State Warriors to win ($1.49 with CrownBet.com.au)
Line betting: Cleveland Cavaliers +5.5 ($1.85 with CrownBet.com.au)
We say this with no certainty, but the Golden State Warriors will win the NBA title. They have to. The Cavs have stolen a game from them in front of a rabid home crowd, but this is going to be something hysterical. The Warriors only lost twice at Oracle through the entire regular season and no team has come back from 3-1 down and won a finals series in NBA history. The NBA is all about stories and, either way, this one pans out well for them. The Warriors go down in history as perhaps the greatest team of all time if they win, while Lebron joins the pantheon greats with his third NBA title and perhaps wipes out some of the doubt about his ability on the biggest stage. Either way, this one is set to be one for the ages. We couldn't be more excited. Enjoy.