Multi tips & lucrative odds for Saturday, Australian Open Day 6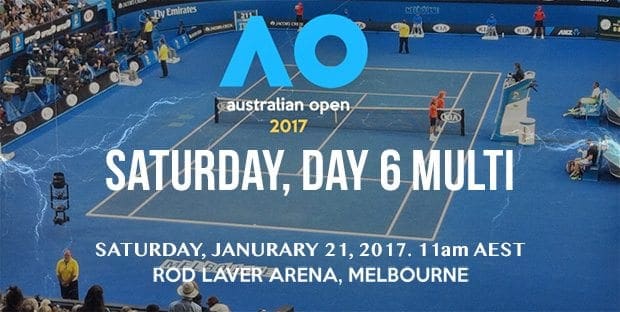 THE 2017 Australian Open continues to roll on this Saturday, but it will be without defending champion and world #1 Novak Djokovic.
The Joker was beaten in five sets on Thursday night, but punters shouldn't be worried as there's still some quality tennis players to invest on this Saturday.
We have picked out four of the best games to start your weekend which features former world number ones and also players we think could be on track for their first grand slam success.
Serving up the first match of the day is the lovable Carolina Wozniacki vs. Johanna Konta, who used to represent Australia before switching back to her British roots.

Selections for the Saturday, Australian Open Day 6 multi:
Caroline Wozniacki – $2.47
Rafael Nadal – $1.34
David Goffin – $1.34
Roberto Bautista Agut – $1.54
Four-leg multi-bet: $6.83 at Sportsbet.com.au
Carolina Wozniacki vs. Johanna Konta
Wozniacki kicked off her 2017 Australian Open campaign with a 6-1, 6-2 win over Australia's Anastasia Rodionova before winning easily in round two to reach this third round game against Johanna Konta.
The 26-year-old former world number one from Denmark is surprisingly the outsider in this match, but we think the value resides with the Dane.
There's no doubting the current form of Konta, who put away Kristen Flipkens in the first round before beating rising star Naomi Osaka in straight sets.
Konta is the current $1.50 favourite to defeat 25-time WTA title holder Caroline Wozniacki, but we're taking the more experience player and sticking with Wozniacki at the better value.
Caroline Wozniacki – $2.47 at Bet365.com
Alexander Zverev vs. Rafael Nadal
It's no secret that Rafael Nadal's best tennis is behind him, but he's still fighting strongly and he hasn't dropped a set during the 2017 Australian Open.
Nadal scored a straight sets win over Florian Mayer, followed by a straight sets win over the injury-prone Marcos Baghdatis. He dropped only seven games in total against the Cypriot and he looks a good chance at progressing through to the finals stages.
His opponent, Alexander Zverev, is certainly making headway into the tennis ranks. The 19-year-old won a five-setter against Robert Haase, after trailing 2-1 in sets, and that win sparked him into gear by winning in straight sets last time on court.
The German is an opponent who could worry Nadal, but we're taking experience over youth and the $1.34 for Nadal is a solid price.
Rafael Nadal – $1.34 at WilliamHill.com.au
Ivo Karlovic vs. David Goffin
Somehow Ivo Karlovic was able to win his round of 64 clash in straight sets after slugging out a record five-setter prior to that.
The 37-year-old journeyman won the final set 22-20 over Argentina's Horacio Zeballos, but the wise player didn't let his tired legs get to him. He won 6-4, 6-4, 6-4 to get to this stage, but he now faces his toughest test of the tournament in Daniel Goffin.
Goffin also struggled through a five-setter in the earlier rounds, but he put the rust behind him when winning in straight sets against Radek Stepanek.
Goffin had a great season in 2016 and he's definitely a player to watch in 2017. He might be a late-blooming player, but Goffin should have the skills and the energy to get past the older Karlovic.
$1.34 isn't the biggest odds you'll ever see, but a nice multi-bet building price all the same.
David Goffin – $1.34 at WilliamHill.com.au
Roberto Bautista Agut vs. David Ferrer
Turn back a year or two and there's no way Robert Bautista Agut is the odds-on favourite to beat fellow countryman David Ferrer, but form is a funny thing.
Bautista Agut has been on a tear in the tennis ranks and he has quickly become a player to watch this season. He has yet to drop a set in the Australian Open so far and he's facing Ferrer who didn't look at his best last time out.
Ferrer is a hard-working player who has no problem hitting balls back over the net, but he lacks the knockout punch. Ferrer is getting older and we think it could be time for Bautista Agut to take over the tennis world in Spain – with respect to Rafael Nadal.
He's coming off a tournament win and the $1.54 is worth including in your multi-bet.
Roberto Bautista Agut – $1.54 at Sportsbet.com.au