Multi betting in the French Open for Tuesday, June 6 matches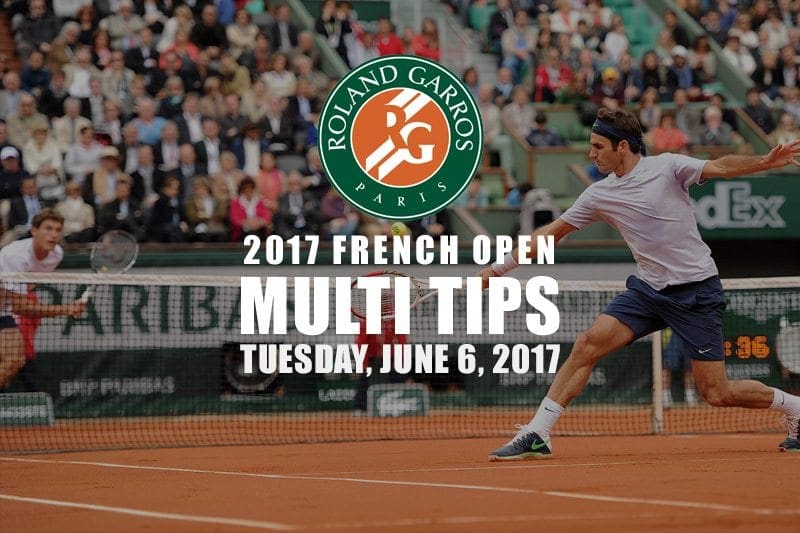 WE are into the second week of the French Open tournament, which means the action is starting to get serious.
A lot of the big guns still remain in contention at Roland Garros which means we will be treated to some top quality tennis for the remainder of the major.
On Tuesday we are expecting two former champions to dismantle up-and-coming challengers, while a pair of ladies are expected to continue their stellar French form rolling to generate us a big dividend.
All odds Tuesday's action at the French Open were provided by Sportsbet.com.au.
Selections for the Tuesday, June 6th French Open multi:
Jelena Ostapenko to beat Caroline Wozniacki ($2.14)
Kristina Mladenovic to defeat Timea Bacsinszky ($1.81)
Rafael Nadal to win in straight sets against Pablo Carreno Busta ($1.20)
Novak Djokovic to progress past Dominic Thiem ($1.46)
 Combined multi value: +578 @ Sportsbet.com.au
Caroline Wozniacki vs. Jelena Ostapenko
Tuesday, June 6 from 6 pm AEST
Latvian young gun Jelena Ostapenko meets Caroline Wozniacki in the first leg of our French Open multi.
The world number 50 is fresh of a spirited three set win over Aussie Sam Stosur. Ostapenko dropped the first set but only conceded six more games for the match to roll past the former grand slam winner.
Wozniacki has won in straight sets just once this tournament. The age old adage is "it doesn't matter how you win, as long as you do" rings true, but the Dane is well below her best.
She will have to overcome a competitor whom she has never beaten either. Ostapenko has three wins over Wozniacki, including two on clay.
We are expecting the match of the tournament thus far on the ladies side, and we are backing Ostapenko to continue her dominance over Wozniacki to kick us off on Tuesday night.
Jelena Ostapenko to win – $2.14
Kristina Mladenovic vs. Timea Bacsinszky
Tuesday, June 6 from 6 pm AEST
Two highly ranked competitors on the WTA tour meet in the second leg of our French Open multi as home town hero Kristina Mladenovic faces off against Swiss 27-year-old Timea Bacsinszky.
Both women have been very impressive leading into the match, but Mladenovic's last victory over defending champion Garbine Muguruza gave us the confidence that she could make an impact at the business end of the tournament.
The Frenchwoman also has experienced the much better lead in form. The world number 19 just fell short in recording an impressive title win at Madrid, and has battled on skilfully throughout this major campaign.
We are backing Mladenovic to get the job done in front of her home crowd.
Kristina Mladenovic to win – $1.81

Rafael Nadal vs. Pablo Carreno Busta
Tuesday, June 6 from 7 pm AEST
We feel sorry for anyone that is standing in Rafael Nadal's way in the earlier stages of the French Open, and this time it just happens to be 25-year-old compatriot Pablo Carreno Busta.
Facing almost any other man on the tour would see Carreno Busta's odds significantly shorter than they are given his skill on clay, but such is Rafa's confidence and dominance going into the second week at Roland Garros that the bookmakers had no choice.
Nadal has never lost to his fellow countryman, and has never dropped a set against him on clay.
We are expecting that trend to continue on Tuesday as Rafa steamrolls his way deep into another second week at the French Open.
Rafael Nadal to win in straight sets – $1.20
Dominic Thiem vs. Novak Djokovic
Tuesday, June 6 from 7 pm AEST
Two of the world's very best players round out our Tuesday French Open multi as world number two Novak Djokovic faces the seventh ranked player on the planet, Dominic Thiem.
Invariably a head-to-head record is going to favour Djokovic given how dominant he has been on the tour for the last three years, but his statistics against Thiem make for some very unflattering reading for the 23-year-old.
Across their five career meetings Djokovic has never lost to Thiem, and his record on clay against the world number seven reads even more impressively.
Djokovic has lost just eight games in total against Thiem over two matches on clay, and their last meeting on the red surface prior to the French Open yielded just one solitary game for Thiem.
We are expecting Djokovic to continue that hot form against his opponent, generating a winning dividend for us in the process.