Melbourne Storm edge into outright favouritism for NRL 2017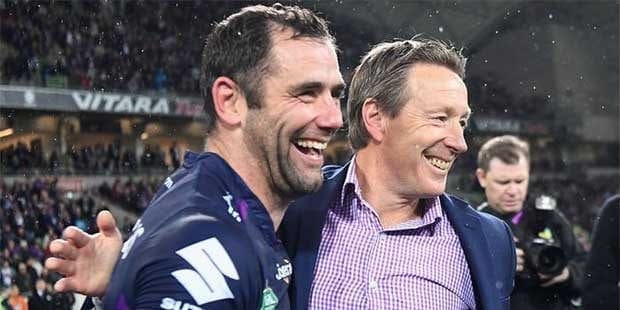 MELBOURNE Storm have taken a slender lead in the outright betting for the 2017 NRL Premiership.
Towards the end of January, Craig Bellamy's men were locked with Penrith and North Queensland on the first line of betting at CrownBet.com.au.
But the online bookmaker has pulled the Storm into +650.
The Panthers have held firm at +700, but the Cowboys have drifted slightly to +750.
Also moving back to the pack are North Queensland's intrastate arch-rivals.
Having shared the second line with Canberra Raiders on +800 a month ago, Brisbane Broncos are now paying +1000 to win their seventh NRL flag.
Next in the order are New Zealand Warriors, who have edged out from +1000 to +1100 despite the news that Kieran Foran will be eligible to play from round three onwards.
Sydney Roosters are into +900, but there remains very little love for the defending champions with Cronulla dropping to +1200.
Canterbury, Gold Coast, Parramatta and South Sydney were all +1600 last month, but the Rabbitohs (+1400) have shortened while the Bulldogs (+2200) have blown out.
A few speculators must have thrown some cash behind Newcastle Knights, as the wooden spoon favourites have come in a full $100 on their initial quote.
2017 NRL futures markets
Markets provided by CrownBet.com.au
Outright betting
+650 – Melbourne Storm
+700 – Penrith Panthers
+750 – North Queensland Cowboys
+800 – Canberra Raiders
+900 – Sydney Roosters
+1000 – Brisbane Broncos
+1100 – New Zealand Warriors
+1200 – Cronulla Sharks
+1400 – South Sydney Rabbitohs
+1600 – Parramatta Eels
+1800 – Gold Coast Titans
+2200 – Canterbury Bulldogs
+2500 – Manly Sea Eagles
+3000 – Wests Tigers
+10000 – St George Illawarra Dragons
+15000 – Newcastle Knights
To reach the grand final
+300 – Melbourne Storm
+325 – Penrith Panthers
+350 – North Queensland Cowboys
+375 – Canberra Raiders
+400 – Sydney Roosters
+450 – Brisbane Broncos
+500 – New Zealand Warriors
+650 – South Sydney Rabbitohs
+700 – Parramatta Eels
+750 – Gold Coast Titans
+1000 – Canterbury Bulldogs
+1100 – Manly Sea Eagles
+1200 – Wests Tigers
+4000 – St George Illawarra Dragons
+10000 – Newcastle Knights
Top eight
-357.14 – Melbourne Storm
-333.33 – North Queensland Cowboys, Penrith Panthers
-250 – Canberra Raiders
-222.22 – Brisbane Broncos
-200 – Sydney Roosters
-161.29 – Cronulla Sharks
-153.85 – New Zealand Warriors
+100 – South Sydney Rabbitohs
+120 – Parramatta Eels
+125 – Canterbury Bulldogs, Gold Coast Titans
+175 – Manly Sea Eagles
+225 – Wests Tigers
+400 – St George Illawarra Dragons
+1200 – Newcastle Knights