Local footy coaches worried about trial-by-video trend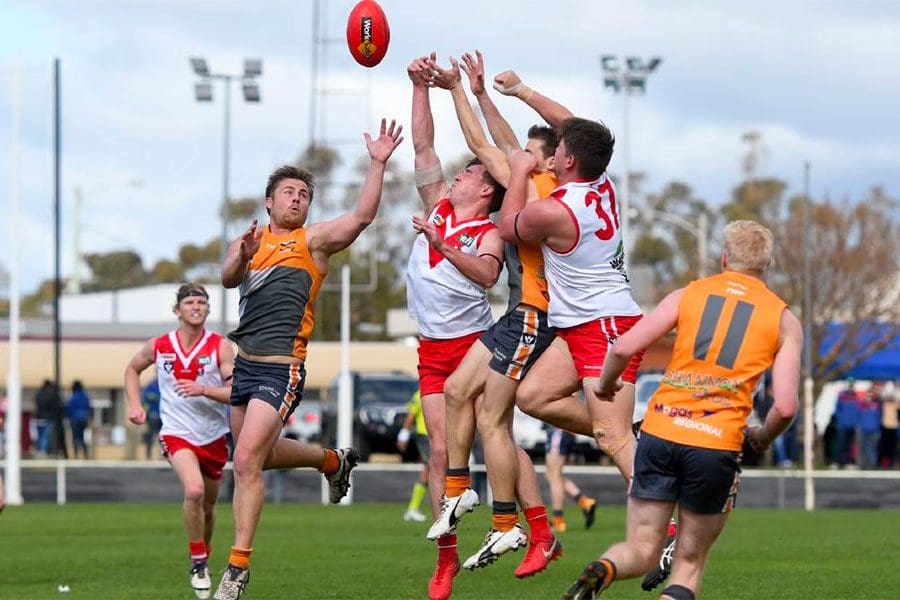 Coaches are frustrated that some community and country football leagues around Victoria are opting for the use of video cameras to stamp out minor on-field indiscretions.
In recent weeks, the respect between players and umpires is on the rise, but some coaches now believe players are copping it from the sidelines after getting suspended on video evidence for sling tackles.
'Trial by video' is a term used in the AFL, where a player is sighted on camera following the review of a match, then at times reported and suspended for on-field misdemeanours.
Traditionally, in community and country football matches a player would only get reported if the incident was seen by an on-field umpire, but in recent weeks multiple players around the state have been suspended after incidents were captured on mobile phones and amateur video cameras.
Anakie Kangaroos assistant coach Daniel Dimech highlighted an incident from his side's match at the weekend.
He said a Kangaroos defender had been involved in a minor incident which was seen by the umpire and originally let go, all for his player to then be suspended on Tuesday after vision captured from 70 metres away showed a different angle of him tackling an opponent "dangerously".
He said it's just another issue that may turn community and country footballers away from the game.
"The video footage isn't where it should be to be able to be used in local leagues," Dimech told Betting Site.
"They are having cameras at the ground which are 100 metres away from an incident determine whether a player should get suspended, and most of the time the footage isn't great – it's not like Fox Footy or Channel Seven, you know.
"The AFL in general is lacking crowds, umpires and players and this type of nonsense may be something else that will turn participants away."
In recent weeks, players in local leagues have been getting suspended for sling tackles and dangerous tackles, even if the officiating umpires had ruled them fair play during the match.
"You get blatant off-the-ball incidents such as kicking or punching which clubs may ask to investigate… I get that, but not dangerous tackles," Dimech said.
"But now, players who have played a lot of football, who have never been reported, have been rubbed out the last few weeks and that's unfair. More teachings about this at local level are needed.
"The tightening of the bump rule and tackling properly is all well and good, but these players are amateur footballers who just play for a couple of hours on a Saturday afternoon… they shouldn't have the book thrown at them during the week after video footage comes out from the weekend's game's tackles, especially when the umpire at the time had no issues with it."