Inference wins Randwick Guineas for Hawkes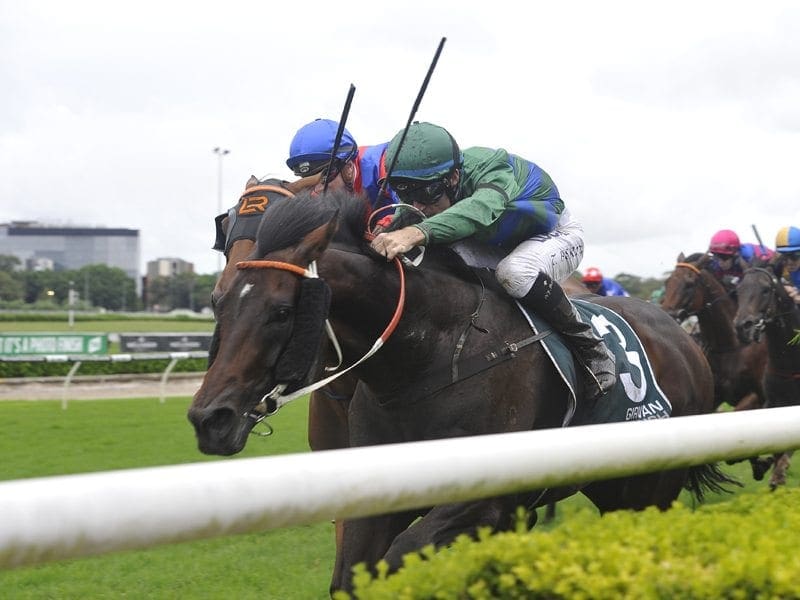 Inference has won the Randwick Guineas for Tommy Berry and Hawkes Racing.

Raw colt Inference has given the Hawkes training team some Group One consolation in the Randwick Guineas after stable veteran Chautauqua's narrow defeat in the Canterbury Stakes.

With his win in Saturday's 1600m-feature on a wet Randwick track, Inference earned a part of history as the first Australian Group One winner produced by champion So You Think.

Co-trainer Michael Hawkes said it had been an up-and-down day.

"It is a little bit bittersweet. The grey (Chautauqua) lost no admirers showed he's back. He ran a super race," Hawkes said.

"For this bloke, he has a lot of untapped potential. He went ever so close in the Victoria Derby."

Inference ran third in the Victoria Derby with Hawkes saying Saturday's win was a bonus as he heads to the Rosehill Guineas and the Australian Derby.

"I said to the owners, 'if he wins today, he is winning on ability alone. The Rosehill Guineas is the one we're chasing and then into the Derby.'"

Inference ($9.50) came from last with Tommy Berry timing his run to perfection to edge out the only filly in the race, Invincible Gem ($5.50) by a short neck with Comin' Through ($4.80) another 1-3/4 lengths away.

"The best part of this horse is we trained his mum (Pontiana) and she had a lot of potential,": Hawkes said.

"The So You Thinks are going great at the moment."

"This is a horse with really untapped potential."

Berry said he felt lucky to be on Inference after what he admitted was not his best ride in the Victoria Derby.

"I put him up the fence in the Derby in Melbourne so I didn't know if I'd get on him again," Berry said.

"I can't thank the Hawkes team enough.

"This horse is so clean-winded. He'll stay all day and the key to him today was switching off because he can get going a little bit.

"I had such great momentum. It was very tight so I pulled the stick through to the right and pushed him up as close as I could to the outside fence.

"I was always going to go to the inside of Brenton (Avdulla on Invincible Gem) but I would have had to change course on him and he's not the type of horse you can change course and get going again."

Berry found the fence to win on Frolic in the first race of the day and that became the pattern after several days of doubt whether the meeting would go ahead.

While all agreed the ground was as heavy as it could be and there was better ground out wide, there was not too much rain during the day and the surface stood up well.

No tags for this post.
Similar Sports Betting News