Indian police sting seven bookies over IPL betting ring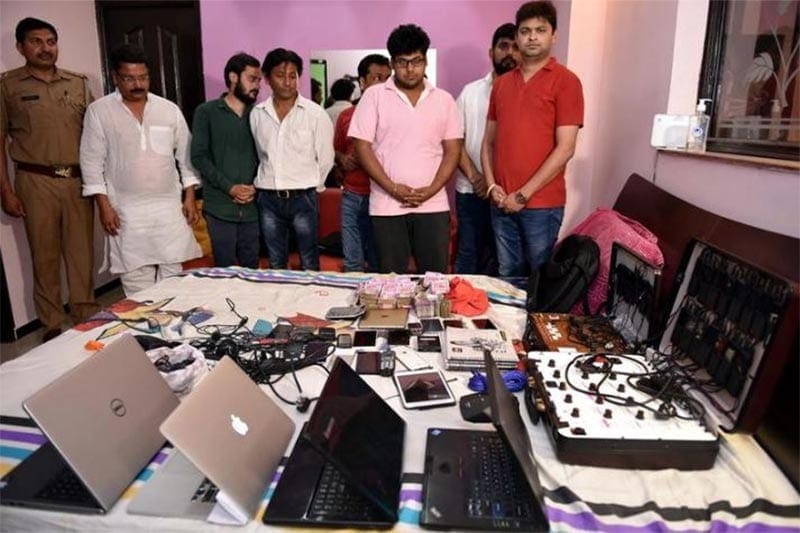 SOME interesting details have emerged regarding the special technology employed by a gang of bookmakers who were busted in India recently.
Last week, the Uttar Pradesh Special Task Force (UP-STF) arrested seven men who were operating out of a luxury residential complex in the city of Noida.
According to reports from local media sources, the bookies used Betfair.com – an international online betting exchange – to run a wide range of in-play wagering markets for Indian Premier League cricket matches.
That included spot betting, where punters could wager on a number of ball-by-ball and over-by-over outcomes.
Police seized two landline telephones, two cordless phones and 16 mobile phones, four laptop computers, an Airtel USB stick, an electronic calculator and Rs 27 lakh (AUD $558) in cash.
"After checking the veracity of the information we conducted a raid and arrested seven persons from the spot," said Ray Kumar Mishra, deputy superintendent of the UP-STF.
What has caught public attention about this case is the nature and purpose of the phones seized from the bookies' apartment.
Many of them were old Nokia models, chosen for their durability, ease of use and long battery life compared to modern smartphones.
Reports claim the bookies hired a local electrician to link the phones together so they could communicate with multiple clients at a time without the risk of using online social media.
Furthermore, the Nokia rigs were built into briefcases to allow for quick pack-up and concealment in the event of interference from the authorities.
A security guard at the raided residential complex insisted nobody in the building was aware of the illicit activities that took place on the 11th floor.
"He used to come in SUVs and sometimes in BMW," the guard said of Rohit Gupta, the accused ringleader.
"A few of his friends frequently visited him. But we had no idea that they were involved in such a dubious business."
It is believed Gupta is also involved in illegal betting networks in Delhi and other major cities across India.
Our thoughts on India's briefcase bookies
At the very least, this case highlights how repression breeds ingenuity.
Unfortunately for the bagged bookies, clever gadgets mean nothing when you do not have the right intel.
But the story here is not that a few guys got sprung with some interesting equipment; it is that these are lengths Indian punters must go to just to put a bet on.
These guys were using Betfair to take and lay wagers on cricket matches – that is all it comes down to.
And while we acknowledge that in-play live betting is a very touchy subject when it comes to Indian cricket, it would not be such an issue if the country had a properly regulated gambling market.
Until things change in India and sports betting is legalised, these kinds of cases will continue to crop up year after year after year.