India remain undefeated after World Cup win over New Zealand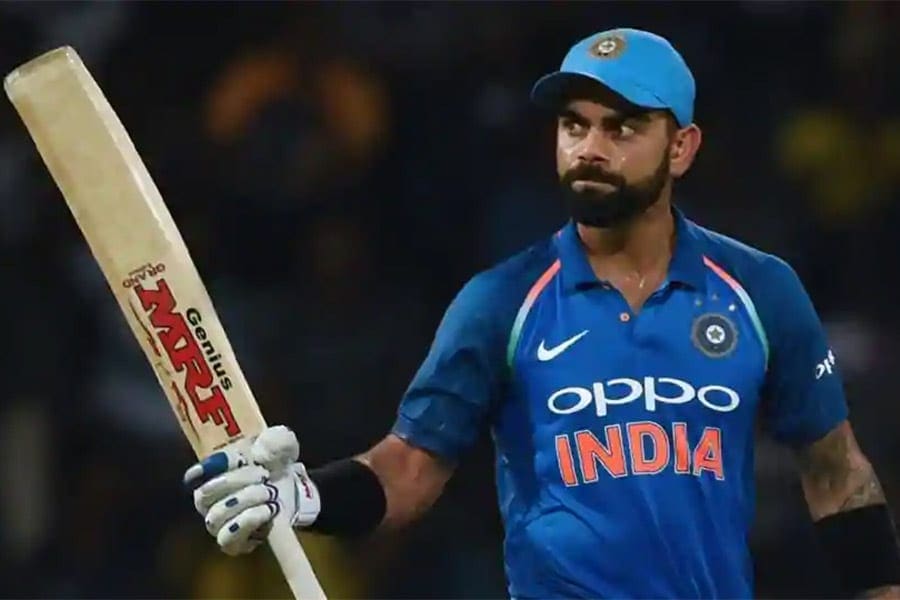 India is now the $2 favourite to win the World Cup after they defeated New Zealand by four wickets, in a battle of the last two undefeated teams at HMCA Stadium on Sunday.
The Indians were a warm favourite to win this clash and were around the $2.50 quote to win the Cricket World Cup, with the Kiwis the outright second in betting at around $5, although they have now eased out to $6.50.
With an impressive score of 95, Virat Kohli played a pivotal role in India reaching its target of 274. The match saw a peculiar interruption due to fog, resulting in a prolonged delay at a score of 2-100. However, this did not impact the final outcome of the game.
"I don't think I've seen fog [stop a match], I've seen games where the lights have gone out, obviously rain and we heard Simon Doull there talk about the sun," Commentator and former Australian captain Mark Taylor said.
India clinched the win by four wickets, reaching its target with 12 balls to spare and concluding the match at 6-274 in Dharamsala. Conversely, New Zealand was restricted to a score of 273 in 50 overs.
Kohli's performance brought him close to equaling Sachin Tendulkar's record of 49 ODI hundreds. In an attempt to set the record and secure the victory, Kohli aimed for a six but was caught near the boundary. His career also includes 69 ODI half-centuries.
The win marks India's fifth consecutive victory in the tournament, positioning them at the top of the table, with New Zealand following in second place after their first loss.
Mohammed Shami's exceptional bowling, with a return of 5-54 in 10 overs, played a crucial role in limiting New Zealand's score. Daryl Mitchell's noteworthy contribution of 130 off 127 balls, including nine fours and five sixes, was a highlight for New Zealand. Mitchell and Rachin Ravindra shared a 159-run partnership off 152 balls for the third wicket, with Ravindra contributing 75 runs.
However, Shami's performance triggered a collapse in New Zealand's batting as they lost six wickets for 68 runs in the last 13 overs. Kohli's crucial 78-run partnership for the sixth wicket with Ravindra Jadeja, who remained not out at 39, ultimately sealed India's victory.
New Zealand's slow start was evident as they lost Devon Conway for a duck in the fourth over, with Mohammed Siraj making the catch at square leg. Will Young was then bowled by Shami for 17, bringing Mitchell and Ravindra together at the crease.
Despite a few missed opportunities by India's fielders, including a dropped catch by Jadeja, New Zealand's duo of Mitchell and Ravindra batted well and got their team back on track, particularly targeting Kuldeep Yadav.
India's middle overs were marked by a solid performance by Shami, who provided the much-needed breakthrough in the 34th over. After Yadav's lbw dismissal of Tom Latham for five, New Zealand was left at 4-205 after 37 overs.
Mitchell's stellar century, his first in a World Cup and fifth overall, came off 100 balls and was a significant contribution to New Zealand's innings. However, India's comeback was marked by Yadav's dismissal of Glenn Phillips for 23 and Mark Chapman for six, followed by Shami's back-to-back dismissals of Mitchell Santner and Matt Henry, leaving New Zealand at 8-260.
In response, India's opening partnership of Rohit Sharma and Shubman Gill added 71 off 67 balls, with Sharma contributing four sixes in his 40-ball 46. However, Lockie Ferguson's dismissals of Sharma and Gill in successive overs shifted the momentum.
Kohli then took centre stage, forming crucial partnerships and rebuilding India's innings, ultimately reaching 50 off 60 balls. His innings included eight fours and two sixes.
Kohli had a mix-up with Suryakumar Yadav, leading to the latter's runout, proved to be a significant moment in the game, with India at 5-191 in 33.5 overs.
However, Kohli's impeccable timing and strategic play solidified India's position as the World Cup favourites.
New Zealand had previously secured victories over England, the Netherlands, Bangladesh, and Afghanistan, while India had triumphed over Australia, Afghanistan, Pakistan, and Bangladesh.
India's star all-rounder Hardik Pandya was unavailable for the match because of an ankle injury, with Suryakumar Yadav selected as his replacement, and Mohammed Shami brought in for bowling all-rounder Shardul Thakur.
The Kiwis remained unchanged from its previous win over Afghanistan in Chennai, with star batsman and skipper Kane Williamson still absent due to a thumb injury, and Tom Latham continuing as the team's leader.
The Cricket World Cup resumes on Tuesday night with a clash between Pakistan and Afghanistan, with both teams desperate to win to keep their chances of advancing to the elimination stage.