How Twitter reacted to NRL Round 6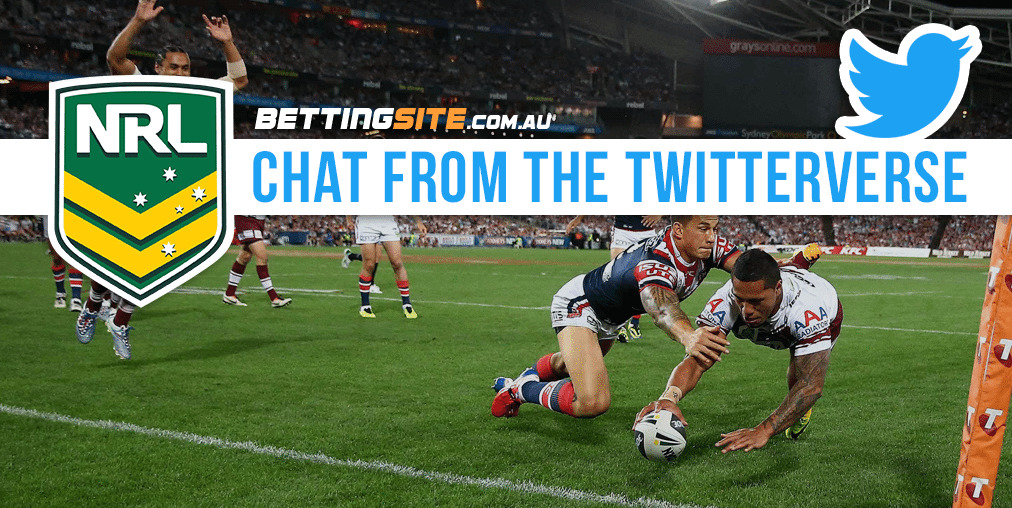 SIX weeks into the 2017 NRL campaign and the ladder is looking a wee-bit wonky.
St George-Illawarra Dragons, tipped by most to finish near the foot of the table, are leading the way with five wins from six following a dominant performance away at Manly.
Meanwhile, pre-season fancies Penrith languish in the bottom half after coming out on the wrong side of Friday's 21-20 thriller against the Rabbitohs.
Another of the so-called contenders, Sydney Roosters, were put in their place as Brisbane Broncos ran out with an assured 32-8 win at Suncorp Stadium.
And in atrocious conditions on Sunday, the Sharks rubbed salt into Melbourne Storm's wounds with an 11-2 result in a tight grand final rematch at AAMI Park.
Let's see what the good folks on Twitter had to say about all the action from round six.
Sydney stumble and SKD fumbles as Broncos bounce back
More than a few punters and pundits were talking up Sydney's title chances after they started with four wins on the bounce.
A fortnight later, however, those voices have fallen into a hush.
The "Bondi Wall" missed 46 tackles tonight. Premiership favourites 2 weeks ago, spanked by the Broncos tonight. #NRLBroncosRoosters

— The Full 80 (@TheFull80) 6 April 2017
Beaten by Manly the week prior, the Roosters were outclassed up in Brisbane as the Broncos crashed and bashed their way to a much-needed win.
Given Sydney's notoriously ordinary home attendances, perhaps they were overawed by the galleries at Suncorp?
I really feel sorry for Roosters fans tonight…. all two-dozen of them. @NRLshitNo1says #NRLBroncosRoosters

— Booze Hound (@Booze__Hound) 6 April 2017
Andrew McCullough starred for the Broncos, sticking 48 tackles en route to the man of the match gong.
On the other side of the fence, Shaun Kenny-Dowall had a night to forget – and didn't the Twittersphere let him know about it.
Shaun Kenny-Dowall match highlights.#NRLBroncosRoosters pic.twitter.com/jS57eoKHWc

— William Hill Aus (@WillHillAus) 6 April 2017
Dragons keep the fire alive at Brookvale
Nobody gave St George-Illawarra a hope at the start of the year.
Indeed, most online bookies had them pegged second only to the hapless Newcastle Knights in the running for the wooden spoon.
Ok it looks like Saints are the real deal. I'll admit I'm surprised. No more underdogs. #NRLManlyDragons

— Antfarmer (@antfarmer) 8 April 2017
But a resounding 35-10 win at Brookvale, combined with results elsewhere, sees the Dragons head into round seven as the outright leaders.
It would be fair to say the club's supporters are rather enjoying this surprising start to the campaign.
Accurate portrayal of the @NRL_Dragons performance today #NRLManlyDragons #RedV @EuanAitken3 @garethwiddop @joel_thompson12 @tariq_sims pic.twitter.com/xYyPvdD007

— Dat Dragons Dude (@dragonsfan1988) 8 April 2017
While the win was a decisive one, it was not without its fair share of controversy.
A dubious decision over an incident involving Daly Cherry-Evans and Jason Nightingale caused no little consternation among the denizens of the Twitterverse.
DCE deserves a medal for being able to explain that without expletives and possibly physical violence #UNBELIEVABLE #NRLManlyDragons

— Nat Sinclair (@nat_sinclair93) 8 April 2017
I thought Daly Cherry-Evans as much to blame for interference with Jason Nightingale. @FOXNRL #NRLManlyDragons

— Andrew Voss (@AndrewVossy) 8 April 2017
Are you kidding @FOXSports ? DCE ran into nightingale and pushed him and was he never aiming for the dummy half role. #NRLManlyDragons

— Stuy Baby (@stuart_maurice) 8 April 2017
Storm stunned as Sharks repeat GF heroics
Those who miss the messy, muddy, old-fashioned kind of football your dad used to play would have thoroughly enjoyed the conditions at AAMI Park on Sunday.
With Melbourne throttled by thunderstorms and torrential rain, the grand final rematch between the Storm and the Sharks was destined to be a tight and scrappy affair.
That suited Cronulla just fine, as the reigning champions returned north with a win that was historic in more ways than one.
First time @storm held tryless in Melbourne.
First win at AAMI Park for @Cronulla_Sharks
#NRLStormSharks @wwos @storm

— David Middleton (@Middleton_David) 9 April 2017
It was a double blow for Storm fans, many of whom are still reeling from the news that Cooper Cronk could be playing elsewhere next season.
When you have a bloke who can produce this kind of quality, it's little wonder the Purple Army is upset:
What.

A.

Kick.#NRLStormSharks#NRL pic.twitter.com/74rqEIY4m4

— NRL (@NRL) 9 April 2017
However, there was at least one fellow in the stands – and there is always one, at every game in every round of the NRL – who was perhaps less concerned than most at AAMI Park about what was unfolding.
Spotted #RandomSouthsGuy at #NRLStormSharks ? pic.twitter.com/3enZXyym2L

— Jake (@JakeWhite16) 9 April 2017