Hayne leaves NFL for Fiji rugby sevens Olympic 'dream'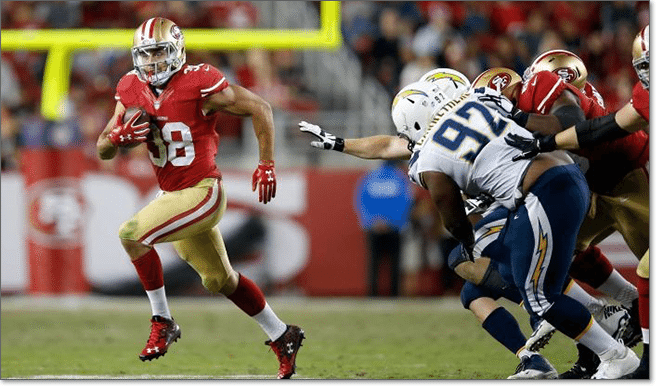 IT has not been a great day for Aussies in the NFL.
former Parramatta Eel Jarryd Hayne has sensationally retired from the San Francisco 49ers to chase his Olympic dreams with the Fiji rugby sevens side.
And former Gold Coast Suns AFL player Joel Wilkinson got the chop from the Arizona Cardinals.
It is a remarkable development for Hayne, a man who made world headlines when he beat the odds by switching from Rugby League to the American game and actually ended up playing for the Niners, after many pundits thought he had no chance.
Hayne played eight NFL games last season, returning eight punts as part of special teams and he had 17 carries for 52 yards to go with six receptions for 27 yards.
His announcement this morning almost broke the internet, with social media going into meltdown.
"I'd like to thank (Niners owner) Jed and the entire York family for giving me the opportunity to fulfil my dream of playing in the National Football League," Hayne said.
"I also want to thank Trent (San Francisco general manager Trent Baalke) and his staff, as well as Jim Tomsula, Tom Rathman and the other coaches who invested in me to make this dream a reality.
"I'd also like to thank coach (Chip) Kelly for the opportunity to come back this year.
"The support and understanding from the 49ers organisation was unbelievable when I let them know about my decision to pursue another dream.
"The past 12 months with the San Francisco 49ers have been absolutely incredible.
"I could not have predicted how far I have come as an NFL player.
"To not only be able to play in a game but also say that I started a game in the NFL is something that I will remember for a lifetime.
"I am retiring from the NFL because the Fiji rugby sevens team reached out to me about the opportunity to join the team for the upcoming Olympics, and I simply could not pass that chance up.
"The Olympics has been something I have admired since I was a little boy, and it is an opportunity I feel very similar to me joining the NFL.
Hayne will now shift his focus to the Fiji national side, linking up in England for the London Sevens event – the last chance for him to integrate into the side before the Olympics in Rio de Janeiro.
Fiji sevens coach Ben Ryan bizarrely said there was no guarantee the 28 year old former running back would be selected for the London tournament or the Olympics. But we all know that is a furphy and towing the party line.
Even though Hayne has never played union or seven, he will be one of the biggest drawcords at the Olympics and could provide a wave of interest in the sevens game.
"I've had a few conversations with Jarryd and followed his career in the NRL in Australia, in the Bati with Fiji, and more recently with the NFL as a running back for the 49ers," Ryan said.
"He got a taste for sevens when he was with the boys in Sydney and that sowed a few seeds, and that has just got bigger.

"He has had a chat with the 49ers and his agent, and I have with everybody else to make sure he is on our accreditation list and to ensure he ticks our boxes, he is a Fijian passport holder, all those sorts of things.
"I have no promises he is going to make the 12 (for London), but we will see how he goes.
"He will then come into Fijian camp for the Olympic period.
"It is a huge challenge for Jarryd but if he gets into the squad it is only going to be on form, because he is a blinding rugby player.
"If he doesn't make it, is just shows how good this Fijian sevens side is.
"It is a no lose situation for me.
"It is no lose for Jarryd either, he gets himself into the possibility of being a part of this journey, and the boys are all going to learn off him as well.
"He comes in with an A* but it is up to him to hang onto that, it's really exciting and really what the Olympics is all about.
"The camp will be like Britain's Got Talent or the X Factor, boys are going to get chopped until we get down to 12, it will be like a shootout."
49ers boss Baalke paid thanked Hayne for his contribution to the club.
"We would like to thank Jarryd for his contributions to the San Francisco 49ers organisation and our community over the last year," Baalke said.
"Jarryd is a tremendous example of what can happen when you commit to a goal and do everything in your power to make it a reality.
"He earned the right to wear a 49ers uniform and compete alongside the best in the game.
"We fully support Jarryd's decision to pursue another dream — representing the Fiji rugby sevens team in this summer's Olympic Games.
"We look forward to watching him in Rio and wish him continued success."