Godolphin's Polarisation wins Sydney Cup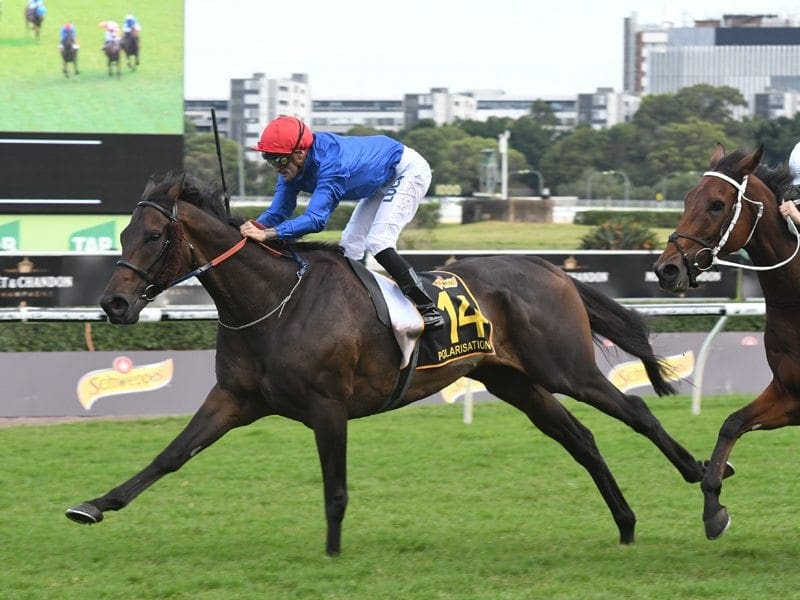 English visitor Polarisation has won the re-run of the Sydney Cup at Randwick.

Just in case anyone missed it the first time, English visitor Polarisation has won the re-run of the Sydney Cup at Randwick to the relief of his jockey and the jubilation of his stable.

Charlie Appleby's assistant trainer James Ferguson admitted it was not an easy decision to delay the return of Polarisation and Penglai Pavilion to England after the Cup was called off on April 8.

"He has done so well in the two weeks between the two runs and I'm so proud of him," Ferguson said.

"I'm glad we stayed and this horse deserves it. All's well that ends well."

Six horses finished the first running of the $2 million Sydney Cup (3200m) with their jockeys unaware the race had been called off after Almoonqith was fatally injured and Who Shot Thebarman lost his rider.

Corey Brown had to ride Polarisation at a light 51.5kg, which was not so easy the second time around but in the end worth the sweat to come up with a unique achievement.

"No jockey has won the Sydney Cup twice in two weeks," Brown said.

"I told them they should have left it a fortnight ago. It's going to be the same result."

Despite his "win" Polarisation ($6.50) was third favourite behind Big Duke ($3.70), a non-finisher the first time around.

Who Shot The Barman ($12) showed no ill effects from the abandoned race and ran Polarisation to a short neck with a half length to Big Duke.

As Polarisation came back to the enclosure, Ferguson interrupted the celebrations to take a call from Appleby who was naturally delighted.

"I've got a great team here. It's been an absolute pleasure," Ferguson said.

"We've been well looked after. It's just made it all worthwhile. I'm just absolutely delighted and so pleased for Sheikh Mohammed, Dubai and Godolphin."

Polarisation and Penglai Pavilion ($5.50) who finished fifth, will now head home but are likely to be back in the spring with Appleby keen to build on his success in Victoria in last year's spring carnival.

"All being well, he'll (Polarisation) will come back for the Melbourne Cup," Ferguson said.

"I'm not sure about Penglai Pavilion. He may not get into the race but we will be back.

As expected, three-year-old Lasqueti Spirit took up the running and was many lengths in front mid-race.

But when the pressure went on rounding the turn, the filly was found wanting over the distance against hardened handicappers.

"She was flat a long way out. She tried her heart out," her jockey Bobby El-Issa said.

Glen Boss, who rode Big Duke, was fined $2000 for using the whip 11 times before the 100m.

Boss admitted he was at fault and had not thought about the whip use because the rule doesn't apply in Singapore where he is based.

No tags for this post.
Similar Sports Betting News