Federer defies odds, age and Nadal in epic Australian Open final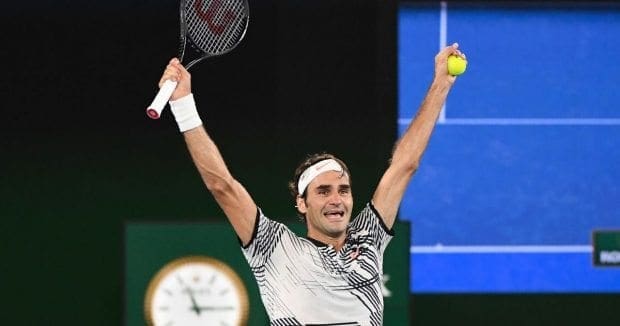 Roger Federer began the Australian Open paying $21 with Sportsbet.com.au and was facing the unusual proposition of starting the tournament seeded 16th.
But an extraordinary campaign culminated in the ultimate victory for the Swiss master, who defeated Rafael Nadal in five sets, 6-4 3-6 6-1 3-6 6-3 in one of the most remarkable performances of his glorious career, spanning almost two decades, and now 18 majors.
Federer trailed 1-3 in the fifth set but defied his 35 year old legs to rattle off five successive games against his gritty arch rival, who showed he is almost back to his pulsating best with a sensational performance.
It was one of the most anticipated Australian Open finals in its 105-year history and it didn't disappoint, with early television ratings showing just how popular these two champions are.
It was a back and forth game, with each player dominant at times, with Federer receiving treatment at the end of the fourth set when he went off court for work on a pre-existing abductor injury.
Federer's last Australian Open title came on 2010 when he defeated Andy Murray in the final, with his last grand slam win coming at Wimbledon in 2012, when he defeated Andy Murray.
His first grand slam final in more than four years was made even more remarkable considering it was also his first tournament back since injuring his knee at Wimbledon in July 2016.
The 35-year-old was gracious in victory, praising Nadal, his greatest rival, who was also on the comeback after an injury-ravaged 2016 season.
"I'd like to congratulate Rafa on an amazing comeback," he said.
"I'm happy to see you, I would have been happy to lose too.
 
"If there was a draw I would have been very happy to accept it and share it with Rafa.
 
"Stay on the tour. Keep playing, Rafa because tennis needs you."
Nadal was as long as $13 with some bookmakers pre-tournament, but his rampaging early form saw him shorten quickly in betting as major players like Novak Djokovic were knocked out.
While the crowd was clearly on Federer's side, it is through no fault of Nadal, whose superior head to head record had the lockout crowd rooting for the underdog. Some of the more vocal may have felt bad after Nadal graciously accepted his defeat.
"It is amazing how he is playing after all this time away from the tour. Congrats, I am very happy for you," Nadal said.
"I fighted a lot … A great match. I think Roger (Federer) probably deserved it a little more than me.
"I'm just going to keep going. I feel that I'm back at as high level. I'm going to keep trying the whole season."