Exotic punting tips & betting specials for the 2016 Melbourne Cup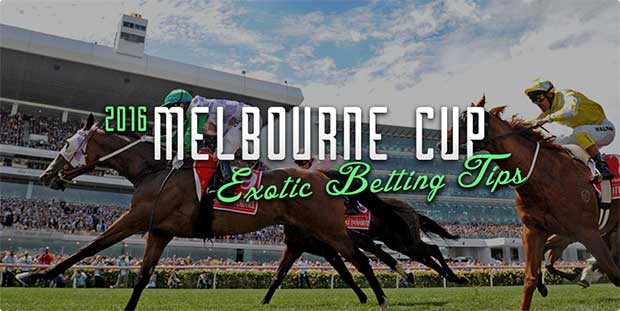 THERE are many ways for punters to make money on the 2016 Melbourne Cup – but the biggest money of all can be found in exotic markets.
Exotic betting is popular because it gives punters a better chance of winning and we have found the best Melbourne Cup exotic tips for Tuesday's big race.
Before getting stuck into the exotics, sign up to CrownBet.com.au before the running of the 2016 Melbourne Cup and you will get 100% up to $1000 in bonus bets
Your bonus bets can be placed on all exotic options at Flemington on Tuesday so take advantage of the great offer.
First Aussie horse home tips
We would all love to see a local Australian-trained runner win the Melbourne Cup and there are some betting options in the First Aussie Home market.
Your selections doesn't have to win the Melbourne Cup, it only has to beat the other listed runners home.
There are 13 selections in this market which is headed by the well-backed pair of Hartnell and Jameka. Both runners have been steady in the fixed odds win market, but punters might get better value betting on this exotic special.
Hartnell – $2.50
Jameka – $4.20
Almandin – $8.50
Exospheric – $10
Almoonqith – $11
Grand Marshal – $16
Who Shot Thebarman – $17
Our Ivanhowe – $21
Gallante – $34
Sir John Hawkwood – $34
Assign – $34
Excess Knowledge – $34
Rose Of Virginia – $101
Hartnell is the favourite to be the first Australian horse home and rightfully so. The John O'Shea-trained gelding has had an incredible campaign and the only horse to beat it this spring has been champion mare Winx.
The $2.50 is a good multi-bet inclusion and we believe there are only two horses which could upset Hartnell in this market.
Jameka is worth a play at $4.20, given its win in the Caulfield Cup and despite drifting in the win market, the four-year-old mare could defy history and take home the Melbourne Cup.
The other chance is Almandin at $8.50. It looked like a stayer on the rise when winning the Bart Cummings and that for should stack up nicely. $8.50 at Sportsbet is a great price to be the first Australian horse across the line.
First international horse home betting
The international runners could have a stranglehold on the 2016 Melbourne Cup finding the best winning chance between them can be tricky, but we've picked out three horses to help narrow it down.
Oceanographer is the $3.40 favourite to be the first international horse home and it must be considered after it won the Lexus Stakes last Saturday.
The Charlie Appleby-trained runner looked ready to win a Melbourne Cup and it has had two runs in Australia this campaign which is a big asset.
Bondi Beach has recently been purchased by Team Williams which is always a positive heading into the Melbourne Cup and it could give Aidan O'Brien his first Melbourne Cup.
It didn't have the best of luck the Cup last year, but its form since has been strong and the $4.40 at Sportsbet looks a good bet.
Big Orange ran an incredible Melbourne Cup last year and it has come back bigger and better. It hasn't attracted the support we thought it would in win markets, but take the $8.50 at Sportsbet and it should give punters a good sight out in front.

Punters can also bet on the Aussies vs. Internationals market.
Aussies – $1.85
Internationals – $2 at CrownBet.com.au
We think Hartnell will be tough to beat, but the value is clearly with the internationals. There are more winning chances with the internationals and punters taking Aussies at $1.85 are heavily relying on Hartnell and Jameka.
Punters would get better value backing both horses to win the Cup, so take the internationals at even money.
Godolphin Melbourne Cup exotics
Godolphin is a powerhouse in horse racing, but the Melbourne Cup is one race it hasn't been able to win.
There are four Godolphin runners in the Melbourne Cup from three different stables and punters can bet into two Godolphin-related markets with Sportsbet.
Godolphin to not win the Melbourne Cup – $1.45
Godolphin to win the Melbourne Cup – $2.65 at Sportsbet.com.au

Sportsbet is offering a much better price than other bookmakers for this option. CrownBet is offering only $2.50 so we advise taking the better price on offer.
First Godolphin horse home:
Hartnell – $1.75
Oceanographer – $2.40
Secret Number – $12
Beautiful Romance – $23
We can't see either Secret Number or Beautiful Romance beating the likes of Hartnell and Oceanographer. We suggest picking one of the two to include in your Melbourne Cup Day multi bets.
First Lloyd Williams horse home tips
Lloyd Williams is a multiple Melbourne Cup-winning owner and he's back with four runners this year.
Bondi Beach – $1.60
Almandin – $3
Gallante – $12
Assign – $12
Three of the four runners are legitimate winning chances. We don't suggest backing Assign to win at $12 as its form won't be good enough to win the Cup, but there is value with both Almandin and Gallante.
Almandin is one of our top Melbourne Cup picks and with the market suggesting this is a two-horse race between the Lloyd Williams foursome, the $3 at Sportsbet is a fair price.
We think Gallante could bounce back after a poor showing at Moonee Valley last start and it's currently $3.80 at Sportsbet for a top 10 finish.
Melbourne Cup top 10 finish betting and tips
Punters get good odds when betting on top 10 markets and bookmakers take a lot of multi-bet action on this option.
With 24 runners in the Melbourne Cup field, punters have a 41.6 percent chance of winning their top 10 bet and it means punters can take multiple runners and win every bet.
Melbourne Cup top 10 market:
Hartnell – $1.20
Oceanographer – $1.22
Jameka – $1.33
Bondi Beach – $1.45
Almandin – $1.55
Heartbreak City – $1.60
Almoonqith – $1.65
Big Orange – $1.65
Wicklow Brave – $1.75
Exospheric – $1.95
Curren Mirotic – $2.05
Who Shot Thebarman – $2.05 at Sportsbet
Qewy – $2.15
Our Ivanhowe – $2.25
Grand Marshal – $2.35
Grey Lion – $2.35
Secret Number – $2.70
Assign – $3.60
Excess Knowledge – $3.70
Gallante – $3.80
Beautiful Romance – $4.20
Pentathlon – $4.60
Sir John Hawkwood – $4.60
Rose Of Virginia – $6
If you don't mind taking shorter odds than this betting option is for you. There are some quality types at nice multi-bet prices here and we have picked out our top five options.
Almandin, Almoonqith, Big Orange, Wicklow Brave and Who Shot Thebarman are all great top 10 betting prospects and Who Shot Thebarman at $2.05 is the best value of the bunch.
The Chris Waller-trained runner is accustomed to running over 3200m and a little rain on the day will significantly increase its chances of running well.