Top 10 T20 international cricketers ever
CRICKET'S abbreviated version has quickly become its most popular incarnation.
And it is not hard to see why.
Fast paced and action packed, Twenty20 cricket has something every one.
It's made fans out of people who never would have watched the sport and, despite some criticism that is bastardises the game, it is not going anywhere.
As with all sports, there are some players with superlative skills that put them in a league of their own.
The master blasting batsmen, the bowlers who are just about unplayable and the men with the rare talents borrowed from both sides are what make this game so exciting.
Here are 10 of the best players to turn their hand to the shortest form of the game.
Chris Gayle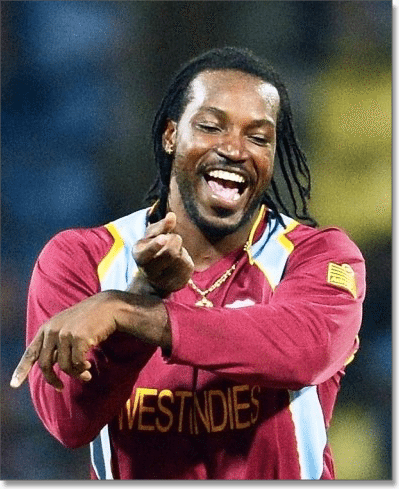 Nation: West Indies
Matches: 50
Runs: 1519
Highest Score: 117
Batting average: 35.32
Strike rate: 145.49
To give you an idea of just how destructive the big West Indian is in T20 cricket, Chris Gayle has slammed a ridiculous 98 sixes in 50 T20 international matches. That's almost two every game. Gayle has won more international T20 matches off his own bat than any other player. No player strikes more fear in a bowling attack than this towering slugger. Along with being perhaps the coolest man to ever play the game, he is also the best.
Virat Kohli
Nation: India
Matches: 43
Runs: 1641
Highest Score: 90 not out
Batting average: 58.6
Strike rate: 135.17
Well, this bloke might have something to say about us calling Gayle the best. Kohli's average completely dwarfs any other player of note in this game and he has done it against the best – his favourite past time is putting Australians to the sword. Kohli has played some of the most destructive innings' ever witnessed on the international stage and, unlike Gayle, when he gets going, he never, ever looks like getting out – and he has the swagger to match the West Indian.
Brendon McCullum
Nation: New Zealand
Matches: 71
Runs: 2140
Highest Score: 123
Batting average: 35.66
Strike rate: 136.21
The world record holder for most T20 international runs recently retired from the game, but his feats will never be forgotten. One of the very best at his craft, McCullum was the inspirational captain behind New Zealand cricket's stunning rejuvenation. On the T20 pitch, no ground was big enough once McCullum strode out to the wicket.
JP Duminy
Nation: South Africa
Matches: 70
Runs: 1654
Highest Score: 96 not out
Batting average: 38.46
Strike rate: 123.61
Perhaps one of the less likely men on this list, Duminy burst onto the world scene as a youngster and, while his name might not be as household as the men above him, his record certainly is. A brilliant batsman who is about as good at finishing games as any, Duminy has, time and time again, guided South Africa out of trouble and onto the winners' list.
Shahid Afridi
Nation: Pakistan
Matches: 98
Runs: 1405
Highest Score: 54 not out
Batting average: 18.01
Strike rate bowling: 150.75
Wickets: 97
Best bowling: 4/11
Bowling average: 24.35
Strike rate bowling: 22.1
Economy rate: 6.61
The first genuine all-rounder to make our list, Afridi is as destructive with bat as he is with ball. While his fireworks with the bat aren't as prolonged as the men listed above him, when he launches, people outside the ground often duck for cover. And with the pill, his fast leg breaks have ended the innings' of plenty of the world's best batsmen. Afridi has taken more wickets than any other T20 bowler in internationals and the fact that he has played more matches than any other player is a testament to his longevity and skills.
Ajantha Mendis
Nation: Sri Lanka
Matches: 39
Wickets: 66
Best bowling: 6/8
Bowling average: 14.42
Strike rate: 13.4
Economy rate: 6.45
With only four overs to do damage, this game is a batsman's game. But don't tell that to Ajantha Mendis. The right arm leggie is the only bowler to ever take six wickets in a match – and he has done it twice. Once against the Australians, snaring 6/16 and then topping that with a ridiculous 6/8 against Zimbabwe. Has a pristine economy rate of just a tick over a run a ball, which is elite in this form of the game. Near impossible to get away and that's why wickets are never far away.
Kevin Pietersen
Nation: England
Matches:
Runs: 1176
Highest Score: 79
Batting average: 37.93
Strike rate: 141.51
Had there not been so much acrimony between KP and the English Cricket Board, we have a feeling he would be higher on this list. At age 35, he is still one of the best T20 cricketers in the world, plying his trade as a hired gun, blasting domestic T20 attacks all over the world. But his International record stacks up against the best in the world.
Lasith Malinga
Nation: Sri Lanka
Wickets: 78
Best bowling: 5/31
Bowling average: 20.28
Strike rate: 16.7
Economy rate: 7.26
A fearsome proposition with the ball in T20s, Malinga's thunderbolts have brought many a gun batsman undone. Pacy and accurate, Malinga's curious action has always been hard to deal with at the highest level. Has taken the fourth highest number of wickets in T20 cricket.
Shane Watson
Nation: Australia
Matches: 58
Runs: 1462
Highest Score: 124 not out
Batting average: 29.24
Strike rate: 145.32
Wickets: 48
Best bowling: 4/15
Bowling average: 24.72
Strike rate: 19.3
Economy rate: 7.65
A much maligned figure in Australian cricket, the all rounder has had only a middling career in the other two forms of the game. But he is a force to be reckoned with in T20s. Absolutely blasts off with the bat, whether he is up the top of the order or in the middle, his strike rate of 145.32 is about as good as it gets. And he is pretty handy with the rock, too, snaring 48 wickets across his career.
Samuel Badree
Nation: West Indies
Matches: 28
Wickets: 40
Best bowling: 4/15
Bowling average: 14.7
Strike rate: 16.3
Economy rate: 5.39
Relatively new on the scene, but the way he is going, could become the greatest wicket taker in the shortest form of the game. Badree has been near unplayable throughout his fledgling career, going at less than a run a ball through 28 matches and snaring 40 wickets on the way. The West Indians have a special spinner in Badree.
Honourable mentions
Mike Hussey
Yuvraj Singh
Aaron Finch
Mahela Jayawardene
Jacques Kallis
Saeed Ajmal
Umar Gul
Marlon Samuels
Rohit Sharma
Shane Watson
David Warner
AB de Villiers
Ajantha Mendis
Sunil Narine
Dale Steyn
Daniel Vettori
Darren Sammy
Glenn Maxwell
Dwayne Bravo
Did we miss anyone? Tell us who in the comment box below.
2016/17 T20 Big Bash Odds
Sydney Thunder ($5.50)
Perth Scorchers ($5.50)
Melbourne Stars ($6.50)
Melbourne Renegades ($7)
Adelaide Strikers ($7)
Hobart Hurricanes ($7.50)
Sydney Sixers ($7.50)
Brisbane Heat ($9.50)
Odds provided by Sportsbet.com.au