Can any horse catch Hartnell or Jameka in the 2016 Melbourne Cup?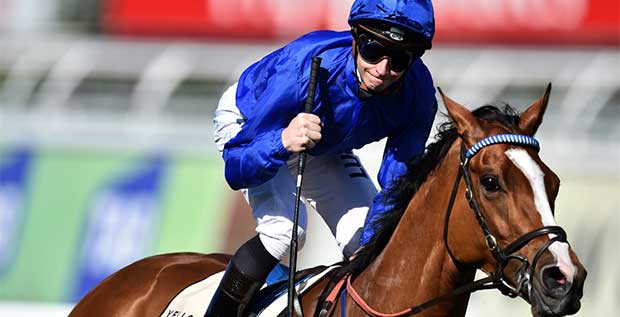 IF the Cox Plate was Winx v Hartnell, the Melbourne Cup is shaping as Hartnell v Jameka.
But, unlike the Cox Plate, Hartnell is tipped to be the bride and not the bridesmaid in the Race that Stops a Nation.
With 32 horses left in the field after second acceptances, Hartnell and Jameka are one and two in the betting, online bookmaker Sportsbet.com.au showing Hartnell as the +340 favourite ahead of the star mare, named after tennis star Serena Williams' middle name.
While Hartnell was brained in the Cox Plate by the supreme power of Winx, it, along with the Caulfield Cup winner are the only two runners under double figures for the Cup.
Overseas invader Bondi Beach, prepared by Aidan O'Brien, is next in the market at +1000 favourite, just ahead of Almandin ($12) and Scottish ($13).

"The top two in betting are the focus of punters," the bookie's Ben Bulmer said.
"Hartnell is the best supported runner and holds about $20,000 more than Jameka.
"Almandin is the third best backed, but holds only a third of the money Hartnell has attracted."
While the John O'Shea horse Hartnell was walloped in the Cox Plate, it was pretty clear among racing circles that everyone was racing for second.
And O'Shea was happy with his charge's run.
"I thought he was good as it's going to be a very high-rating Cox Plate and the best part of his race was in the last 100 metres," O'Shea said.
"I said earlier this spring that I think our best chance to win a major this spring will come in the Melbourne Cup and I didn't see anything there yesterday for me to change my mind.
"Historically, that run matches up with performances like Fiorente and a lot of Melbourne Cup horses have run significantly worse than him but still been very competitive at Flemington."
Jameka will have to deal with a record penalty in the cup, having copped 1.5kg after her Caulfield Cup victory, the rehandicapping meaning she will have to carry 53.5kg in her pursuit of victory.
"Jameka was a brilliant winner of the Caulfield Cup on Saturday, and has been penalised 1.5kg for this year's Melbourne Cup, taking her handicap to 53.5kg," Racing Victoria chief handicapper Greg Carpenter said.
"A penalty of 1.5kg represents around three lengths over 3200m, which is the same margin she defeated Godolphin stayer Scottish by on Saturday.
"Jameka will create a new chapter in racing's history books if she can win the Melbourne Cup with 53.5kg, with the current weight-carrying record by a four-year-old mare set by Bart Cummings' first Melbourne Cup winner, Light Fingers, who won the Cup in 1965 with 52.5kg."
Trainer – and unabashed Serena Williams fans Ciaron Maher – spoke to media at Flemington yesterday and told reporters he felt Jameka had actually improved since her stunning Caulfield run.
"She's come through the Caulfield Cup in great style," Maher said.
"She might even have improved a bit.
"She gives every indication to me that she will run the two miles.
"She's an exceptional athlete."
She will need to be – the last horse to do the Caulfield and Melbourne Cup double was Ethereal in 2001. And no four year old mare has carried that much weight and won the cup.
International raiders Oceanographer and Exospheric, both at $17, also have strong claims on the big race.
Outside of the top hopes, there has been some support for Oceanographer's stablemate and Geelong Cup winner Qewy, the Godolphin stayer having its odds cut from $81 into $34 after it scored in a race that has been a great guide for the Melbourne Cup.
Media Puzzle (2002), Americain (2010) and Dunaden (2011) all went on to win the Melbourne Cup after claiming the Geelong Cup in the same Spring.
Godolphin stable spokesman James Ferguson said the hope was now that Dewy would make its way into the Cup field when it was whittled down to the final 24

"I hope so now," Ferguson said after the Geelong Cup.
"That is the plan and we will see what happens.
"At the moment if he goes up enough (in order of entry) and he gets in I am pretty sure he will run."
Ferguson said Kerrin McEvoy rode a perfect race in Geelong.
"I told Kerrin to just go. He stays all day, dropping back in trip," Ferguson said.
"He has given it a beautiful ride and Ben (Melham) has given Oceanographer a brilliant ride, he has come third."
"It is great for Sheik Mohammed to have a winner here and it is brilliant for the whole team."
2016 Melbourne Cup betting market (ALL IN)
$4.60 Hartnell
$11 Bondi Beach
$12 Almandin
$13 Scottish
$15 Big Orange
$15 Heartbreak City
$17 Almoonqith
$17 Exospheric
$17 Who Shot Thebarman
$17 Oceanographer
$17 Wicklow Brave
$26 Curren Mirotic
$26 Secret Number
$26 Real Love
$34 Qewy
$34 Tally
$34 Sir John Hawkwood
$34 Grey Lion
$34 Grand Marshal
$34 Excess Knowledge
$41 Tom Melbourne
$41 Our Ivanhowe
$51 De Little Engine
$51 Gallante
$51 Assign
$67 Howard Be Thy Name
$101 Pentathlon
$101 Beautiful Romance
$101 Vengeur Masque
$201 The Bandit
$301 Rose Of Virginia
Odds provided by Sportsbet.com.au
More News

Deprecated: WP_Query was called with an argument that is deprecated since version 3.1.0! caller_get_posts is deprecated. Use ignore_sticky_posts instead. in /home/bettingsite/public_html/wp-includes/functions.php on line 5145

All Recent News