Call of the Card punter stands to win $640,000 on Jameka Cup win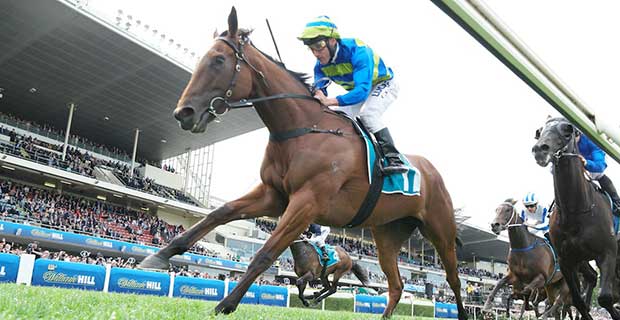 ONE punter with more money than sense has smashed out a massive $80,000 bet on super mare Jameka at this morning's Melbourne Cup Call of the Card.
The big punter got the juicy odds of $9 on the Ciaron Maher-trained Caulfield Cup winner, spreading the dosh across three bookmakers and forcing Jameka's odds in to $8.
He won't be the only punter riding home the monstrous horse home tomorrow in the race that stops a nation, with two other punters dropping a cool $10,000.
Named after tennis legend Serena Williams' middle name, Jameka is gunning to become the first horse to do the Melbourne-Caulfield Cup double since the genius Ethereal did it back in 2001.
While Jameka had plenty of support, punters have abandoned the Godolphin race favourite Hartnell, with just a few bets of $1000 placed on the Cox Plate bridesmaid, the $5.50 odds perhaps a turn off for some, including WilliamHill.com.au boss Tom Waterhouse.
Waterhouse said Hartnell is the horse he will be backing, but was keen to snap up at least $6 and possibly $6.50 at the track.
"I think I'll get the price I want on course," he reportedly said.
Hartnell is an interesting proposition. The bookies are clearly worried, because they simply refused to budge from $5.50, and, given you can get better odds online, it's no surprise there was very little love for the John O'Shea trained machine in the room.
"It was surprising, the lack of interest in Hartnell," CrownBet's Matthew Tripp said.
"I think everyone expected me to go $6 or $6.50 and I know we'll lay him (on Melbourne Cup day).
"My only question with him is does he run a really strong two miles?
"I was happy to steer clear of (Jameka) and I know they bet $9, but it took a bit of money to move her.
"That's a big shift and there were decent bets around that mark.
"I was trying to keep Jameka safe because I think she's got a great hope – particularly of the locals – and she hasn't done much wrong."
The son of master trainer Gai Waterhouse, Tom did have a couple of big bets, putting plenty down on Wicklow Brave to win $250,000 at $17. And he wasn't the only one, with another keen punter plonking plenty down on the Irish stayer to win $300,000 at $16.
The savvy punters have also proved they know just a tad more than the public, only backing Lexus Stakes winner Oceanographer at the juicy odds of $8.50, rather than around the $6 mark it had shortened into on the tote after its victory.
Waterhouse wasn't the only well-known bagman in the Palladium Room at Crown Casino today room today.
CrownBet.com.au's Tripp was joined in the ring by Mark Samperi, Warren Woodcock and Robbie Waterhouse.
There were several other monster bets at the event.
Robbie Waterhouse and Tripp will share a $1 million loss after one punter slammed down a pretty penny on Grand Marshal at $51.
Samperi will be $500,000 lighter in the pocket if Sir John Hawkwood can salute at $151 after he took a big bet at the big quote.
The crew at Sportsbet.com.au have Hartnell and Jameka dominating the betting.
The bookie's Christian Jantzen reports there is also "plenty of money coming" for Oceanographer ($7.50) since he won the Lexus Stakes on Saturday.
"Another European invader, Bondi Beach, opened at huge odds of $41 and is now into $9.
"Joy will abound for some punters if Heartbreak City ($16) can salute, another horse with several nice wagers taken at his early price of $41.
"It's the Melbourne Cup so just about everything in the race has admirers.
"However, the smart punters have done well to get top odds about the main chances and to find Almandin at $301 was a stroke of genius."
2016 Melbourne Cup odds