Bulked-up Mundine banking on speed to take down Green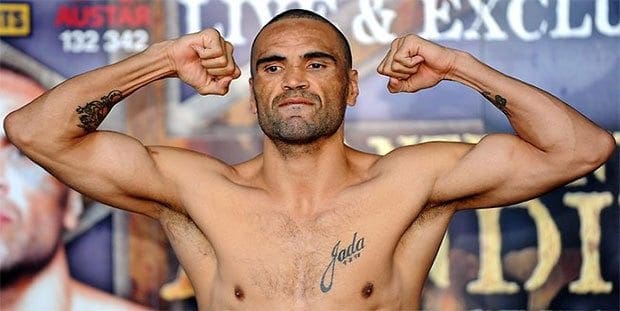 ANTHONY Mundine is covering all the bases ahead of his hotly-anticipated re-match with Danny Green on Friday.
'The Man' has bulked up in a big way, stepping up from his usual 69kg fight weight to match his arch enemy's 83kg mark.
Speaking to reporters at Rundle Mall on Monday, he also confessed to studying old tapes of his 2006 win over Green for inspiration.
"I want to think of every scenario and be ready for everything," said Mundine, who is paying $2.75 for the win at Sportsbet.
"I watched a bit of it [the 2006 fight] the other night, I was on my A game that night and I'll need to be on my A game on Friday night as well.
"We pretty much both have the same styles, I know what he's capable of and whoever executes the best on the night will win.
"Age ain't a factor to me, it's attitude and hard work and dedication. I know I'm not done."
Mundine is two years younger than Green, who turns 44 in March.
But the latter – now Sportsbet's $1.45 favourite after opening as a rank outsider in the futures markets – was quick to dismiss any notion that age might have dulled his edge.
"Ask my sparring partners," Green told the press.

"There's a 30-year-old and a 29-year-old, one's from Chicago and one from Houston, one is 20-1 and the other 30-2 and he fought for the world title.
"Ask them how their ribs are and how their chin is and they'll give you an answer. I'm in pretty good shape.
"I don't have the same output I had as a younger man but I'm a more intelligent fighter, the power is still there and the desire is still there which is the most important."
It would not be a true 'Man vs. Machine' exchange without some sort of extraneous controversy stealing the headlines.
Right on cue, Mundine has confirmed he will refuse to stand for Advance Australia Fair prior to the showdown at Adelaide Oval.
The indigenous boxer has long opposed what he views as a "racist" insult to the continent's first occupants.
He even took a swing at Jessica Mauboy, claiming organisers only chose her to sing the anthem "because she is black".
"It's a racist anthem and doesn't represent our people," Mundine said.
"It's disrespectful to our people. And this is close to my heart."
Despite the flagrantly divisive nature of his comments, Mundine insisted he was not interested in stirring up controversy.
"First and foremost I want to focus on the fight," he said.
"I'm not trying to divide people or be controversial but you've asked the question and I'm answering it honestly to tell people where I stand.
"We're not young and free. My people are still being oppressed.
"Nothing's changed… the anthem isn't right. It's not for all of Australia.
"I just can't stand up for something I don't believe in."
It did not take long for Green to put forth a very public response.
"Mundine won't stand for the anthem before the fight and that is totally his choice," he wrote in a Facebook post on Monday.
"Doesn't affect me. He is allowed his choices and his opinion.
"One thing I do however despise, is people trying to cause division in our communities.
"I only give a shit about people being good to people.
"I have been raised to acknowledge and respect the original land owners. Always have and always will.
"I also appreciate the support I get from the indigenous community. The bush telegraph talks fast and talks wide, and those people know my attitude and beliefs."
Mundine vs. Green betting markets
All markets provided by Sportsbet.com.au
Outright winner
Danny Green – $1.45
Anthony Mundine – $2.75
Danny Green round betting
Green in one-three rounds – $9
Green in four-six rounds – $6.50
Green in seven-nine rounds – $6
Green in 10 rounds – $21
Anthony Mundine round betting
Mundine in one-three rounds – $26
Mundine in four-six rounds – $19
Mundine in seven-nine rounds – $15
Mundine in 10 rounds – $41
Method of victory
Green in KO or TKO – $2.25
Green on points or decision – $3.30
Mundine on points or decision – $4
Mundine in KO or TKO – $9
Draw – $26