Bookmakers bleeding after huge payouts on President Trump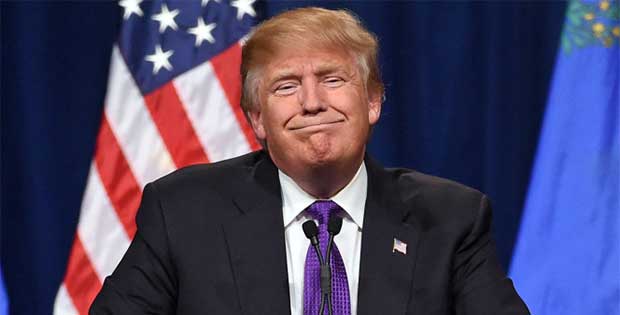 THE former host of a reality TV show is the 45th president of the United States of America.
And bookmakers are feeling the pinch almost as badly as Hillary Clinton and the Democratic National Committee this morning.
Sportsbet.com.au has paid out an incredible $11 million to 25,000 punters who backed the man with the orange skin – an average pay out of $440 per punter.
Ouch.
Donald Trump started election morning as a $6 outsider when the polls closed. As the votes came in, important victories in battle ground states shifted betting dramatically – seeing Trump make big inroads in betting to violently swing into favouritism before the election was called in his favour at roughly 5pm AEST.
One punter won $380,000 after laying down an incredible $100,000 on Trump at $3.80 in late October. Another will have had tears of joy after winning $10,100 from a $100 bet on Trump at odds of $101 way back in 2014, when a Trump presidency was nothing but a joke.
Sportsbet also reported a punter who put a single dollar on Trump in 2013 at odds of $151. The clairvoyant will be wishing they had a few more dollars on the hunch.

Sportsbet was not the only bookmaker reeling.
UK giant Paddy Power incredibly paid out millions on a Hillary Clinton victory weeks ago. Paddy Power's decision to pay out early on Clinton's victory came when she was paying just $1.10 – before a second FBI scandal which wildly swung momentum back in Trump's favour.
Worldwide, bookmakers have been left reeling by the result. The election, the wildest and most-watched in history, was also the biggest non-sporting betting event in human history.
And don't think the betting on Trump, Clinton and US politics ends here. Sportsbet has released its election fallout markets:
– Hillary Clinton is $1.30 to be the first person imprisoned by Trump
– The USA is priced at $1.87 to leave NATO
– Repealing Obamacare is the $1.50 favourite to be Trump's first act as President.
– Canadian Prime Minister Justin Trudeau is priced at $4 to be the first world leader to visit Trump, with our own PM Malcolm Turnbull priced at $6.
– Trump is $3 to be defeated at the 2020 election and $9 to not get the nomination.
– Hillary Clinton's political life is all but over. She is $21 to run again in 2020 and an unlikely $51 to win.
Sportsbet.com.au's Ben Bulmer echoed the surprise felt around the world today.
"The punters beat us, with more than 25,000 Aussies successfully predicting the outcome of the election, despite the weight of public opinion suggesting Trump was no chance. Well played."
President Donald Trump betting markets
What will happen first when Trump wins:
$1.87 – USA leaves NATO
$2.25 – USA leaves APAC
$7.50 – USA leaves NAFTA
$34 – USA leaves the UN
What next for Hillary:
$5 – Works for an Investment Bank
$21 – Features in the next season of House of Cards
$34 – Runs computer classes for seniors
$51 – Cyber security technician
2020 election futures:
$3 – Donald Trump to be defeated as the incumbent in the 2020 election
$9 – Donald Trump to not be nominated by the Republican party in 2020
$51 – Hillary Clinton to win the 2020 US Presidential Election
$21 – Hillary Clinton to run for President at the 2020 election
Will Trump have a lower average approval rating than George W. Bush:
$1.87 – Yes
$1.87 – No
What will Trump do first:
$1.50 – Scrap Obamacare
$7.50 – Stop accepting immigrants
$7.50 – Build the wall on the Mexican Border
$4 – Visit Russia
$21 – Abolish AUSFTA
$21 – Use the Apprentice to choose his cabinet
$34 – Make same sex marriage illegal
$51 – Imprison a Clinton
Editor's note: Last week, BettingSite.com.au compiled a list of the 5 biggest political scandals of modern history. We wonder how long it will be before President Trump joins that list and hope it does not come at the cost of war or environmental disaster.
Could Trump face another former first lady in 2020?
Donald Trump has just beaten the first woman to ever run for president of the US.
Could he beat the second in 2020?
Michelle Obama is favoured at odds of $1.75 to run for President in 2020 and a $5 chance of being successful.
Sportsbet have opened Michelle at odds of $11 to replace Trump as President. Think those odds are crazy?
They're a lot less crazy than the thought of President Trump four years ago.

The first lady has gathered support for a run at the White House, based on the positive feedback from her speeches while campaigning for Hillary Clinton and the record popularity polls enjoyed by Barack Obama after his eight-year stint in the oval office.
If you think Trump is just the beginning of bizarre US presidents, then Sportsbet has a market on even crazier options.
Kayne West sits at $5 to enter the next presidential race while Mark Zuckerberg ($21), Kim Kardashian ($34) and Angelina Jolie ($51) are all listed – and they no longer feel like the joke they would have been a week ago.
Odds on Trump's opposition in 2020
Will Michelle Obama officially enter the 2020 Presidential race:
$1.75 Yes
$2.00 No
Will Hillary Clinton officially enter the 2020 Presidential race:
$1.02 No
$11 Yes
2020 Democratic party nomination futures:
$5 – Michelle Obama to win the Democratic Nomination for the 2020 election
$21 – Hillary Clinton to win the Democratic Nomination for the 2020 Election
$26 – Kanye West to be the nominee of either party for the 2020 election
To officially enter the 2020 Presidential race:
$5 – Kanye West
$11 – Oprah Winfrey
$11 – Michael Jordan
$11 – Michael Bloomberg
$21 – Mark Zuckerberg
$34 – Ellen Degeneres
$34 – Kim Kardashian
$34 – Hugh Hefner
$51 – Beyoncé
$51 – Jay-Z
$51 – Angelina Jolie
$51 – Lady Gaga
$101 – Chelsea Clinton