Billings & Thomas disposal betting – St Kilda vs. Carlton Rd 17 tips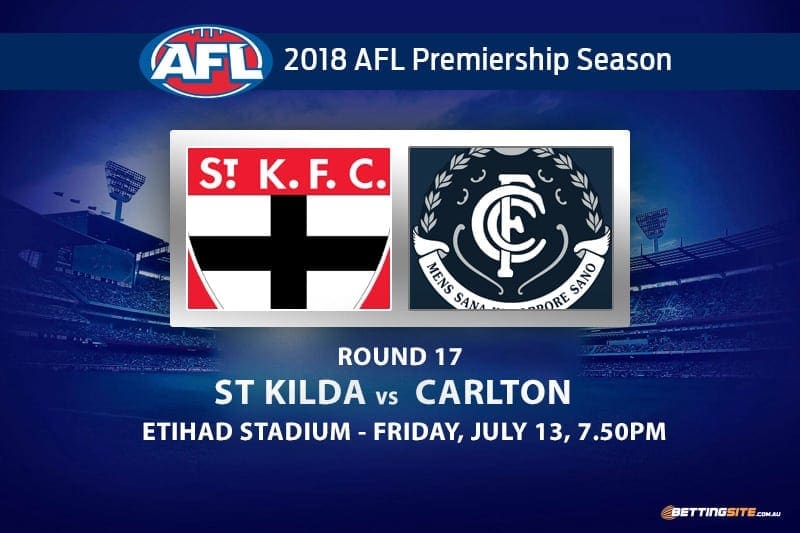 Ladder Position:
St Kilda Saints: 15th
Carlton Blues: 18th
Wooden Spoon Odds:
St Kilda Saints: $21.00
Carlton Blues: $1.18
Form Guide:
St Kilda Saints: LLWWL
Carlton Blues: LLLLL
Round 17 Result:
St Kilda Saints: Loss to Port Adelaide, 86 – 50
Carlton Blues: Loss to Brisbane, 120 – 55
The Friday night blockbuster the country has been waiting for… is not what we are getting this week when the St Kilda Saints host the Carlton Blues at Etihad Stadium.
This Friday the 13th you can sit at home and watch a horror film, or you can tune in to the comedy that will be featured on Channel Seven as a substitute.
The two bottom-four clubs have been under pressure throughout the season, with both coaches facing big questions about their immediate and long-term futures.
For Brendon Bolton, the Blues head coach, the task is simple on paper, but becomes difficult on game day. Bolton's Blues need to prove to the fans that there is a future to look forward to. The likes of Patrick Cripps and Charlie Curnow have shined brightly, but.
St Kilda head coach Alan Richardson knows his Saints have the potential, but if they let this one slip, all hell will break loose in Moorabbin.
The fans of both sides want to see potential and we think a good and hard contest under the Friday night lights will please the respective critics.
For this match there are plenty of markets to research and analyse, here are the tips we have discovered for the Saints and Blues clash.
St Kilda Saints vs. Carlton Blues Round 17 – Disposal Tips
Jack Billings to get 25 Disposals @ $2.80
After being dropped to the reserves to find form, Jack Billings has never played better. When he was in the twos, Jack played one of the great matches for the Sandringham VFL side, amassing 54 disposals and kicking 3 goals. Now back to his best in the seniors, Billings has enjoys multiple matches that saw him exceed 20 disposals, including last week's loss to the Powerful Port Adelaide. We do believe that against one of the league's weaker midfields, Billings will be able to find the footy at least 25 times.
Dale Thomas to get 25 Disposals @ $2.30
Once one of the league's most-loved players, Thomas is now referred to as a serial pest. Dale Thomas' career took a turn for the worse after leaving Collingwood in 2013, but has played some solid football in 2018, finding some of his old pre-injury form. In the past few weeks Dale has etched his way into the 20 disposal range quite easily, but he hasn't yet had a breakout match. We expect this to be the week he does.
St Kilda Saints vs. Carlton Blues Round 17 – Total Behinds Tips
St Kilda Saints First Half Behinds
5-6 Behinds @ $2.60
As one of the league's worst conversion teams in front of goal, the Saints have kicked themselves out of a number of games this season. If the Saints kick either five or six behinds in the first half, our punt is paid. In the last two weeks, the Saints have kicked exactly six behinds in the first half, which only makes us more confident they can get the job done for us this week.
Carlton Blues Second Half Behinds
7-8 Behinds @ $5.50
If the Blues find themselves playing catch up footy in this match, they will feel some pressure, as this is one of the few matches that is winnable in the eyes of every football fan. Last week the Blues kicked seven behinds in the second half, we would love to see them do so once again.
St Kilda Saints vs. Carlton Blues Round 17 – Both Sides to Score Tip
Both Team to Score 60 + Points
No @ $3.00
We think it is fairly obvious that these sides are not the best, meaning they will find it difficult to score. This match will be low-scoring and most likely disappointing for most viewers, but for us, only one side needs to fail going forward. If we were to pick one of the teams it would be Carlton, they just don't look like scoring unless the ball is in Charlie Curnow's hands. If the Saints can negate Curnow's impact, the game might as well be over.
Saints vs. Blues Match Predictions
Match Result: St Kilda Saints to Win @ $1.32
Line Betting: Carlton Blues +21.5 @ $1.92
St Kilda will win by a smaller amount than you might think. The Saints look good this past month, but that is only because of how poorly they played before the two wins they were able to steal in rounds 13 and 15. Carlton is fighting for pride and we think they will come to play this Friday.