Betting tips and multi selections for January 20-22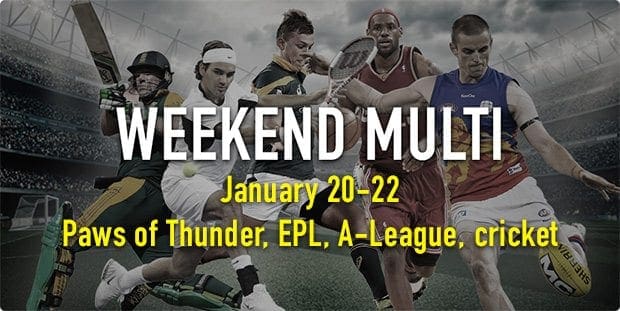 JUST when you think you have a great weekend on the punt in hand, the Magic Millions roll around and put a dent in your wallet.
No less than three $30+ winners saluted on the Gold Coast, and our elect for last week's weekend multi could not even place, sabotaging our hopes and dreams.
This week we have cast our net far wider in search of a dividend. We are going across to New Zealand, to the dog track at Wentworth Park, over to England for the Premier League before quietly rounding out the weekend in Sydney.
We are extremely confident of getting a win here and we suggest any punter who wants to line their pockets in cash to get in early before these odds fluctuate.
All odds for this weekend of action were provided by Sportsbet.com.au.
Selections for the weekend multi – January 20-22:
New Zealand to beat Bangladesh ($1.23)
Falcon's Fury to win the Paws Of Thunder ($3.20)
Liverpool to beat Swansea ($1.20)
Newcastle to win or draw against Western Sydney Wanderers ($1.91)
Combined multi value: $9.02 @ Sportsbet.com.au
New Zealand vs Bangladesh
Friday, January 20 from 9 am AEDST Hagley Oval, New Zealand
We are looking across the Tasman for the first leg of our weekend multi as the Kiwis host Bangladesh in the second test.
First time out the Kiwis were worryingly bad but still managed to overcome their opponents, who are now without one of their key players in Mushfiqur Rahim. It makes a tough task even more difficult for the visitors.
The Black Caps should dispatch their opponents quite easily to get us off to the perfect start.
New Zealand to win – $1.23
Paws Of Thunder
Saturday, January 21 from 9.50 pm AEDST, Wentworth Park
Second leg of the weekend multi sees an inform dog taking to the track in the Paws of Thunder showdown at Wentworth Park.
Falcon's Fury has been in stellar form recently, winning four races on the trot. On Saturday night it draws the seven box which may be why the odds are a bit longer than anticipated but we are happy to take them.
Falcon's Fury to salute in the Paws to keep our multi rolling.
Falcon's Fury to win – $3.20

Liverpool vs. Swansea
Saturday, January 21 from 11.30 pm AEDST Anfield, Liverpool
The Reds of Liverpool host the Swans from Wales in the third game of our weekend multi.
Liverpool is fresh off a draw against Manchester United and primed to put on a performance at home against a lowly ranked opponent.
The Swans currently sit on the third line of relegation betting at the $1.36 quote via Sportsbet.com.au and look to be on the way down to the second division of English football.
This one looks clear cut to us. Liverpool should win to roll us into the final leg.
Liverpool to win – $1.20
Western Sydney Wanderers vs. Newcastle Jets
Sunday, January 15 from 5 pm AEDST, Allianz Stadium, Newcastle
The Newcastle Jets travel down F3 to face the Western Sydney Wanderers in the final leg of our weekend multi.
The Jets have been much better in the second half of the season and can jump to fifth if they are triumphant.
The Wanderers have not won in over six weeks and are in dire need of a win. It is hard to see where they improve though as they have been dismal from top to bottom this campaign.
Newcastle to win or draw is a terrific price for our weekend multi and we are more than happy to collect the healthy dividend it will provide.