Best online betting bonuses for NFL Wild Card games & more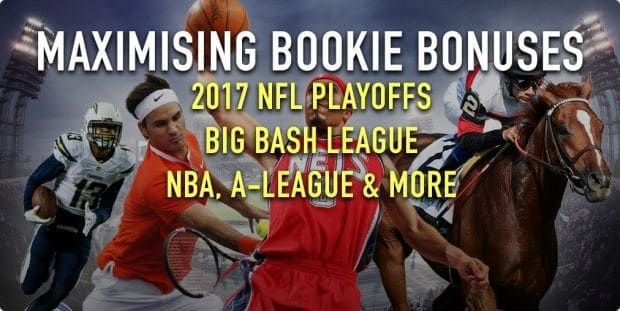 IT'S business time in the top sporting divisions of Europe and the United States.
The 2017 NFL Playoffs commence this weekend, while the top teams in England join the FA Cup fray for the third round of the world's oldest football tournament.
There is plenty going on at home as well, with another tasty T20 Big Bash derby and some interesting A-League clashes in the offing.
Check out these betting bonuses, multi specials and refund deals from Australia's best online bookmakers.
2017 NFL Wild Card specials
It's playoff time in the US with four do-or-die elimination finals in the National Football League.
Top bookie CrownBet is running two big bonuses for the wild card clashes.
Pick an NFL multi of four match bets or more and pocket up to $50 in CrownBet Rewards if only one leg fails.
That rebate also applies if your head-to-head pick loses after leading at half-time.
Palmerbet has a similar offer: $50 back in bonus cash if your team doesn't win despite holding the lead at three-quarter-time.
There is even more value over at Sportsbet, where punters who pick truly on the Big Win/Little Win markets can win up to $50 extra in bonus bets.
T20 Big Bash betting bonuses
The pick of the Big Bash clashes this weekend is Saturday's Melbourne derby rematch at the Docklands.
CrownBet customers can collect up to $50 in bonus points if their head-to-head bet loses after scoring 160 runs or more.
There's another $25 in CrownBet Rewards up for grabs on top team batsman picks that either make a duck or score 30+ runs without top scoring.
Palmerbet and William Hill are both offering money back up to $50 if your team scores 170 and loses.

Big Bash punters at Sportsbet can also get boosted Power Play odds and double winnings up to $50 for head-to-head bets that salute with a total of 180 or more.
Bet365 has a huge deal in play throughout BBL06: a 100 per cent payout boost up to $200 cash if your team wins and hits at least eight sixes in the process.
A-League soccer specials
Everyone is chasing runaway leaders Sydney FC at the midway point of the 2016-17 A-League regular season.
But it's Melbourne City and Western Sydney Wanderers on Friday night that has caught the bookies' attention this week.
If you back either side in the head-to-head stakes at CrownBet, you can pocket $50 in CrownBet Rewards points if your team loses despite hitting the score sheet.
Meanwhile, Palmerbet is promising to pay back up to $50 in bonus money for City or WSW first goalscorer selections that find the net at any time in the match.
Pick an A-League multi of four or more legs at either CrownBet or Sportsbet for a bonus refund up to $50 if one leg misses out.
If you land a winning soccer multi, Bet365 will boost your winnings up to 100 per cent depending on the number of legs.
NBA bookie bonuses
CrownBet has two big NBA specials for the weekend ahead.
If your first basket pick instead scores the second or third, the bookie will give you up to $50 in CrownBet Rewards bonus points.
That same refund is available for NBA multi bets of four or more legs that miss by one.
Sportsbet has a similar deal, but with up to $50 in bonus wagers for multis of five legs or more.
If you are partial to NBA line bets, you won't do better than William Hill's guaranteed $1.95 prices on every game of the 2016-17.
The British bookie is also offering special odds on selected games, so sign up at WilliamHill.com.au and head to the 'Promotions' page to find out more.