Betting on the 2017 Australian same sex marriage postal survey
AFTER years of debate and lobbying, the Australian Federal Government will avoid passing legislation on same sex marriage until gathering the official opinion of the country in a postal survey.
The same sex marriage postal vote won Australian High Court approval on Thursday, September 7th and will take place over the next month as more than 16 million ballot papers will be sent out to Australian citizens.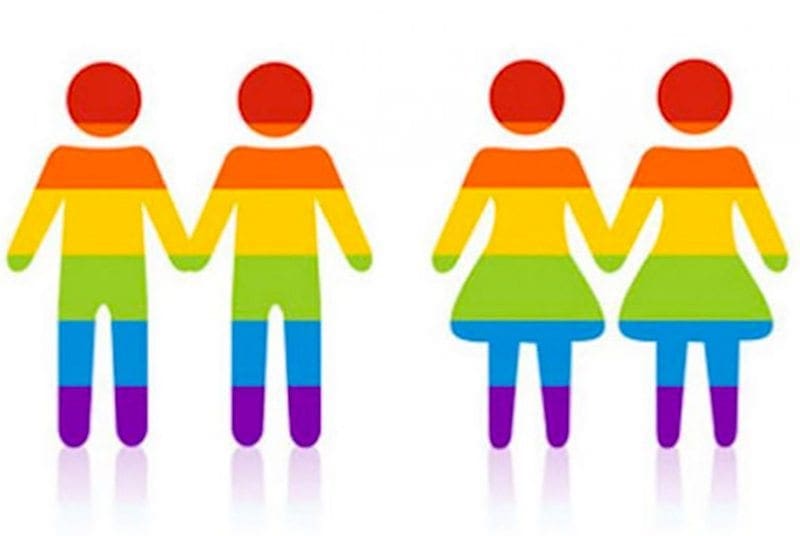 The survey will ask one question: "Should the law be changed to allow same-sex couples to marry?" Yes or No.
The survey is in no way legally-binding and will basically work as a very expensive opinion poll.
An opinion poll that Sportsbet.com.au punters believe the 'YES' campaign will win.
Punters looking to cash in on the fight for same sex marriage have three interesting markets to choose from.
The result of the same sex marriage postal survey – Yes or No
How many votes cast in the same sex marriage postal survey?
What percentage of people will be in support of same sex marriage?
Same sex marriage postal survey odds and betting
Asking a simple question of which result will be received from the survey, Sportsbet is offering $1.60 for 'YES' and $2.20 for 'NO'.

At this stage, the $1.60 looks like real value from the bookmaker.
Prime Minister Malcolm Turnbull has publicly supported the 'YES' campaign, as has the opposition, major newspapers in each state and the country's most popular sporting codes like NRL, AFL and Cricket.
Sportsbet reports that 62% of the money has been for 'YES'-related bets.
"If the sentiment from our customers is any guide, the Yes vote will be the winner in the postal vote and it's becoming more and more apparent every day," said Sportsbet.com.au's Christian Jantzen.
Betting on how many votes will be cast in same sex marriage postal survey
How many of the 16 million Australians over the age of 18 will actually vote?
At Sportsbet you can bet on that number.
It's the complicated issue that every Australian has an opinion about – but how many will make the effort of filling out the survey and mailing it back to the Australian Bureau of Statistics?
Sportsbet has between 9-10million as the $4 favourite, while 10-11million is at $4.50. If you think that significantly-less than 50 percent of the population, 5-6million, will vote, you can get as much as $12.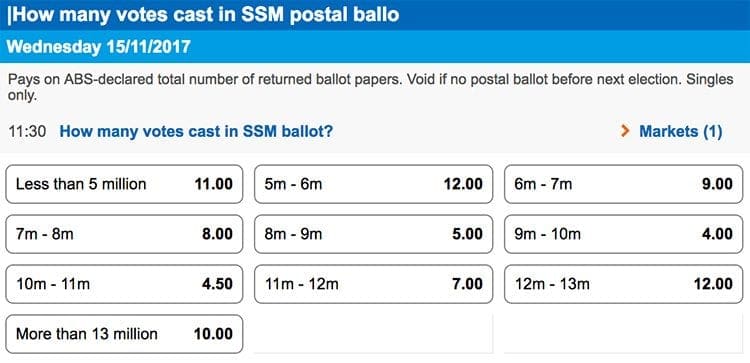 How many people will support same sex marriage?
So you've had a punt on who will win the survey and how many Australians will cast their vote – but what percentage of those votes will be for 'YES'?

Again, these Sportsbet markets swing heavily in favour of a win for the 'YES' campaign.
A 50-59.99% vote for YES is the favourite in this market at $2.50, but if you think the win will top the 60 per cent mark, you can get $3.20. If you think the 'NO' campaign can get an upset win, you'll get $3.50 on the 'YES' vote only picking up between 40-49%.
What are the key dates of the Australian Same Sex Marriage survey?
Tuesday, September 12: Ballot packs begin to be sent out to all households. This process could take up to two weeks.
Wednesday, October 18: Deadline to request replacement ballot packs.
Friday, October 27: The date the ABS recommends you return your vote by.
Tuesday, November 7 (6pm AEST): The final cut off point for votes to be received by the ABS.
< strong>Wednesday, November 15: Results of the same-sex marriage survey released.
Looking for a new Australian bookmaker?
BettingSite.com.au has a complete list of Australian bookmakers for you to chose from, and all the best promotions and bookie bonus bet offers for you to choose from.
Whether you are betting on YES or NO, the answer is always Betting Sites for all your Australian gambling and betting news and promos.