Australia to start as $9 underdog in 2017 Indian test series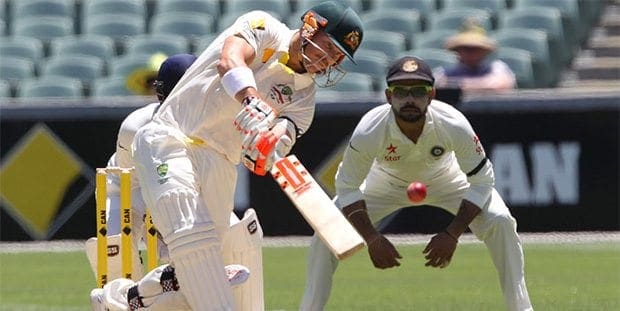 Australian vs. India test series dates
First Test: February 23, 2017, Pune
Second Test: March 4, 2017, Bangalore
Third Test: March 16, 2017, Ranchi
Fourth Test: March 25, 2017, Dharamshala
Series betting
Australia: $9 with Sportsbet.com.au
Draw: $7 with Sportsbet.com.au
India: $1.20 with Sportsbet.com.au

WHAT a task the Australians have when they head to India next month.
Four Test matches against a home side that absolutely laps up some of the dingiest conditions you will find in cricket.
Slow, low, thankless decks, oppressive heat and rabid crowds make India one of the most unforgiving places to visit on the planet if you are a Test cricketer.
And Australia goes their with a new youthful look that will be severely tested against the Indians.
The bookies have given the green and gold almost zero chance of getting anything out of their trip to India, with the home team short odds on at $1.20 with Sportsbet.com.au.
In fact, our mates over at Sportsbet don't even think Steve Smith's Aussies can win a Test.
In the series betting, India is a warm $3.25 favourite to take it out in a whitewash, 4-0, with 3-0 just behind at $3.50, just in case the Aussies manage a draw.
The best hope for Australia, according to the bookie, is a 2-1 result, way out at $13.
There isn't much that points to a win on the subcontinent.
The last time Australia headed into conditions like that, they were like lambs to the slaughter against Sri Lanka.
And then they came home and got spanked by the South Africans, the 2-1 result no indication of how heavily they were dominated.
Those thrashings brought about generational change in the Australian Test side, which provided the nation's biggest highlight in the long form of the game for 18 months when it polished off Pakistan, 3-0, in the most recent series on home soil.
And this incarnation of a touring party features several brand new – or very youthful – faces.
The Aussie have left no stone unturned for this one, selecting a 16 man squad that is packed with slow bowling talent.
Incumbent Nathan Lyon and his heir apparent Steve O'Keefe keep their spots, while the bolter is young Brisbane Heat Big Bash star Mitch Swepson.
All round spinning options Ashton Agar and Glenn Maxwell will all be part of a touring party hoping to spin and win.
Of course, key fast bowlers Mitchell Starc and Josh Hazlewood are on the plane after their stunning efforts against Pakistan, as is Jackson Bird.
The debate about Matt Henshaw or Shaun Marsh is set to rage, with both young buck and older bull headed to India to battle it out for opening rights next to David Warner.
Of course, another Marsh has caused a stir, with unfulfilled talent Mitch also getting the nod.
There are plenty who raised eyebrows at his selection, after he was unceremoniously dumped out of the Test team and produced little to show that he is up to the level.
The usual suspects in Smith and Usman Khawaja will be there, along with boom Victorian Peter Handscomb and just the one specialist keeper in Matthew Wade.
Peter Nevill might have thought he was stiff not to be on the plane, but he has suffered a serious facial injury in the Big Bash that would rule him out anyway.
You would imagine the back up gloveman duties would fall to Handscomb.
Australian squad: Steve Smith (captain), David Warner (vice captain), Ashton Agar, Jackson Bird, Peter Handscomb, Josh Hazlewood, Usman Khawaja, Nathan Lyon, Mitchell Marsh, Shaun Marsh, Glenn Maxwell, Steve O'Keefe, Matt Renshaw, Mitchell Starc, Mitchell Swepson, Matthew Wade (wicket keeper)
Australia vs. India Test series betting
India 4-0 ($3.25)
India 3-0 ($3.50)
India 3-1 ($4.33)
India 2-1 ($6)
India 2-0 ($13)
India 1-0 ($67)
Draw 2-2 ($15)
Draw 1-1 ($21)
Draw 0-0 ($276)
Australia 1-0 ($101)
Australia 2-0 ($81)
Australia 2-1 ($13)
Australia 3-1 ($41)
Australia 3-0 ($101)
Australia 4-0 ($101)
Odds provided by sportsbet.com.au
Australia top series run scorer market
Captain Steve Smith is, as per usual, the favourite to lead the nation in runs. He is an adept player of spin, and he will need to be if he is to survive in India. He churned out 441 runs against the Pakistanis and is the obvious pick. David Warner is next best, but is susceptible on the sub continent. One man to look at might be Peter Handscomb who, at $6, looks like he might be up to it, given how easily he handled Pakistan's spinners, albeit on Australian decks.
Steve Smith ($3.25)
David Warner ($3.50)
Usman Khawaja ($5)
Peter Handscomb ($6)
Matthew Renshaw ($6.50)
Shaun Marsh ($11)
Glenn Maxwell ($17)
Matthew Wade ($41)
Mitchell Marsh ($41)
Ashton Agar ($101)
Mitchell Starc ($101)
Stephen O'Keefe ($251)
Nathan Lyon ($501)
Mitch Swepson ($501)
Josh Hazlewood ($501)
Jackson Bird ($501)
Odds provided by Sportsbet.com.au

Australia top series wicket taker market
How hard is this market to pick? Australia might not take a wicket… jokes. But, honestly, the pacemen struggle in India and we don't exactly have a dominant spinner, with apologies to Garry. Starc or Hazlewood are the obvious choices, given they are the two men Smith turns to. Lyon being the other and that is why all three are the top three in the market. If you're looking for a point of difference, don't look too far, but maybe O'Keefe at $4.50 or even Jackson Bird at $13 – if he can get a game – who basically bowls fast offies anyway.
Mitchell Starc ($3)
Josh Hazlewood ($3.75)
Steve O'Keefe ($4.50)
Ashton Agar ($11)
Mitch Swepson ($13)
Jackson Bird ($13)
Glenn Maxwell ($21)
Mitch Marsh ($34)
Steve Smith ($101)
Odds provided by Sportsbet.com.au