Aussies unbackable for Boxing Day Test, rest of Windies series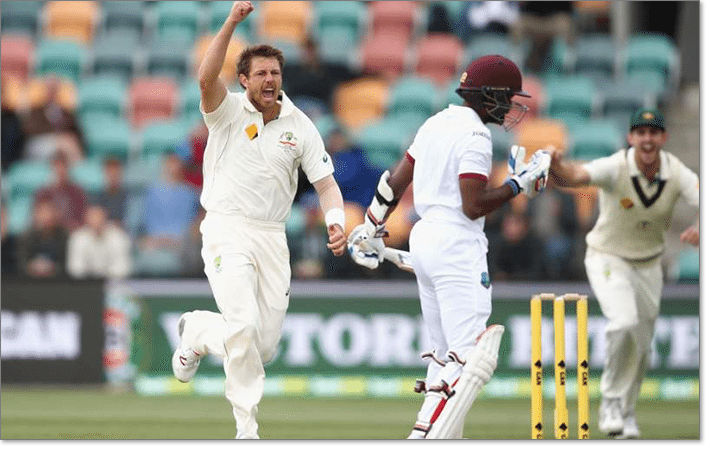 AUSTRALIA is an unbackable $1.005 to retain the Frank Worrell Trophy after its embarrassing First Test slaughter of a West Indies side that looked like it would struggle in a park cricket league.
The classy Aussies are far too talented for the Windies and it showed at Bellerive Oval in Hobart, Tasmania, with the Test over inside three days.
And they are $1.05 with sportsbet.com.au to win the Boxing Day Test at the Melbourne Cricket Ground next week, after the innings and 212 run mutilation of the Windies, who are a massive $26 with CrownBet.com.au, while the draw is $13.
The Aussies won the toss and batted, smashing records on their way to 4 declared for 583.
Maligned men Adam Voges and Shaun Marsh wrote themselves into Australian cricket folklore with a prodigious partnership that shattered all sorts of records.
When Marsh was dismissed for 182, the pair had amassed 449 runs between them for the fourth wicket, which was the most in Australian Test history, beating the great Sir Donald Bradman and Sid Barnes' 405, set in 1946.
While there are the obvious question marks over a Windies attack that lost youngster Shannon Gabriel to an ankle injury on day one and suffered from a group of seamers who decided they didn't want to bowl into a stiff Hobart breeze, there's no mistake about what the pair achieved.
Voges was imperious, finishing unbeaten on 269 off 285 balls, his innings featuring 33 boundaries and eclipsing Ricky Ponting for the highest score in a Test across Bass Strait.
David Warner had earlier signalled the Aussies' intent by cracking 11 boundaries in a whirl wind 64 of 61 balls at the top of the innings.
In reply, the Windies started disastrously, losing Kraigg Brathwaite for 2, but a defiant Dwayne Bravo managed a century that took his side to 223 – not quite half way to the home side's total.
Josh Hazlewood made a mockery of calls for him to be rested, ripping through with 4/45 giving him 50 wickets for the calendar year, while Nathan Lyon snared 3/43.
Forced to follow on, the Windies resistance was futile, with Brathwaite making two thirds of the side's 148.
The opener's defiant 94 off 122 balls came to an end in the 36th over as he was the last West Indian batsman to be dismissed.
Wicketless in the first dig, James Pattinson announced his return to the international Test stage by tearing the heart out of the top order, taking the first four wickets to fall on his way to 5/27 off eight overs. Hazlewood backed up his first innings effort with 3/33 to give him seven for the match.
It was the most comprehensive of victories and signalled to punters that there's probably not much value in planning to go to the cricket after about lunch time on day three – there's a good chance it won't make it past there.
On the series, the Windies are $101 – the should be $100,001 – while the draw is $34, both with Sportsbet.com.au.
The Aussies have one or two selection issues to deal with.
Captain Steve Smith is struggling with knee and hip issues and is said to be in doubt for the second Test in Melbourne.
"He keeps telling me he is 26, but in Hobart he was running as though he is 36," coach Darren Lehmann said.
"The pressure of captaincy is quite large.
"We have to look at that, but we get a decent break now with two weeks off.
"He is not playing BBL so he gets good break.
"I'm no medical expert but rest is what they are saying.
"They will say what he can or can't do and if I disagree with it he plays and if I don't he might not play."
With Usman Khawaja drafted back into the Test squad after recovering from a hamstring injury, if Smith misses, it could be a blessing in disguise.
Marsh – who came in to replace Khawaja following his injury against New Zealand – has basically made himself undroppable.
That would mean Khawaja can replace Smith and Warner would captain, something he is looking forward to.
"Growing up, it's just something you always want to do is play the game," Warner said.
"I don't know if it's luck or something you just get called upon to do as a young kid when you're selected to just be the captain running out – whether it's the football field or cricket field.
"It (captaincy) is not something you wish for, you just wish to be in that starting line-up (but) having that extra responsibility, it does feel good."
But, if Khawaja wants to break back into the side, he'll have one Big Bash League game to impress Lehmann, after he was ruled out of the Sydney Thunder's first game.
Marsh will keep his place, so that puts the pressure on opener Joe Burns.
Burns has looked out of sorts since his ton early in the series against the New Zealanders and Lehmann says Khawaja could step up to the opener's role.
"We have to work out the best six and the batting order from there," Lehmann said.
"If he (Khawaja) comes back in, someone will miss out and we have to work out who that is. "(Shaun Marsh) is probably more comfortable there (at number five) but if we need an opener he could play that role.
"It is probably his preferred position and where he has had the most success, but if you are in the team you will bat anywhere.
"It gets down the make-up of the side and what we go with."
While Peter Siddle failed to impress with the rock, he is expected to retain his spot in the side, with the match played on his home turf.
And Lehmann guaranteed all rounder Mitch Marsh would also play, dismissing suggestions he could be replaced by Khawaja.
While the Aussies are flying, the Windies are failing.
The Gabriel injury hurts them – he has flown hime for treatment.
The young buck fired down deliveries of up to 157km/h on a benign Hobart pitch and his captain Jason Holder said he would be sorely missed.
"He's a big loss for us. Shannon brings pace and he brings aggression," Holder said.
And now part time off spinner Marlon Samuels has been banned from bowling for a year after the ICC ruled he had a suspect bowling action. While he didn't bowl against the Aussies, testing showed Samuels' elbow extension exceeded 15 degrees while bowling.
All rounder Carlos Brathwaite, Kraigg's older brother, is set to take Gabriel's place.
Day/night long-form cricket here to stay
After the resounding success of the Adelaide day night Test, Cricket Australia is full steam ahead with the form of the game that has been touted as the future.

Desperately in need of something new and different to reinvigorate long form cricket, over 123,000 people flocked to Adelaide Oval to watch the Australians take on the Kiwis, cementing pink ball cricket on the Aussie landscape.

And, Cricket Australia has just announced another round of day night Sheffield Shield games be incorporated in to the schedule.

The body has changed round seven to a day night round, with matches at the WACA, Adelaide Oval and Gabba to be played under lights.

"The public's response to the first day-night Test was overwhelmingly positive and we've now had some time to evaluate feedback from everyone involved in the match," Cricket Australia's Head of Cricket Operations Sean Cary said.

"As we look ahead to future international seasons and the prospect of playing more Test cricket under lights, we want to give our players more opportunities to play with the pink ball.

"These matches will be used as part of our work to keep refining the ball in close consultation with Kookaburra."

The ball had caused much consternation during the Test, with the Kiwis worried how it would hold up.

New Zealand skipper Brendon McCullum had called its use into question, but he is now a fan after playing with it in the Test.

"There's a lot been made that it's almost unplayable during those times (at night)," McCullum said after the match.

"But it's just a little bit more challenging during that stage.

"It doesn't mean you can't get runs, or survive, and ensure you're there to bat the next day when conditions will be easier.

"It is a quirk of this Test match, but there's some good players on show who I'm sure can negotiate those challenges."

No tags for this post.
Similar Sports Betting News