Always Dreaming wins Kentucky Derby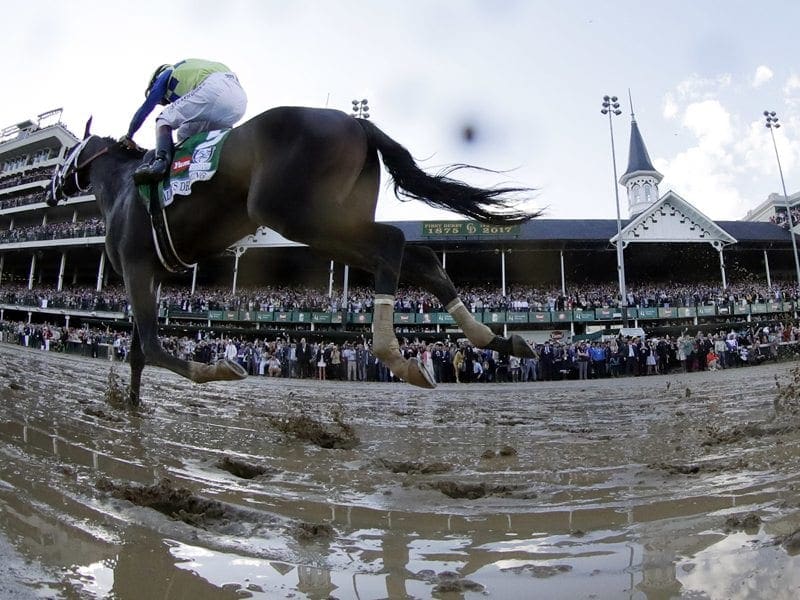 Always Dreaming splashed through the mud for a 2-3/4-length victory at Churchill downs on Saturday.

A trainer and jockey accustomed to success. A headstrong horse with a mind of his own. Together, they harnessed their collective talents to win the Kentucky Derby.

Always Dreaming splashed through the mud for a 2-3/4-length victory at Churchill downs on Saturday (Sunday AEST), giving Todd Pletcher and rider John Velazquez their second victories in the race but first together.

The New York-based duo has teamed up often over the years and is the sport's leading money winners. On their own, they were a combined 2-for-63 coming into America's greatest race.

Joining forces, they were unbeatable on a cool and rainy day at Churchill Downs.

"We have had a great relationship for a long time now, and we have won a lot of races together," Pletcher said. "This is the one we wanted to win together."

The 9-2 favourite, Always Dreaming was followed across the finish line by a pair of long shots – Lookin At Lee (33-1) and Battle of Midway (40-1).

"This is the best horse Todd and I have ever come to the Kentucky Derby with," Velazquez said.

"Being behind me for 24 years together, a long time for him to still trust in me and give me the opportunity, it's not very often it happens in this business."

Pletcher won his first Derby in 2010 with Super Saver; Velazquez won the following year with Animal Kingdom.

Velazquez used his colt's speed out of the gate to get a good position early in a chaotic start after which several horses, including Classic Empire, were sandwiched.

He steered Always Dreaming into an ideal spot behind pacesetter State of Honor, with mud flying in all directions.

"We got wiped out at the start. McCraken came and nearly knocked us," Classic Empire's trainer Mark Casse said.

On the final turn, Always Dreaming took command as State of Honor faded. Despite chasing a quick early pace, Always Dreaming was still full of running and no other horses threatened him down the straight.

"I got a good position with him early and then he relaxed," Velazquez said. "When we hit the quarter pole (400m), I asked him and he responded. He did it himself from there."

It was Always Dreaming's his fourth straight victory, proving his five-length win in the Florida Derby was no fluke.

By winning the Kentucky Derby, he went one better than his sire Bodemeister in 2012.

Always Dreaming's primary ownership is comprised of Brooklyn Boyz Stables and Teresa Viola, whose husband Vincent owns the NHL's Florida Panthers.

Godolphin's Thunder Snow did not finish. He broke poorly out of the starting gate and began bucking until he was caught by the outrider.

No tags for this post.
Similar Sports Betting News