AFL 2020 fixture: Who are the biggest winners and losers?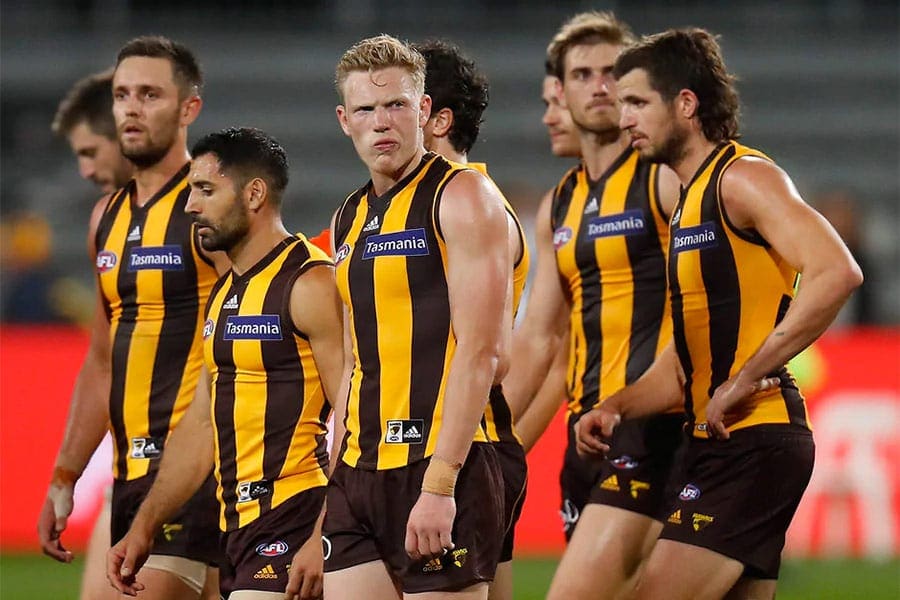 The new 2020 AFL Premiership fixture for rounds 2-5 was released this week, which means now is the perfect time to begin speculating and making predictions. There was always going to be a handful of teams that were helped or hurt by the revamped draw, but which teams are in the best and worst positions for the next four rounds?
Biggest winners from AFL 2020 fixture
The following five teams have been blessed with a run of matches that heavily favour them for one reason or another, making them the teams to watch out for once the AFL 2020 season resumes on June 11.
Hawthorn (H), Carlton (H), Melbourne (A), Gold Coast (H)
We see no reason why the Cats can't win all four of their matches with ease, as Hawthorn is the only club that should give them a genuine fright. Being able to tick off wins against Carlton and Gold Coast at GMHBA Stadium is a great bonus, while the away game against Melbourne is at Geelong's second home, the MCG. With no interstate travel and only one six-day break, the fixture favours the Cats more than any other side.
Predicted record after Round 5: 4-1
Fremantle (H), West Coast (H), Adelaide (H), Port Adelaide (H)
Four consecutive matches at The Gabba is a huge bonus for the Brisbane Lions, who won 10 of 13 matches at their home ground in 2019. Adam Simpson's West Coast Eagles are the only major threat to Brisbane, meaning Chris Fagan's charges should win at least three of their next four matches. Having made the finals last season only to go out in straight sets, the Lions will look to redeem themselves this year.
Predicted record after Round 5: 3-2
North Melbourne (H), Western Bulldogs (A), Collingwood (H), Hawthorn (H)
The 2019 grand finalists have been given a beneficial fixture to restart their 2020 campaign. The home game against Collingwood in Round 4 shapes up as a mouth-watering rematch of last year's preliminary final, where the Giants held off a late siege to get up by four points. Besides that, the away game against the Western Bulldogs with a five-day break will be the only worries for Leon Cameron and co.
Predicted record after Round 5: 4-1
St Kilda (A), GWS (H), Sydney (A), North Melbourne (H)
The Bulldogs are one of the interesting picks out of the five favoured teams, mainly because of the unpredictability surrounding their clashes with the New South Wales sides. Luke Beveridge's side has started a fierce rivalry with both the Sydney Swans and GWS, having beaten both of them in the final fortnight of their 2016 AFL Premiership run. If the Doggies can pinch three wins out of four, they might be a sniff for finals this season.
Predicted record after Round 5: 3-2
Melbourne (H), Geelong (A), Essendon (A), St Kilda (H)
We look at Carlton slightly differently compared to others because the club is fresh out of a rebuild and has a new head coach, meaning the team has few expectations on it. The match against Geelong at GMHBA is a very tall order, but the other three are all winnable. Not having to travel interstate is a big bonus, and we see the Blues getting a couple of wins to restart their 2020 campaign on the right foot.
Predicted record after Round 5: 2-3
Biggest losers from AFL 2020 fixture
The AFL fixture makers cannot please everyone, and these five teams have drawn the short stick. A few of these sides have finals aspirations, but they will need to be at their best to survive the first month of footy.
Geelong (A), Richmond (A), North Melbourne (H), GWS (A)
Just look at the teams Hawthorn has to go through in the next four weeks. You have the two grand finalists from last year, Geelong at GMHBA and North Melbourne, who could surprise a few teams this season under Rhyce Shaw. The Hawks were very good in their first-round win over the Lions, which can be accredited to their excellent recruiting and the return of 2018 Brownlow Medal winner Tom Mitchell. The North Melbourne game is the only one the Hawks are likely to win.
Predicted record after Round 5: 2-3
Sydney (A), Melbourne (H), Carlton (H), Collingwood (A)
The Round 1 match against Fremantle where the Bombers nearly choked a four-goal lead was very difficult to watch, but that is only the beginning for Essendon. The new fixture will see the red and black travel interstate to face the Swans before taking on a desperate Melbourne, the unpredictable Carlton and a talented Collingwood side in consecutive games at the MCG. If the Bombers struggle in their first match against Sydney, it will put them under an awful lot of pressure to get results against the Dees and the Blues.
Predicted record after Round 5: 2-3
Adelaide (H), Fremantle (A), West Coast (H), Brisbane (A)
It is already tough for the Power having to stay on the Gold Coast and hub for rounds 3-5, but their draw takes the degree of difficulty to another level. The Showdown clash at Adelaide Oval might be the trickiest of all the Round 2 matchups to call, but we think it is one of two games where they stand a chance. Fremantle is going through a rebuilding phase with new coach Justin Longmuir, but West Coast and Brisbane are vying for the flag this year. The Power will be lucky to escape with two wins.
Predicted record after Round 5: 2-3
Western Bulldogs (H), Collingwood (A), Richmond (H), Carlton (H)
Half-a-dozen new players and a new head coach entered Moorabbin during the offseason, meaning it was crucial for everyone to gel as quickly as possible. The massive break and interrupted training schedule have been a huge hinderance to the Saints, but the first three games present an even greater obstacle. They will start as outsiders against the Bulldogs, Magpies and Tigers, meaning St Kilda may have to beat the Blues just to get on the board. The 1-4 prediction is generous, as Carlton could be tricky opponents this season.
Predicted record after Round 5: 1-4
Carlton (A), Essendon (A), Geelong (H), Sydney (A)
Melbourne's 2019 season was as disappointing as it gets, going from a preliminary final in 2018 to second-last on the ladder. This was supposed to be the redemption year for Simon Goodwin, but with a tough draw and a Round 1 loss already pencilled in, the Demons have a lot of work to do. We can see Melbourne winning against Carlton and Essendon if the team plays well, but the chances of beating Geelong at the 'G and the Swans in Sydney are slim at best. For a team that is trying to make the finals, the Demons are in a very tough position.
Predicted record after Round 5: 2-3
More News

Deprecated: WP_Query was called with an argument that is deprecated since version 3.1.0! caller_get_posts is deprecated. Use ignore_sticky_posts instead. in /home/bettingsite/public_html/wp-includes/functions.php on line 5145

All Recent News