Madbookie bookmaker review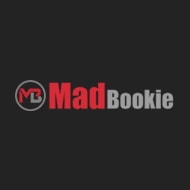 Formerly owned by Topbetta Holdings and now Play Up Interactive, Madbookie is a young betting company with a good range of betting options.
Sign up

Players from United States not accepted
Due to regulatory changes no signup offers or promo deposit bet bonuses are legally allowed to be offered to Australians.


Screenshot

Company info

Established 2015
Customer service: Email: [email protected], Phone (Support): 1800 623 266, (Bet Line): 1800 623 238, Fax: (03) 8648 6350
Owner Origin: Australia
Owner: Play Up Interactive

Withdrawal options

Visa, MasterCard, Credit Card, bank transfer, POLi

Withdrawal Limits

Not Available

Currencies accepted

New Zealand Dollar

Deposit Method

BPAY, POLi, Visa

Licenses

NT Racing Commission

Restricted Countries

United States of America, Afghanistan, Albania, Algeria, Andorra, Angola, Antigua & Deps, Argentina, Armenia, Austria, Azerbaijan, Bahamas, Bahrain, Bangladesh, Barbados, Belarus, Belgium, Belize, Benin, Bhutan, Bolivia, Bosnia Herzegovina, Botswana, Brazil, Brunei, Bulgaria, Burkina, Burma, Burundi, Cambodia, Cameroon, Canada, Cape Verde, Central African Rep, Chad, Chile, People's Republic of China, Republic of China, Colombia, Comoros, Democratic Republic of the Congo, Republic of the Congo, Costa Rica, Croatia, Cuba, Cyprus, Czech Republic, Danzig, Denmark, Djibouti, Dominica, Dominican Republic, East Timor, Ecuador, Egypt, El Salvador, Equatorial Guinea, Eritrea, Estonia, Ethiopia, Fiji, Finland, France, Gabon, Gaza Strip, The Gambia, Georgia, Germany, Ghana, Greece, Grenada, Guatemala, Guinea, Guinea-Bissau, Guyana, Haiti, Holy Roman Empire, Honduras, Hungary, Iceland, India, Indonesia, Iran, Iraq, Republic of Ireland, Israel, Italy, Ivory Coast, Jamaica, Japan, Jonathanland, Jordan, Kazakhstan, Kenya, Kiribati, North Korea, South Korea, Kosovo, Kuwait, Kyrgyzstan, Laos, Latvia, Lebanon, Lesotho, Liberia, Libya, Liechtenstein, Lithuania, Luxembourg, Macedonia, Madagascar, Malawi, Malaysia, Maldives, Mali, Malta, Marshall Islands, Mauritania, Mauritius, Mexico, Micronesia, Moldova, Monaco, Mongolia, Montenegro, Morocco, Mount Athos, Mozambique, Namibia, Nauru, Nepal, Newfoundland, Netherlands, Nicaragua, Niger, Nigeria, Norway, Oman, Ottoman Empire, Pakistan, Palau, Panama, Papua New Guinea, Paraguay, Peru, Philippines, Poland, Portugal, Prussia, Qatar, Romania, Rome, Russian Federation, Rwanda, St Kitts & Nevis, St Lucia, Saint Vincent & the, Grenadines, Samoa, San Marino, Sao Tome & Principe, Saudi Arabia, Senegal, Serbia, Seychelles, Sierra Leone, Singapore, Slovakia, Slovenia, Solomon Islands, Somalia, South Africa, Spain, Sri Lanka, Sudan, Suriname, Swaziland, Sweden, Switzerland, Syria, Tajikistan, Tanzania, Thailand, Togo, Tonga, Trinidad & Tobago, Tunisia, Turkey, Turkmenistan, Tuvalu, Uganda, Ukraine, United Arab Emirates, United Kingdom, Uruguay, Uzbekistan, Vanuatu, Vatican City, Venezuela, Vietnam, Yemen, Zambia, Zimbabwe
Our Madbookie review will highlight the Australian bookmaker which is owned and operated out of the Northern Territory. Known for its tournament betting, Topbetta has been around for a while and changed ownership several times. Madbookie is one of the better online betting sites that still is owned by Aussies which manes they have a soft spot among the team at BettingSite.com.au. Continue to read our Madbookie Review for more details or sign up at Madbookie.com.au.
Website: www.MadBookie.com.au
Betting/sports markets: AFL, baseball, basketball, boxing, cricket, darts, horse racing, golf, greyhound racing, harness racing, MMA, motor racing, NRL, rugby, tennis
Optimised for smartphone and tablet devices? – Yes
Melbourne's Brent Luntz founded the bookie only last year, so it is still building, but there really is that feel that it is run by punters, for punters, rather than by some toff sitting in a marble office somewhere in London. The bookie as we said, has positioned itself to offer something unique, rather than to take on the big bookmakers head on.
That's not to say they don't have a variety of sports and racing betting markets, but the focus is on what makes them different. One of the bookie's principal investors has a heavy history in the gambling industry. Dylan Schlosberg, the Think Bingo co-founder who sold the burgeoning online bingo community along with his Herotech firm to Cashcade, still has his fingers in the pie with leading Spanish bingo operator Bingosoft. Luntz says the bookie lives up to its name, with some "mad" promotions for its punters.
They certainly are not a carbon copy of the big boys, thanks to their unique player props promo we have mentioned and we will tell you more about that soon.
Sign up bonuses at Madbookie
The Madbookie sign up bonus offer is banned in Australia as of May 26, 2019. This new legislation falls under the National Gambling Framework and has been enacted by each state in Australia.
As an example of what customers could previously receive, things like a 100 per cent match bonus bet up to $333 were common-place.
More Madbookie promotions
Madbookie in our experience does have some promotions after you have opened an account, with with these usually surrounding their tournament betting, horse racing or odds promotions.
Sports betting
Being that they are so new to the punting landscape, MadBookie.com.au is still working on its sports betting offering. It's not the worst in the business, but still has a long way to go to catch up with the big guns. You will find markets on:
Australian Rules
Baseball
Basketball
Boxing
Cricket
Cycling
Darts
Elections
Entertainment
Golf
Gridiron
Ice Hockey
Mixed Martial Arts
Motor Racing
Rugby League
Rugby Union
Soccer
Snooker
Surfing
Tennis
Racing
The racing offering is far more broad than that of the sports, with markets on almost every racing event you would find at the TABs. It is MadBookie's bread and butter. We love the bookie's decision to pay out on all interim dividends, so you don't have to wait for ages for weights to clear to get your return and you don't have to worry about protests and the like.
You will get markets on every Australian meet, with all the big stuff like Melbourne Cup, Cox Plate and Caulfield Cup covered – and you will get best tote odds on most of those meets as well.
Deposit and withdrawal methods at Madbookie
When you are going to choose a bookmaker, you must make sure they have the deposit and withdrawal options you want to use. Fortunately, the back end stuff at MadBookie.com.au stacks up well with all the other bookies. Here is a list of ways you can dump into and access your money from your betting account.
Deposit options
Credit card: The way most punters get money to their betting account is by using their Master Card or Visa. It is the easiest and most effective and efficient way of ensuring you have the funds you need to bet with. The deposit interface on the redesigned MadBookie.com.au website is easy to navigate and you can make your selections at the click of a button. The money goes straight into your account and then you are away.
POLi: While using the credit card is the classic way to make your deposits, it is not for every one. There are obviously people who do not have a credit card and that means they need other ways to get their funds into their betting accounts. Enter POLi. The system with a funny name that works so well. Use your online banking system to make your deposits with POLi. From the MadBookie website, select POLi as your deposit option and it will bring up the interface, which you then use to log into your own net banking tool and make the deposit through there. The funds go through instantly and that means you can do this on the quick, without using your credit card.
Direct Bank Transfers: The old school way to do, but still very effective. Of course, not so many people do it this way these days, but it is still available to each and every punter. All you have to do is transfer the money from your bank account into MadBookie's account. These transaction can take up to three business days from start to finish, so that is certainly something to be aware of if you decide this is the best method for you. Be patient, make your transaction and then watch the clock tick while the bank and then the bookie do their banking to ensure your funds are safe and sound in your account.
Withdrawal options
MadBookie doesn't mess around with flashy cash cards, credit cards or other sometimes not-so-easy to understand methods of withdrawal. They're keeping it simple, allowing you to make direct transfers from your punting account straight into your nominated bank account.
All you have to do is provide those details on sign up and it will be available to you every time you have a win on the punt. Just remember, like using direct bank transfer to deposit money into your betting account, it can take a couple of days for your withdrawn funds to appear in your bank account (up to 72 hours).
What are Player Props bets with MadBookie.com.au?
A cutting edge new punting tool adopted by MadBookie.com.au is changing the face of online gambling. This is MadBookie.com.au's point of difference. Billed as "the next evolution in sports betting", the option allows punters to build their own bets on any player market in sports like football, basketball, rugby league, Australian rules football and American football. The bookmaker uses a computer algorithm to calculate the odds for your bet on player props markets. Powered by provider Digital Sports Tech, this is a whole new frontier for player props bets, allowing you to control the odds and the figures.
Whether its the points a player scores in an NBA game or the possessions your favourite footballer will have in an AFL game, MadBookie has it covered. It is reported a single weekend of English Premier League matches could offer some 1.3 million different markets on player props, with that number rising to 2.3 million for a single NFL round.
Accessing MadBookie from a mobile device
For a long time, MadBookie.com.au was only accessible on mobile devices like tablets and smart phones, through its nifty mobile site. But don't worry. If you're a fan of apps making your life easier, this one is for you.
The MadBookie app is constantly being upgraded to fix bugs and increase performance and it appears to be very quick and very easy to use. Simply tap the app button on this review page to sign up. Registration is quick and easy and finding the markets you need are at the tips of your fingers. The interface is very basic, which is something to be commended. MadBookie.com.au has not got itself caught up in offering flashy systems that can sometimes hurt the eye and are often not so easy to use.
Verdict
We love MadBookie.com.au The Player Props option, once you get your head around it, is one of the most enjoyable betting experiences you will find anywhere in the world.
If you love the game within the game, pitting your favourite players against other stars, this is the bookmaker for you. You won't find it any where else on the internet and that makes MadBookie.com.au a compelling offer.
When updating our Madbookie Review in 2019, we realised through various ownership changes, regulation changes and other variables this betting site has continue to improve its offerings.
MadBookie.com.au customer service: 1800 MAD BOOKIE (623 266)