Australians now have online lotto betting available to them, essentially giving us access to the biggest lotteries in the world. While lotto betting's business model works on insurance, players receive the same massive payout as the winner of the actual draw. Australians are unable to bet on local lotto draws, however you can buy tickets through OzLotteries or OzLott, depending on your state. The top lotto betting sites for 2022 are:
Table coming soon.
Best online lotto sites in Australia
There are now dozens of lotto betting sites that allow us to play lotto online. Some are better than others, however, and many are not licensed to accept Australian customers. The real money lotto sites below are 100 per cent safe and legal for Aussie punters.
There is only really one option for Australians looking to get involved in lotto betting and that is LottoLand. However BettingSite.com.au is currently vetting several other online lotto betting sites and will potentially add them in the future.
Australian lotto betting sites can be accessed via both computer and mobile, with several of the operators having downloadable apps. These lotto betting apps are very handy, because you can see the results of the various draws as they land.
Best Lotto betting sites Australia
Lottoland
You have probably seen these guys plastered all over your TV between goals in the footy or Pete and Manu's shocking revelations on My Kitchen Rules. US Powerball, Mega Millions, Euro Millions, World Millions, Super Enalotto, UK Lotto – these are but a few of the draws on offer. Read our Lottoland review for more information.
Traditional lotto draws in Australia
OzLotteries
As the name would appear to suggest, OzLotteries.com.au specialises in Australian lotto games. This is especially useful for players who wish to have a crack at draws that are not available in their state or territory of residence. Major titles such as Oz Lotto, Powerball, the Pools, and Monday, Wednesday and Saturday Lotto are all accounted for, as well as a number of lucrative charity lotteries that are not always accessible to the wider Aussie community. OzLotteries review.
Online lotto betting has changed lotteries forever
THE advent of online lottery sites has opened up a whole new world of options for those hoping to catch that life-changing win.
Not only do these web-based betting hubs bring together all of Australia's major lottery draws in the one place, they also give us access to some of the biggest lotto jackpots from all over the world.
We will show you how to buy lotto tickets and bet on jackpots online, as well as which trusted sites offer the best lottery products from Australia, the US, the UK and more.
How to buy lotto tickets online
First, we must point out that there two different ways to play online lotto games: you can buy a ticket, or you can bet on results. OzLotteries, for example, is a licensed seller from which you can purchase actual tickets for any advertised draw. Lottoland, on the other hand, is a betting operator where you can make wagers on the outcomes of various lottery games.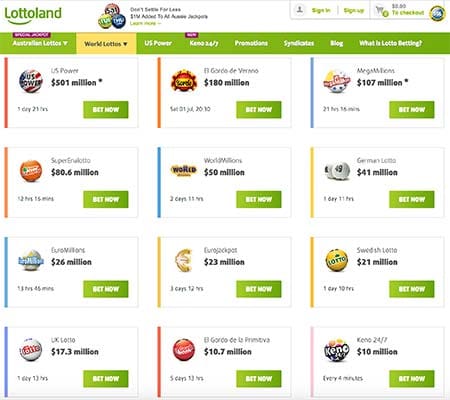 What is the practical difference between the two systems? Very, very little. Prices may differ slightly between sites, and Lottoland does not possess advertising rights to all Australian lotto products (Oz Lotto is marketed as 'Tuesday Lotto', for instance), but a winning lottery bet will get you the same guaranteed payout as if you had bought a ticket directly from the original operator.
Whichever option you take, it is easy to play lotto online. Visit one of our approved vendors, register for a personal account and then add funds using one of the secure online deposit methods available. Once your money is in, you can browse dozens of lotto games and choose from a number of ticket types and betting markets. Popular options include:
Standard
Pick your numbers and play. It does not get much simpler. If you are feeling lucky, a 'quick pick' will choose your numbers at random.
System
Rather than choosing x-amount of numbers for a single game, you can opt to cover multiple combinations for any given set of picks.
Syndicate
Share the ticket cost among friends, family, or workmates and play wide-ranging combinations for the ultimate shot at the jackpot.
Top Australian lotto draws
Australian lotteries have a rich history that dates back to the 19th century. Nowadays, Aussie lotto players can choose from a wide variety of weekly games and special draws, most of which offer multi-million dollar jackpots.
Monday and Wednesday Lotto
Running twice a week, every week of the year, both the Monday and Wednesday Lotto draws offer a $1,000,000 first division jackpot. Look out for special Superdraws, where the top prize rises to $5 million.
Saturday Lotto
Also branded as TattsLotto, Gold Lotto and X Lotto, this is one of Australia's longest-running lotto games. It boats an estimated first div jackpot of $4 million each week, along with several $20m Superdraws and $30m Megadraws per year.
Oz Lotto
Founded in 1994, Oz Lotto is now one of the country's most popular and lucrative lottery draws. It has produced several of the biggest jackpot wins in Australian lotto history, including a monster haul of $111,972,151 back in November 2012.
Powerball
Australian Powerball has the unique distinction of being simultaneously easier and harder to win than most other lottery draws. Seven divisions offer more winning opportunities than Saturday Lotto, but the seven-ball setup means the jackpot is much more elusive.
Super and Mega Jackpot
Lucky Lotteries runs a pair of raffle-style lotto games that award a first, second and third place as well as a separate jackpot winner. The $2 Super Jackpot has paid eight-figure sums on multiple occasions, while the $5 Mega Jackpot has gone as high as $38 million.
The Pools
Soccer Pools differ from other lottery draws in that the winning numbers are determined by the results of local and/or international football matches. First division odds of one in 2.76 million make this the easiest to win of the major Australian lotto jackpots.
International lotto jackpots online
While Australian lotto games offer riches aplenty, you have to go abroad for the very biggest jackpots. Lottoland runs betting on dozens of overseas lotteries and keno games, including world-renowned draws such as the US Powerball – holder of the world record for the largest lotto jackpot in history (US $1.58 billion).
Europe
Euro Millions
Euro Jackpot
World Millions
El Gordo de Verano
El Gordo de la Primivata
SuperEnalotto
MINI Lotto
Austrian Lotto
French Lotto
German Lotto
Irish Lotto
Polish Lotto
Swedish Lotto
UK Lotto
United States
Powerball
Mega Millions
Cash4Life
South America
Keno
Keno 24/7
KeNow
German Keno
Multi Keno
Banking options at lotto sites
The best lotto sites support a number of convenient methods for buying tickets and betting on lottery draws. Once you sign up at Lottoland.com.au, for instance, you can fund your account using any of these secure payment methods:
Credit/debit card
Make instant deposits with Visa, EntroPay, MasterCard, Maestro, or any other major brand of credit card or debit card.
PayPal
Both OzLotteries and Lottoland accept online payments via PayPal, which allows you to move money on the web without sharing any credit, debit, or banking details.
POLi – Designed especially for Australia and New Zealand, POLi facilitates direct online bank transfers while keeping your personal account details safe and sound.
Paysafecard
If you want to minimise your digital footprint when buying lotto tickets online, buy a Paysafecard prepaid cash voucher in-person from any participating retailer.
BPay
Pay for your online lotto tickets with the same method used by millions of Australians to pay bills, fines, fees and other expenses. Transfers can take up to four business to clear into your betting account.
Can I play online lotto games on mobile?
Absolutely. In this day and age, no reputable online betting hub could possibly survive without a dedicated mobile platform. Whether you are on Android, Apple iOS, BlackBerry, or Windows Phone, you can use your smartphone or tablet device to buy lotto tickets online and bet on draws just as you might on PC or Mac.
Both Lottoland and OzLotteries run advanced mobile lotto sites for all popular web browsers, including Chrome, Edge, Firefox and Safari. For even easier access, they also offer dedicated mobile lotto apps for Android and iOS.