NRL CEO Todd Greenberg defends league's ties to gambling agencies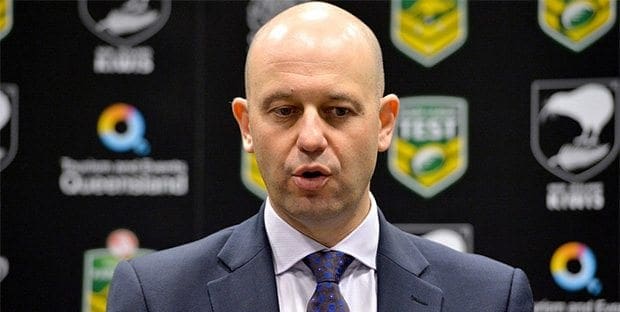 NRL chief Todd Greenberg has launched a strong defence of the league's connections to online bookmakers in the wake of the Tim Simona saga.
Simona was deregistered by the league for allegedly wagering money on the competition, which is strictly prohibited under NRL guidelines.
Greenberg stated that the league is working to create a "really strong balance" between profiteering from online betting agencies and maintaining the integrity of the game.
"I made some strong comments last year you'll remember about anyone involved in match fixing or gambling inside the game against the rules will face life bans and I stand by that." Greenberg told ABC News 24 on Sunday.
"(The issue) cuts to the absolute core of the integrity of the sport. For you and I to turn up every week to watch that contest, we need to know that's pure. Anyone who gets in the way of that will absolutely not be welcome back."
The league last year green-lit a lucrative $60 million deal to align the competition with Sportsbet as the official wagering partner of the NRL.
Greenburg said it was important for the league to respect the NRL fans that wish to wager on the competition.
"But we do have to find a balance because people, particularly in this country, they love to have a bet. And we're not going to get away from that. So whether or not we have branding or not, people are still going to be looking to have a wager on the game.
"What we need to do, though, [is] we need to talk and market ourselves to those people who want to do that. We've got to make sure that we're very fundamental in how we have principles around those sorts of agreements. We're trying very hard in this space.
It's a difficult way to find this balance between enjoying the game but also making sure we're responsible."
Simona has until Friday to present his case to the integrity unit after being provided with documentation from the NRL relating to the case against him last week.

Our take – Critics clutching at straws when it comes to Simona's transgression
Let's get one thing straight – no matter how much money online bookmakers throw the NRL's way, if Simona was going to wager money on a Wests game, the financial windfall the league gets from agencies has precisely zero to do with it.
Anytime there is an off-field issue, whether it is drugs, alcohol or gambling, inevitably the league chiefs are given the unenviable role of defending the integrity of the competition.
Alcohol is a massive issue in society, yet the NSW Blues main jumper sponsor is Victoria Bitter. Footy codes in this country are lucky if they go two months without an alcohol-related story in the press.
Yet, when it comes to gambling it seems the critics come twice as hard, but every football governing body puts in the hard yards to educate the players on their codes of conduct – especially in regards to maintaining the integrity of the competition.
It is a tenuous link at best to say Tim Simona's alleged decision to wager money on an NRL game was directly influenced by gambling advertising. It is especially disingenuous to say the competition's ties to Sportsbet had any impact on his mindset.
While there are no limitations on sporting body's ability to establish relationships alongside bookmakers it is unfair hammer the NRL for profiteering off the practise.
Let's not forget either –players act of their own volition. Maybe it is time we stop looking for excuses for athletes and hold them accountable for their own decisions.