How to live stream the Ashes
THE ASHES is the pinnacle of test cricket and the biggest series of the long format the world knows.
The age-old rivalry between the English and the Australians generates massive interest right around the globe, and in the modern era there is going to be even more eyes focused on watching every ball, wicket and six with the plethora of live streaming options available.
Below you will be able to find all the avenues in which you can watch the Ashes test series, including free-to-air coverage, what mobile apps offer live-streaming and where you can log on and get your Ashes fix.
How can I stream the cricket in Australia?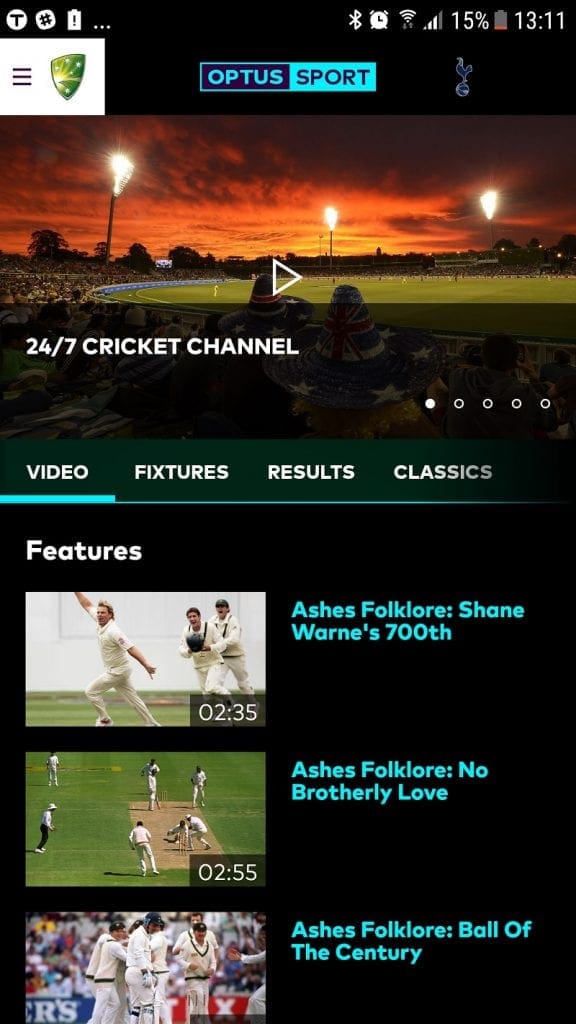 There are two options for cricket enthusiasts if they want to live stream the cricket in Australia.
Optus is the official mobile media partner of Cricket Australia, which means the service provider will be the only legitimate option for punters who want to stream every ball on their phone.
For those not willing to sign up to an Optus contract just to get the Ashes coverage on their mobile can sign up for a Cricket Australia subscription.
Much like the Optus equivalent, Cricket Australia (CA) has its own app which can be downloaded.  The CA app offers radio broadcasts alongside access to statistics and player information.
If you are wanting live vision however you will need to sign up to their service, which also gives you the option to stream other cricket events such as the Big Bash League and all domestic competitions.
Cricket Australia's coverage only extends to Ashes tests played on local soil, and excludes all international cricket played outside of Australia unless otherwise stated
Recommended!
How do I live stream the Ashes from outside Australia?
Watching the Ashes in Australia is as easy as putting on the TV to Channel Nine and finding a comfortable spot, but not every country is as fortunate as the Aussies when it comes to cricket coverage.
You might be an Aussie aboard, an ex-pat in the States, or maybe you are an Indian or South African who wants to keep tabs on how the bitter rivals are doing. We've provided you with the details on how to watch the cricket
Click on the relevant drop-down menu to find out how you can watch the Ashes in your country.
BT Sport acquired the rights for the cricket in England, which means customers have had to make the switch after Sky Sports lost the rights.

BT Sport will be streaming the action live online through its BT Player. BT Sport is available on PC, Mac, Android, iPhone and iPad.

 Sony took over from Star India as the television broadcaster of Australian cricket in India in 2017.  If you want to watch The Ashes live online in India, you can do so on Sony Liv. The SonyLIV app is available for all Smartphones, Tablets, iOS devices, Android TV, Sony Bravia TV and Chromecast.

South African that want to watch the Ashes live online can do so via SuperSport. The SuperSports channel has exclusive broadcasting rights of the Ashes.  DSTV's SuperSport can be watched on PC, Mac, Android, iPhone, and iPad.

Cricket is not the most popular sport going around the United States, but for those who want to watch the Ashes in the states can do so via Willow TV, which is a dedicated sport channel that focuses on everything related to cricket. Willow TV will broadcast the The Ashes live in the USA as well as Canada. Willow TV is available on PC, Mac, Android, iOS, Apple TV, Smart TV, and Roku.
Can I stream the Ashes without a subscription?
Yes you can, but we recommend using a Virtual Private Network (VPN) to protect your privacy when attempting to access the Ashes coverage.
There are a number of VPNs that we recommend for anyone looking to watch the Ashes outside the traditional methods. Information on which VPN will work for you and how to get it up and running can be found here.
Before attempting to find a site to stream the service outside the regular providers, we highly suggest you get your VPN up and running before go hunting.
When you're using this method to find a stream to watch cricket, there's a few things to watch out for:
Be wary of ad banners – some will go to unique measures to get your click.
Do your research before you start clicking away – some sites are more reputable than others.
Only do your wagering with our recommended bookmakers – don't use the VPN to bet with anyone else, because when it comes time to withdraw, you may never see your winnings.
Where to watch the cricket on TV
Nothing says summer in Australia quite like the cricket being on the box, and Channel Nine has got all the free-to-air lovers covered.
If you are wanting to watch the Ashes on TV, Channel Nine is the go-to channel given they hold the exclusive rights to broadcast all home and aboard Ashes test matches.
If you are outside of Australia, you are out of luck when it comes to FTA coverage.
All other countries require customers to subscribe to a service in order to watch the Ashes on TV.
These providers are listed below:
| Country | Provider |
| --- | --- |
| England | BT Sport |
| India | Sony LIV |
| South Africa | SuperSports |
| America | WillowTV |
What else do I need to know before I stream the Ashes?
Once you've found your method for watching the Ashes all you need to do is settle in and enjoy the action.
Remember, providers like Optus Sport offer their service to qualifying customers for free, which includes data usage, but people that use another carrier, or the Cricket Australia app, will get slugged for their data use.
Here's some helpful hints to help you minimise your data expense while streaming the Ashes:
Make sure you connect to a WiFi network wherever possible
Use the lowest video quality setting
Switch to the radio broadcast if you are unable to watch at the same time
Bet on the 2019 Ashes series
Read though our Ashes betting guide or place your bets now with one of our recommended bookmakers.

This is my table