Free Of Debt earns his Blue Diamond chance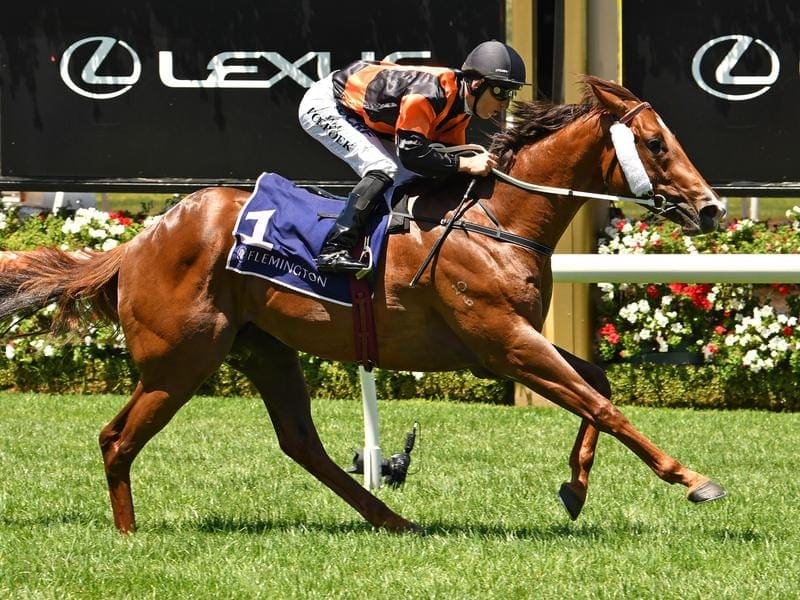 Free Of Debt will give Adelaide trainer Chris Bieg his biggest win if he can claim the Blue Diamond.
Adelaide trainer Chris Bieg has known from day one Free Of Debt was a colt with considerable talent.
On Saturday, the trainer gets the opportunity to test the unbeaten two-year-old in Victoria's premier race for juveniles, the $1.5 million Group One Blue Diamond Stakes at Caulfield, after wins at Morphettville and Flemington.
Free Of Debt cost $30,000 as a yearling last year and after his win at Flemington on January 19, prominent racing and breeding operation Aquis Farm came knocking and bought into the colt who runs in the Blue Diamond as a late entry.
Bieg, who began training in 2011, has previously had a starter in a Derby and an Oaks in South Australia at Group One level, both unplaced.
"To come over here with a good chance in a Group One is exciting," Bieg said.
"He showed us plenty early doors.
"Even at the breakers they were ringing me constantly saying 'it's like he's been here before, he knows what he's doing'. He's a nice solid horse and easy to do anything with.
"As soon as you can line them up with city-performed older horses and they're competitive with those in track work, I was happy to say I'll throw this one in the deep end.
"His win at Morphettville on debut was very good.
"I threw him on the truck to bring him to Flemington and that's when we really opened our eyes and said, wow, he is a good colt."
Bieg was buoyed when Free Of Debt drew barrier six in the field of 14.
Free Of Debt has led in both starts, including when he ran about over the final stages of the Flemington straight course.
Bieg believes he could be able to get a nice trail this time.
"He's electric when he gets in behind them and travels and that's how we train him," he said.
"Unfortunately we haven't run into a field yet where there's enough speed to lead him."
Free Of Debt has had five weeks between runs but Bieg believes that is in his favour.
"We're not taking the most conventional approach to the Blue Diamond but we're the fresh legs in the race and I think that's part of the X-factor for him," he said.