Can fit-again 76ers star Simmons win NBA Rookie of the Year?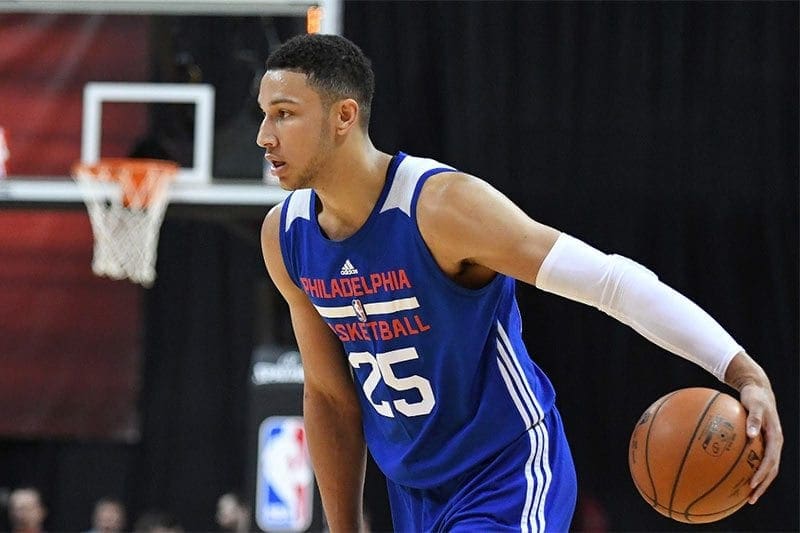 AN impressive pre-season has launched Ben Simmons into outright favouritism for the 2017/18 NBA Rookie of the Year award.
Online bookmaker Sportsbet.com.au has installed the Australia representative as a $3 chance for the gong, ahead of LA Lakers hotshot Lonzo Ball ($4) and Dennis Smith Jr of the Dallas Mavericks ($6).
A number one pick for the Philadelphia 76ers in last year's draft, Simmons missed the entire 2016/17 after breaking his foot in the weeks leading up to the campaign.
A year off appears to have done Simmons no harm, however, with the 21-year-old Melburnian earning rave reviews for his pre-season performances.
"Following the disappointment of last season our punters are confident Simmons will win 'Rookie of the Year' and we agree but he has to stay fit," said Sportsbet's Will Byrne.
NBA Rookie of the Year
$4 – Lonzo Ball
$6 – Dennis Smith
$11 – Markelle Fultz
$12 – Kyle Kuzma
$13 – Milos Teodosic
$15 – Jayson Tatum
$17 – Josh Jackson
$19 – De'Aaron Fox
$19 – Donovan Mitchell
$21 – Malik Monk
(More quoted at Sportsbet)
LeBron leads Durant and Leonard in MVP betting
Punters have pushed LeBron James to the top line of betting for the 2017/18 NBA Most Valuable Player award, but he has plenty of close company.
The Cavs superstar is paying $5 at Sportsbet to expand his MVP collection to five, only half a point shorter than Kevin Durant and Kawhi Leonard (both $5.50).
Russell Westbrook ($6.50), Giannis Antetokounmpo ($8) and James Harden ($9) are also well liked for basketball's most prestigious individual honour.
Melbourne-born Kyrie Irving is rated a $17 chance.
NBA MVP award
$5 – LeBron James
$5.50 – Kevin Durant, Kawhi Leonard
$6.50 – Russell Westbrook
$8 – Giannis Antetokounmpo
$9 – James Harden
$15 – Stephen Curry
$17 – Kyrie Irving
$21 – Anthony Davis
$21 – John Wall
Warriors and Cavs lead two-horse race for NBA title
Golden State Warriors and Cleveland Cavaliers have dominated the past few NBA campaigns, and bookmakers are forecasting more of the same.
Aiming at a third title in the space of four seasons, GSW have tightened to a mere $1.62 in the NBA outright betting at Sportsbet.
The Cavaliers, at $5 odds, are the only other team in single digits.
Best of the rest are Boston Celtics ($10), who finished the 2016/17 regular season atop the Eastern Conference.
NBA Championship winner
$1.62 – Golden State Warriors
$5 – Cleveland Cavaliers
$10 – Boston Celtics
$14 – Houston Rockets
$15 – San Antonio Spurs
$16 – Oklahoma City Thunder
$41 – Minnesota Timberwolves, Washington Wizards
$67 – Denver Nuggets, Toronto Raptors, Milwaukee Bucks
$81 – Miami Heat
$101 – Portland Trail Blazers, Los Angeles Clippers
$126 – Philadelphia 76ers, New Orleans Pelicans, Memphis Grizzlies
$151 – Utah Jazz, Charlotte Hornets
$176 – Los Angeles Lakers
$251 – Indiana Pacers, Dallas Mavericks, Detroit Pistons
$301 – New York Knicks
$501 – Sacramento Kings, Chicago Bulls, Phoenix Suns, Brooklyn Nets, Orlando Magic, Atlanta Hawks