She Will Reign wins $3.5m Golden Slipper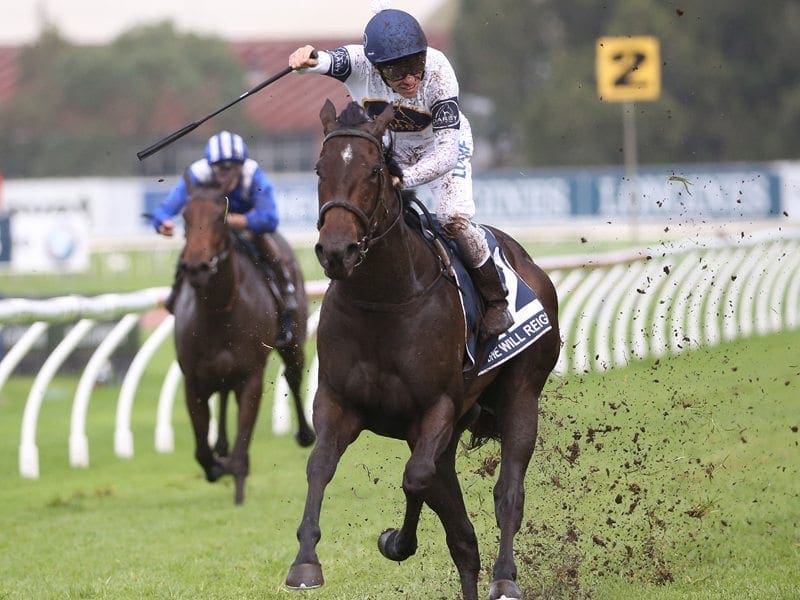 She Will Reign has taken the lion's share of the $3.5 million prize money for the Golden Slipper.

The optimistically named bargain buy She Will Reign has lived up to the title and more to win the $3.5 million Golden Slipper at Rosehill.

Her large band of mostly first-time owners form a syndicate put together by Scott Darby who bought the filly as a yearling for $20,000.

The man who puts the finishing touches on her, Gary Portelli, is among Sydney's leading trainers outside the big four stables which dominate.

Her jockey Ben Melham rode Black Caviar to her first Group One win in October 2010 and was full of confidence before the race.

And the filly herself has always shown talent, with four wins from five starts, the only glitch coming last time out in the Reisling Stakes when she was beaten by Frolic on a heavy track, the same conditions she got on Saturday.

Because of that defeat, She Will Reign eased from Golden Slipper favourite to $8 with Houtzen heading betting at $4.40.

As expected, Houtzen led the field but less predictably Melham took She Will Reign back, saved ground on the turn and unleashed her in the straight where she held off Frolic ($8) by 2-1/4 lengths.

"This is a dream," Portelli said.

"I spoke to the jockey before the race and said to him 'I think we have got to go forward'.

"He went quiet and said 'I think I'm going to go back to last. I am cutting the corner. The way I see it I'm on the best horse and I'm going to ride her like she is'."

"I decided to leave it to him. That's why we pay him the big dollars."

Melham earned his money and stuck to his plan.

"Gary confused me ," he said.

"He wanted me to get her out and sit handy and all day I had a plan in my head. I walked the track just before the Guineas and was happy to ride hard on the rail."

While the first two placings were clear-cut, there was drama wide on the track as Menari ($21) and Tulip ($8) battled it out for third and fourth.

Menari crossed the line a short half head in front of Tulip but the positions were reversed after Kerrin McEvoy successfully protested against Corey Brown.

Houtzen struggled in the final stages of the race but held on for a gallant fifth.

"She travelled well in front until she hit the course proper and her legs just went everywhere," jockey Jeff Lloyd said.

"The winner came past me very quickly, take nothing away from her.

"Houtzen fought to the line but she never handled the conditions at all."

Portelli began his career in 1990 in his home town of Orange in central-western NSW.

"This is the race that defines a trainer I believe," he said.

"I've been around a long time but I've finally got a Golden Slipper winner. I've had a few goes."

"I struggled to get through year 10. I was a battler working a night shift in a bakery but my dream was to become a city trainer.

"It goes to show to anyone out there who is not sure what they're doing in life that if you like something and want to do something, stick at it, work hard and days like this might come."

Portelli's words may be some solace for young trainer Michael Costa who moved his stable from Warwick Farm to the Gold Coast last year looking for more opportunities.

Among the horses he left behind was an unraced filly called She Will Reign.

No tags for this post.
Similar Sports Betting News