Bail out mid-race at Sportsbet.com.au with The Fold
The Fold is a feature at Australian online bookie Sportsbet which allows punters to cash in their bets before they are concluded.
Using The Fold to safeguard your successful bets or wagers you wish you had not have placed is a smart way to make sure your bankroll lasts longer.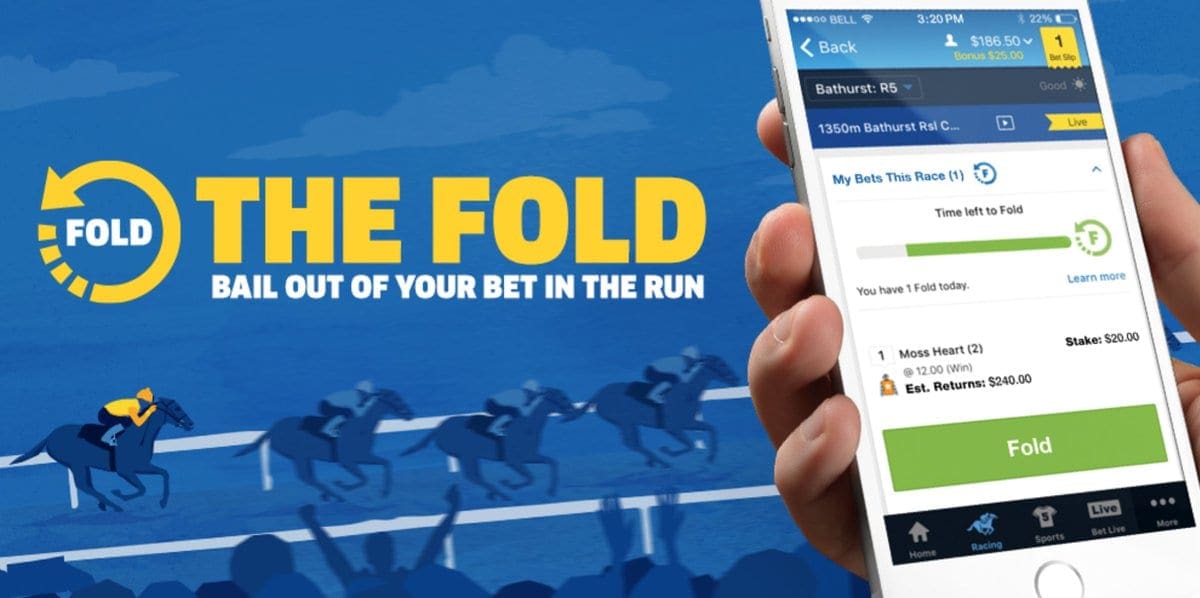 Read on to learn more about Sportsbet's the Fold or create a new Sportsbet Australia account and begin taking advantage of this great betting feature.

This is my table
Sportsbet's The Fold – How does it work?
Online bookmakers boast a multitude of horse racing specials that offer inflated odds and boosted winnings, but how many give you the option to write off a dud before the damage is done?
Sportsbet.com.au has waded into that side of the market with The Fold – a revolutionary betting product that allows punters to jump off a horse mid-race. Read
Using Sportsbet's The Fold
First of all, you need to find out whether The Fold is in play for the race you wish to bet on. This information will be displayed whenever you navigate to a race card on the Sportsbet app or the mobile website.
Once you have placed an eligible wager, locate and expand the 'My Bets This Race' section of the card. You should now see next to your bet an icon with an 'F' in the middle.
When the race starts, a timer will appear. Once it runs out, you will no longer be able to activate The Fold. If your horse is struggling, just hit the button before the timer expires to reclaim your stake.
What is The Fold?
How many times has one disastrous wager ruined an entire day of punting? We all have horror stories of loading up on a sure thing only to see it finish at the arse-end of the field and chew up our bankroll.
With Sportsbet's The Fold feature, you can dodge such disasters by cancelling your bet as soon as you sense the danger. If you pull the trigger within the designated timeframe, the bookie will refund your whole stake in cash – not bonus bets, not rewards points, but real money.
The Fold can be used once per day for single win bets on eligible Australian and New Zealand thoroughbred races. It is available on all Sportsbet mobile products, including the dedicated betting apps for Android and iOS devices.
Which races are eligible for The Fold?
The Fold can be triggered on a wide selection of horse racing markets in Australia and New Zealand. However, there are certain tracks where the feature is not available. These include:
Adelaide River
Atherton
Ayr
Beverley
Birdsville
Bong Bong
Cheltenham
Gisborne
Kingscote
Omoto
Riccarton Park
Southwell
Stratford
Tennantcreek
Timaru
Read enough about Sportsbet's the Fold? Create a new Sportsbet account and begin using this great feature or read our Sportsbet review for further details