Sportsbet Punters Club – How to create your own
The punter's club is an Australian institution, but nobody wants to be the guy in charge of it. Drawing up rosters, looking after the kitty, sending out constant reminders to those two blokes that always 'forget' to pony up – who needs all that hassle?
Introducing the Sportsbet Punters Club, which offers all the enjoyment of social betting without the drama. We will show you how to create a group account for you and your mates, and explain why this online adaptation is so much more convenient than screwing around with spreadsheets, TAB slips and pockets full of shrapnel from that one guy who never seems to have any banknotes handy.
What is the Sportsbet Punters Club?
Anyone with an active betting account at Sportsbet.com.au has the option to create a Punters Club – a single, purpose-built group account to which you can invite anyone else who has signed up with Sportsbet. But how does it work?
The premise is the same as any punter's club: all participants contribute a certain amount of cash to the group kitty on a regular, predetermined basis (e.g. $20 per week), and players take it in turns to place bets. Exact rules on contributions, winnings and carry-o'er-the-champ rights can vary, but all these elements are dead easy to manage within the Sportsbet Punters Club interface.

This is my table
How to open a Punters Club account
First of all, you need to log in to Sportsbet.com.au or the Sportsbet mobile app. When you have done that, open the 'Punters Club' tab and hit the green button that says 'Create Club'.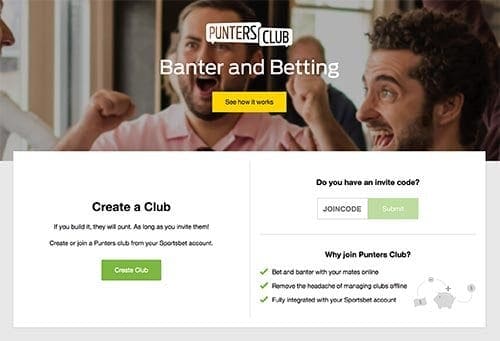 Once you have given your new club a title and picked your personal user nickname, it is time to set the betting rules. Here you can adjust a number of elements, including how much each member is required to contribute, how often the punter's club plays and what happens with the winnings after each round. For example: you can decide that each person must put in $20 per round, that each turn changes on a weekly basis and that all winnings are set aside.
Last, but certainly not least, is sending out the invites. You can do this either via email or SMS – just punch in your mate's address or mobile number and send. Each invitee will receive a message with a special code for your club, and all they have to do is log in to their own Sportsbet account, head to the 'Punters Club' section and enter the code to join.
Betting in the Sportsbet Punters Club
Whomever creates the group is first cab off the ranks. To place your wagers, go to the Punters Club dashboard hit the 'Bet Now' button.
From here, it is just like making any other Sportsbet wager via desktop or mobile. Browse through the many thousands of sports and racing markets on offer and enter your selections. When you have filled your bet slip and set your stakes, make sure to select your Punters Club in the toggle box that asks 'Which account are you betting from?' before confirming your wagers.
What happens when it is your turn to bet next? How will you know? The Punters Club sends SMS reminders to whomever is next up to the plate, so there is never any excuse for anyone missing their go. Just make sure you have enough funds in your personal Sportsbet account to cover the kitty contribution at the beginning of each round.
More online Punters Club features
Being the advanced and intuitive online betting platform that it is, the Sportsbet Punters Club comes with a stack features you do not get with your weekly group punt: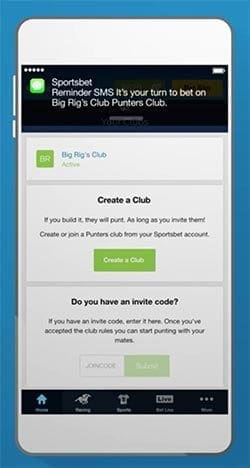 Activity wall
Your club's betting activity is automatically recorded and posted here so every member can see exactly what is happening and stay in the loop. This is also 'banter central', where you can post comments and call out any punter who is letting the team down.
Club rankings
There is no hiding in the Sportsbet Punters Club. Each player's bet results and ROI percentages are updated and displayed instantly under the 'Club' tab, meaning you can see exactly how well or how poorly each member has spent the group's money.
Why choose the Sportsbet Punters Club?
Social betting online at Sportsbet has a number of advantages over the traditional punter's club:
Everything is managed online, via either the desktop site or the Sportsbet mobile betting app, for maximum convenience and on-the-go flexibility.
Automated betting rosters and SMS reminders mean no need for Excel spreadsheets or chasing up tardy punters in person.
Whomever is at the helm has full access to the weekly kitty, which eliminates the hassle of transferring funds back and forth or sending bets through to the administrator.
Special features such as the Activity and Club pages allow for complete tracking of bets, results and punter performance, so you don't have to spend valuable hours fumbling around with calculators and bet slips.

This is my table